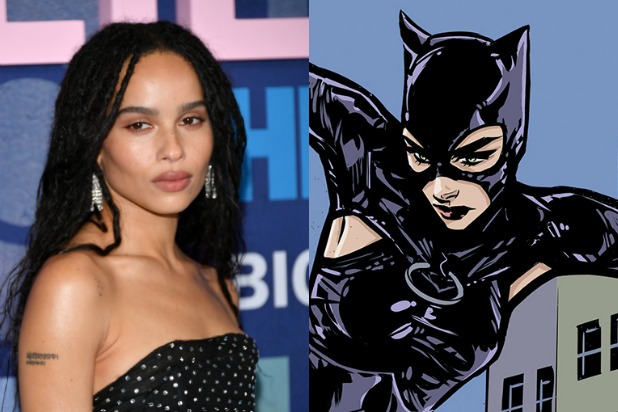 ---
Hollywood actor Zoe Kravitz has been cast as Selina Kyle, aka Catwoman, in Matt Reeves' The Batman, an source with knowledge of the project told TheWrap.

The star is no stranger to starring in massive franchises, having previously secured roles in Mad Max: Fury Road and Fantastic Beasts and Where to Find Them, while already having a comic book pedigree after X-Men: First Class and voicing Mary Jane in Spider-Man: Into the Spider-Verse. More recently, Kravitz earned acclaim for her role in the HBO series Big Little Lies.

https://www.instagram.com/p/ByyPPsYgI77/

Kravitz has big shoes to fill, with Michelle Pfeiffer's portrayal of the character in Batman Returns being considered by many to be one of the best performances in any comic book film and Anne Hathaway also having played Kyle in The Dark Knights Rises. Berry also played the villain in the solo Catwoman.

Ironically, Kravitz told Nylon back in 2015 that she couldn't even get an audition for Nolan's last Batman flick, The Dark Knight Rises, because of her race.


zoë kravitz went from being considered "too urban" for a role in nolan's batman, to getting the role of catwoman. that's justice!

— 🌸adel🌸 (@spacemaghrebi) October 14, 2019


https://twitter.com/camiIIiepreaker/status/1183860816740868102

The star said she was basically blocked from even reading for a small role in the film, allegedly being told that somebody had said they weren't "going urban" with the last installment.


Zoe Kravitz IS Selina Kyle. The Catwoman. We are so blessed. 💎#TheBatman #Catwoman pic.twitter.com/sAgqlRnOIe

— 𝑇𝑟𝑎𝑛💫 (@FlawlesslyGeeky) October 14, 2019
ZOE KRAVITZ IS GONNA BE CATWOMAN, LADIES AND GENTLEMEN! WHAT A WIN! pic.twitter.com/hZe23umAwE

— 𝗝𝘂𝗱𝗴𝗲 👓 (@DukeOfGotham) October 14, 2019


Kravitz will star alongside Twilight actor Robert Pattinson, who will play Batman in the upcoming Warner Bros film. Reeves and Mattson Tomlin wrote the screenplay, and the film is being produced by Reeves and Dylan Clark. The highly-anticipated film is set to start filming in January in the UK.

Have something to add to the story? Share in the comments below.
COMMENTS
Comments are moderated and generally will be posted if they are on-topic and not abusive.
For more information, please see our Comments FAQ