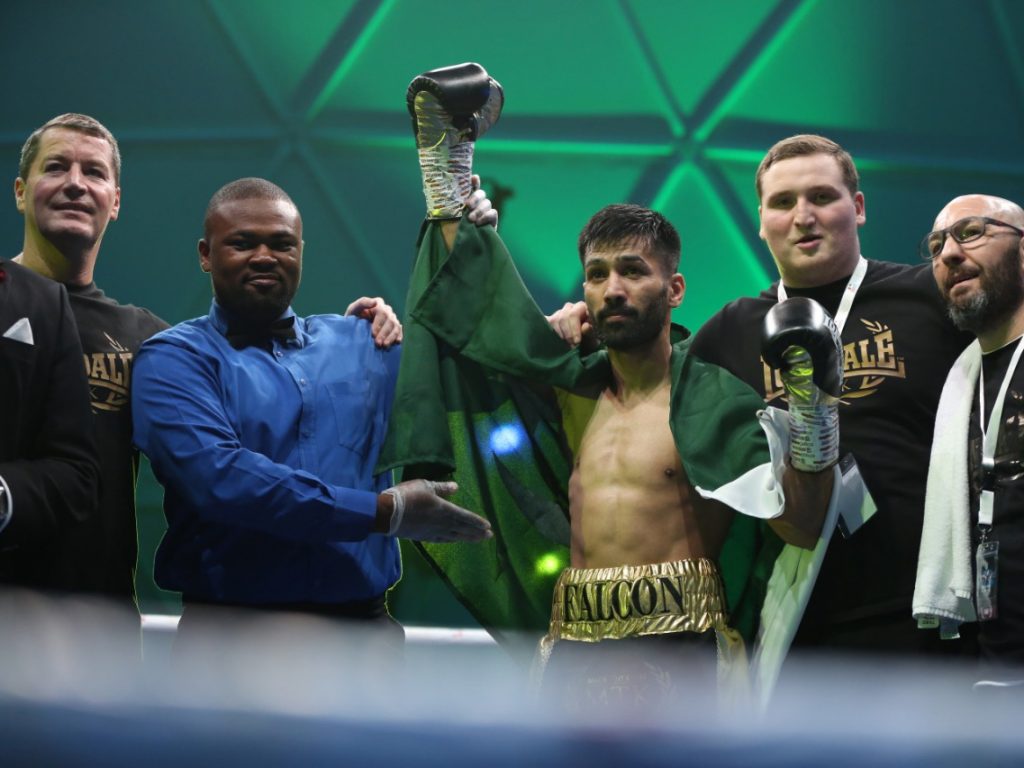 ---
KARACHI: Upbeat is a small word, but for Pakistan's only professional boxer Muhammad Waseem, who held the World Boxing Council (WBC) title once, it is a place, a destination and it took him nearly a year to arrive at it.

Waseem's come back bout was last month where he registered the sixth knock-out win of his professional career in a total of 10 bouts.

At the Ceasar's Palace in Dubai, where he had the strong following of Pakistanis in the UAE, he knocked out Philippines' Conrado Tanamor within 62 seconds.


'We are here to support youngsters like you': COAS meets Pakistani boxer Waseem


On social media, Waseem would rephrase Muhammad Ali's quotes, "Float like a butterfly, attack like a Falcon."

Falcon as he is known for his tactics, now he is all new, training with his coach Danny Vaughan, and he says he feels like a new boxer.

"I'm back to training in Glasgow," Waseem told The Express Tribune as he is signed with MTK Global, the management that is now taking care of him. "I would have had my comeback fight sooner this year, but it did not work out, twice it had happened, but I'm just happy to be on the right track. The feeling to be back in the ring and winning was what I yearned for."

Waseem's bout before the one with Tanamor was in July 2018 against South Africa's Moruti Mthalane, but around that time Waseem was facing a difficult time with his former manager and was aware that the pressure of having no sponsors was taking him down. He had lost that bout, the first professional defeat, and since then he had been looking for a way out of troubled times, although he had trained at Floyd Mayweather's gym and with his uncle Jeff Mayweather previously.


Cricketers apologise to Pakistani boxer for lousy reception on victorious return


Earlier this year, the signing with MTK Global had given him a chance to explore more of his strengths while training in Glasgow.

"Vaughan had been great, and with this fight, I know I was a changed boxer. We worked more on speed, I know I executed the combinations well that we had practiced and this is just a beginning all over again," said Waseem. "My confidence is at its highest right now."

The biggest difference with his comeback bout was finally getting the recognition, a mainstream one at least on social media and otherwise, and top crickets of the country ended up congratulating him.

Fate has its own way to reward an athlete, but Waseem is happy that people at least noticed him.

"It all comes suddenly. I'm grateful to Wasim Akram, Shoaib Akhtar, Shoaib Malik and others to have congratulated me, their fans may know me now too. I'm just glad," said Waseem.

But now he is aiming for a title bout, "I'll have another bout, soon, I'm sure and then we would go for the flyweight world title bout. I would prefer it to be in Pakistan, because my countrymen should be able to witness it."

The 32-year-old has won accolades for Pakistan during his amateur career including Asian Games bronze medal in the 2014 Commonwealth Games, silver in Glasgow in 2014 and in New Delhi back in 2010, along with a gold medal at the World Combat Games. However he turned pro, leaving his dream for Olympic Games because the Pakistan Boxing Federation officials failed him constantly with bad facilities, lack of professionalism and zero focus on providing pugilists with opportunities.


Pakistani boxer Waseem dedicates recent win to 'Kashmiri brethren'


In 2015, it was a new start and almost a trend that Waseem has set. He believes that he wants to help other Pakistani boxers in international professional boxing circuit.

"I want to see more Pakistani boxers in professional boxing and that is something I want to strive for even," said Waseem. "If I can help them to get an under-card fight with mine, I will. There are no two ways about it, now that I feel I have earned a little respect in the boxing world."

Waseem's journey has inspired many boxers in his home-town Quetta too, where boxing is more of a passion, and even boxers know that there is no money in the profession. But with Waseem's success, there is hope.

"I know the young boxers back home look up to me, they feel professional boxing is their way out of poverty too. It can be, but we need the infrastructure. I have no doubt that Pakistan can produce world class boxers. Quetta's youth can come forward too," added Waseem.

He sees the parallel when pointed out how he has overcame the Filipino boxers in his 10-bout professional career.

"I feel Philippines boxers to be very competitive and inspired by Manny Pacquiao. Their boxing really picked up when Pacquiao emerged as the best in the world. It has given an entire generation a sport to be proud of. I hope I can do the same for Pakistan too, or at least for the youth from my home-town, but we really need facilities and as a nation we need to care of the athletes," said Waseem.

For now he said he will get back to the training with an aim in mind, a world title, and he will stick to his flyweight category, hoping that now people notice the boxers and their trajectory.
COMMENTS
Comments are moderated and generally will be posted if they are on-topic and not abusive.
For more information, please see our Comments FAQ