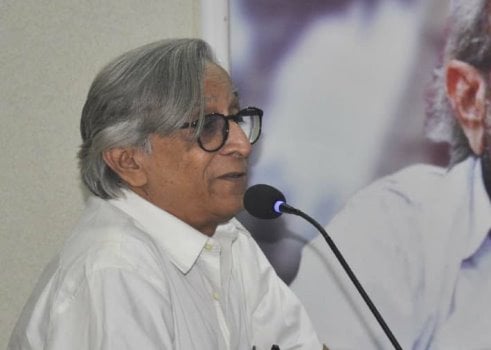 ---
KARACHI: Abul Hasanat, Senior Editorial Consultant at The Express Tribune, passed away after a brief illness on Saturday night. He was 68. He is survived by his wife, a son and three daughters.

Abul Hasanat, who was suffering from chronic obstructive pulmonary disease (COPD), was treated for pneumonia at Karachi's Liaquat National Hospital last week.

He was discharged on Thursday, but his condition again deteriorated on Friday night and was rushed to Ziauddin Hospital in North Nazimabad on Saturday morning where he passed away shortly before midnight.

Abul Hasanat, who graduated from Karachi University in 1973, had been associated with The Express Tribune as Senior Editorial Consultant for the last eight years.

The veteran journalist had previously worked as the City Editor for Karachi as well as an Editorial Adviser at Dawn newspaper. He had also worked at Saudi Gazette.

His Namaz-e-Janaza will be offered at Masjid-e-Khairul Bashar, Block J, North Nazimabad after Zuhar prayers.

"A fine editor and equally fine writer, a powerhouse of knowledge, a connoisseur of literature, an avid reader, a mentor – Hasanat Sahib was a Renaissance man. We and many young journalists who have worked with us owe him so much," said Naveed Hussain, Editor, The Express Tribune.

"Our teacher, mentor and guru of many journalists Abul Hasnat sb passed away. Please say a prayer for him," wrote Rafay Mahmood, Editor, Life & Style at The Express Tribune.

A former colleague, Habib Khan Ghauri called him "an upright, and a very competent journalist".  "He was always there to guide and help newcomers, and encouraged them. He will be remembered as always ready to support the cause of oppressed people and democracy," said Ghauri.

Tributes poured in for the senior journalist on social media.


Greatly saddened to know that friend n longtime colleague in Dawn, Hasnat Bhai has expired. My condolences to his great family and all friends. He was an honest and sincere soul who worked with great integrity n professionalism. May he always Rest In Peace in high heavens. Amin https://t.co/KgTsunq0hn

— SHAHEEN SEHBAI (@SSEHBAI1) October 5, 2019
Most Saddened day of my life after the death of my Father.
A very dear friend, pure patriotic soul, senior journalist Abul Hasnat @abulsh passed away.
إِنَّا لِلّهِ وَإِنَّـا إِلَيْهِ رَاجِعونَ
You will be missed Hasnat Bhai. @SSEHBAI1 Sir.

— Muhammad Tariq Kahut (@MTkahut) October 5, 2019
Teacher, mentor and guru of many journalists Abul Hasnat sb passed away. Please say a prayer for him. The Express Tribune newsroom has been orphaned.

— Rafay Mahmood (@Rafay_Mahmood) October 5, 2019
Sad to hear this.. Former Dawn City Editor Abul Hasanat passes away
https://t.co/isuNlD331C

— zahid Hussain (@hidhussain) October 5, 2019
A senior journalist, a mentor, teacher of teachers our lovely Hasanat Sb @abulsh passes away. You'll be missed sir. Rest in peace

— Sameer Mandhro (@smendhro) October 5, 2019
Senior journalist Abul Hasanat sahib (@abulsh), Editorial Consultant at The Express Tribune, has passed away. He had previously worked with Dawn. A great loss to journalism. He will be missed... pic.twitter.com/uFEgKu3WMN

— Bilal Farooqi (@bilalfqi) October 5, 2019
RIP: @etribune Editorial Consultant and Senior Journalist Abul Hasanat passed away at Liaquat National Hospital. He was wonderful, a warm-hearted and affectionate person. He really was a great person. His decades-long contributions to journalism will forever be remembered. pic.twitter.com/tdiNdHaLMs

— Arshad Yousafzai (@Arshadyousafzay) October 5, 2019
Former Dawn City Editor Abul Hasanat has passed away. Great guy, great editor, and a sharp wit - I learnt a lot from him during my short time at ET in Karachi. #RIP

— Shaheryar Mirza (@mirza9) October 5, 2019