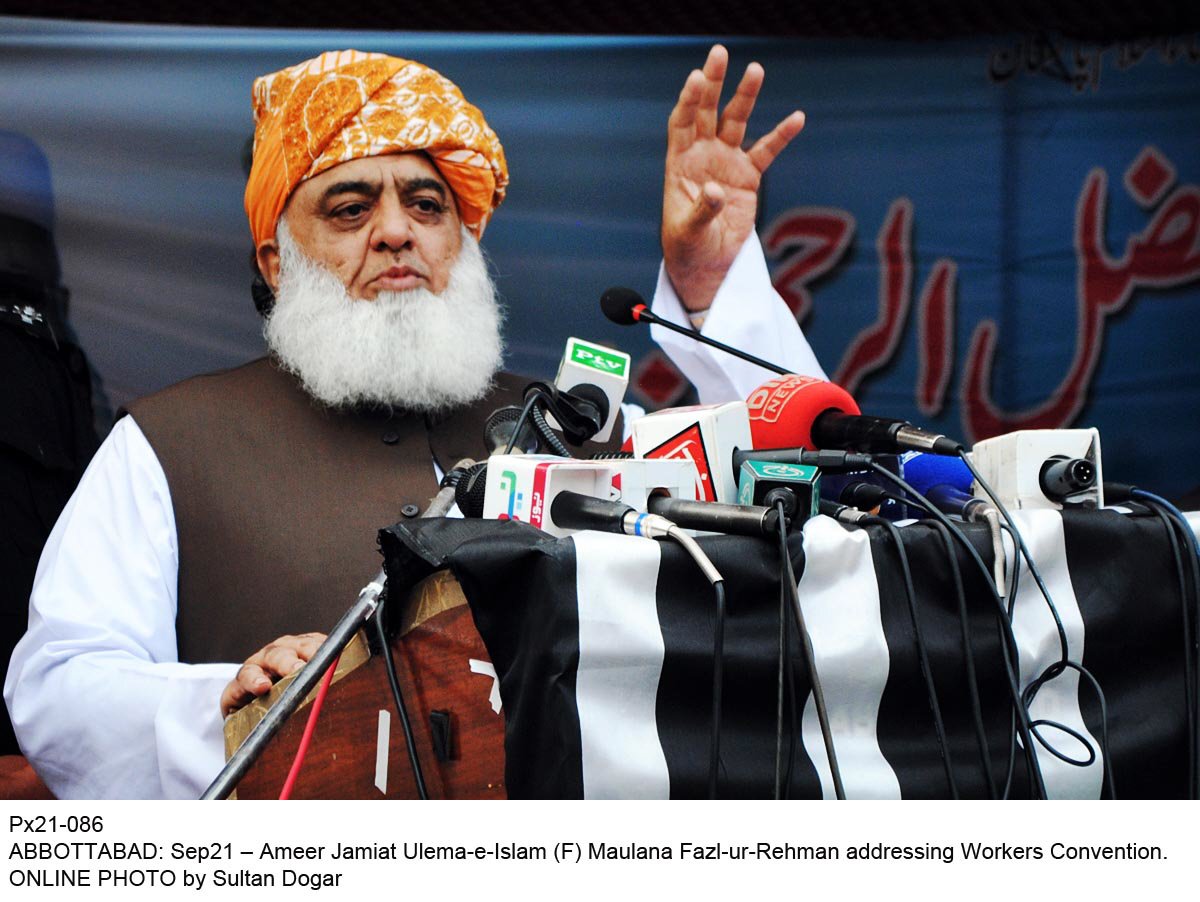 ---
So the Maulana has finally announced the date of his Azadi March — the march which is designed to bring him to Islamabad for a sit-in. Maulana Fazl-ur Rehman has been a successful politician and always prefers to stay in the political limelight. More renowned for his political manipulations and machinations, he is also a facilitator to others who showcases a political cult and a following that is absolutely religious in nature. More renowned as a "political assembler" Maulana loves to organise (meaningless at times) All Parties Conferences and assemble political theatres in which he can demonstrate his street power. To say that he overestimates his politics and is somebody who can hardly think beyond his nose may not be a wrong assessment.

Make no mistake. What brings him to Islamabad is not the concern for the suffering of the poor people, but his personal political ambitions. He has always been a major part and a great steward of the economic and political clan that constituted a "mafia state" in Pakistan. Having enriched himself by exploiting his direct and indirect ties with such a state created by our corrupt political system in the past, Maulana, after a long journey in politics, today has no title to his political authority. Thus it is no surprise that the man who at the twilight of his political career should be demonstrating political calmness (like the sea) is behaving like a very angry man (a fish out of water).

His coming to Islamabad has got nothing to do with Islam. A right-wing populist with little or no ideological soul-searching, he comes to Islamabad in the quest for power. For me the most important question is not the why and how of his coming to Islamabad, but for how long can the state afford to allow the use of religion in politics and to what good? The answer lies in why Islam had a golden age.

Abu Ali Sina (980 -1037) was a Persian Muslim thinker from Bukhara, a physician and a writer during the Islamic Golden Age. Popularly known as Avicenna in the West, he is believed to have read Aristotle's Metaphysics (the principal work of Aristotle and the first major work in the branch of philosophy) more than a dozen times. Abu Ali Sina lived in a time that followed years of absolute power enjoyed by the Church. During that period philosophers were banned and their works were not allowed to be translated or published as the Church felt threatened by it.

What Abu Sina did was write scholarly volumes asserting, "that men can improve themselves through the power of reason" for which they must aspire for "universal truths". Another genius from Bukhara was Muhammad Al Bukhari, who died 90 years before Abu Sina was born. After 18 years of travel and interviewing scholars, Bukhari returned to Bukhara to write what we know as the Sahih Al Bukhari containing 2,602 accepted and tested traditions, Hadiths (narratives) drawn from the life of the Prophet (peace be upon him). Both the gentlemen lived in what we recall today as the Golden Age of Islam, and the contributions made by both of them resulted in improved human social conduct and behaviour. It's important to mention the central message of Abu Sina before elaborating why have I quoted this era of Islam's glorious history. Abu Sina propagated that, "Religion and philosophy were separate but compatible — one God's gift to man; the other man's effort to attain perfect knowledge."

Why did we move from the Golden Age of Islam to the current age of illiteracy, unawareness and ignorance? There could be many reasons for this but the two that most scholars agree upon are: one; "we closed the gates of ijtihad, discourse, inquiry, review and reprisal", two; While Sahi Bukhari became a part of our lives and became a cornerstone of Sunni Islam, Abu Sina's work were lost in the Islamic world and moved Westwards influencing the writings of Western scholars such as Thomas Aquinas and Maimonides and later in the 17th century, Thomas Hobbes and John Locke.

Religion did not vanish in the West but more and more people began to place their faith in the social contract (constitutionalism). The Golden Age of Islam was rapidly replaced by the Age of Enlightenment and the Age of Reason in the West, while the East retreated backwards, where the world of religion not only dominated people's lives as a matter of faith but also as the matter of politics, as is the case with Maulana Fazl-ur Rehman and other religious parties in Pakistan.

Nine hundred and thirty years after the death of Abu Sina we still live in a country where reason (man's search for knowledge) is being held back by the politics of religion (God's great gift of revelation). People like Maulana Fazl-ur Rehman were aided and assisted to become what they are today — a politically religious obstacle and a barrier for our transition from a religious to a sophisticated world. We as a state can never progress and modernise as long as such "antidotes to Abu Sina's work" are not sidelined and marginalised.

Two things have happened though that gives hope. One — that so far the two major political parties don't seem to side with Maulana and his political naivety to use the religion card in politics. I would especially like to make a mention of Mr Khawaja Asif from the PML-N on his clear political vision and bold stance on this matter of national importance. Two — the announcement by Prime Minister Imran Khan to establish the National Curriculum Council for creating a consensus among the stakeholders for uniform standards of education across the country, which is a long-term plan to improve the system of our education.

The young children of madrassas that Maulana plans to bring to Islamabad are the children of the State. We deprived them of right to the broad-based education and knowledge that could have enabled them to carry an altogether different world view than what they carry now. They come to Islamabad as subjects of Maulana and not as students with enlightened minds free to make choices.

Being dragged into politics and being thrown up to confront the state, it is not them but their leader who is at fault. The Golden Age of Islam remains the harbinger for our future conduct and behaviour and if we need to look up to its revival, it will not be up to the likes of Maulana Fazl-ur Rehman but the likes of some Abu Ali Sinas of our days.

Published in The Express Tribune, October 6th, 2019.

Like Opinion & Editorial on Facebook, follow @ETOpEd on Twitter to receive all updates on all our daily pieces.
COMMENTS (1)
Comments are moderated and generally will be posted if they are on-topic and not abusive.
For more information, please see our Comments FAQ