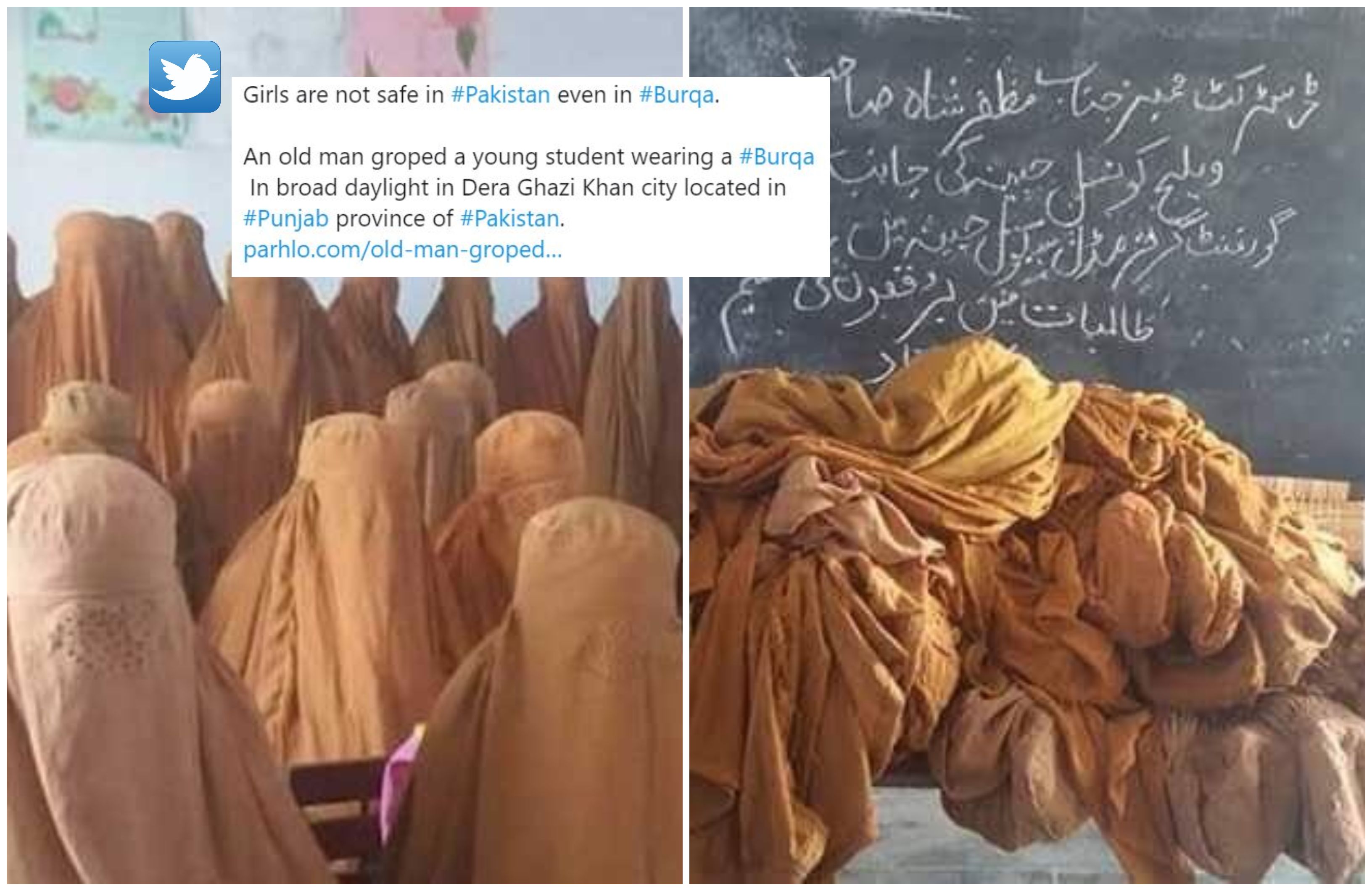 ---
A local leader of Pakistan Tehreek-e-Insaf (PTI) in a village of Rustam valley of Mardan has distributed burqas among schoolgirls. Union Council Palo Dheri Cheena Village Councillor Muzafar Shah and leader of the PTI purchased burqas worth Rs100,000 and distributed the full body veils free of cost to students of Government Girls Middle School Cheena.

While talking to The Express Tribune over the phone, Muzafar Shah said: "I had decided to purchase chadars for the female students, but after consultation with local leaders, I bought the burqas."

The village councilor went on to say that his action was inspired by the recent notification of Khyber-Pakhtunkhwa (K-P) chief minister adviser on Elementary and Secondary Education Ziaullah Bangash directing girls to observe purdah.


Shuttle Cock #burqa were distributed among girl students of Govt Middle School #Cheena, Rustam District #Mardan #KhyberPakhtunkhwa @AnsarAAbbasi pic.twitter.com/3gS4YEehLd

— مُنا پٹواری (@smt_pml) October 5, 2019


However, it seems these recent turn of events have divided twitter users among two different categories. One that perceives the decision could help increase enrollment of young girls, given their parents will be more comfortable in sending them outside. While the other believes this would become a hindrance in their education.

One user failed to understand the purpose of this decision, adding that her daughter is a victim of the imposition. She said her child could not see through the shuttlecock burqa, and so she can't read and does not want to go to college.

https://twitter.com/gullaafridi/status/1180332058469642240

While another user claimed this was being done to prevent women from getting education, relaying it through the hashtag, #educationisnotacrime.


#Education in #KPK under #burqa: #EducationCannotWait #educationisnotacrime https://t.co/7kLiMNlRHJ

— Jamal Dawoodpoto (@Dawoodpotojamal) October 4, 2019


Whereas this user, possibly from London, imagined a 'Londonistan' with hashtag #Londonbanegapakistan, sarcastically remarking the burqa as a halal symbol of the nation, adding that it would be a horrible place to live in.


Its #London2019 think what will happen whn it becomes #londonistan #londonbnaegapakistan #halala #burqa #ShariaLaw #tripletalaq etc etc . ......its horrible

— Gaurav (@Gaurav512eee) October 5, 2019


Contrary to which, this user believes it to be a step towards increasing female enrollment in institutes. Adding that parents don't send their daughters in K-P schools due to an absence of uniform of their choice. "I have never worn burqa or hijab, but now I have started and I am happy with my decision," remarked the user.

https://twitter.com/umaenauman_09/status/1180199122873307138

While this user added another iconic remark.


But I was told #Taliban government is coming in Afghanistan!

"Shuttle Cock #Burqa distributed among girl students of Govt Middle School Cheena, Rustam District Mardan #Pakistan." pic.twitter.com/qMZcVNc3Zg

— Fishel Benkhald (@Jew_Pakistani) October 5, 2019


While this one referred to the burqas as 'tents'.

https://twitter.com/asimusafzai/status/1180204295762915332



While this user clarified why everyone is going berserk in the first place.


Girls are not safe in #Pakistan even in #Burqa.

An old man groped a young student wearing a #Burqa In broad daylight in Dera Ghazi Khan city located in #Punjab province of #Pakistan.https://t.co/j4c5n8Ous4 pic.twitter.com/L7wnu6GpOa

— Sabah Kashmiri (@SabahKashmiri) October 5, 2019


Following which, this user attempted to remove all confusion about whether this was a sensible decision or not, by providing a different perspective to the matter.


It's actually useful #burqa https://t.co/TSWKoSrbZ8

— shivendra vatsal (@vatsalshivendra) September 28, 2019
Have something to add to the story? Share in the comments below.