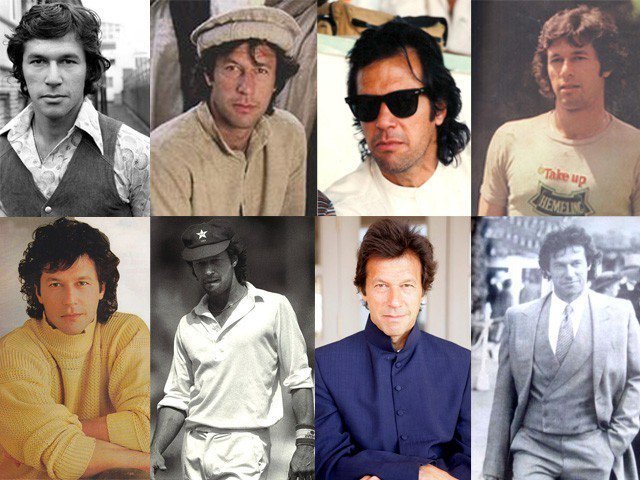 ---
ISLAMABAD: Prime Minister Imran Khan, born on October 5, 1952, turns 67 today.

The chief of Pakistan Tehreek-e-Insaf (PTI) was greeted by PTI leaders and ministers. Supporters and fans also wished the premier on social media.


Wishing a very Happy Birthday to Prime Minister Imran Khan.#HappyBirthdayKhanSahb pic.twitter.com/CCQ9MfvFQy

— Government of Pakistan (@GovtofPakistan) October 5, 2019
"A person can be as great as much as he strives for" - Prime Minister Imran Khan.

Here's to forever being great, doing whatever we set out to do & be the best at everything we do! #HappyBirthdayKhanSahb pic.twitter.com/GhKv6sfvHn

— PTI (@PTIofficial) October 4, 2019
Happy Birthday to my leader PM Imran Khan.A better Pakistan in your leadership In sha Allah. #HappyBirthdayKhanSahb #ImranKhan pic.twitter.com/XKTdpXDC5x

— Raja Rashid Hafeez (@RajaRashidHafiz) October 5, 2019
A very Very happy birthday to My PM. You are true leader & inspiration for many.#HappyBirthdayKhanSahb pic.twitter.com/Kzam5rB8OF

— Malik Zubair Jaan (@MalikZubairPTI) October 5, 2019
Happy Birthday to from a world cup winner to the hearts winner of the nation @ImranKhanPTI . May Allah give you long life and more power to build a better and naya Pakistan.#HappyBirthdayKhanSahb #HappyBirthdayImranKhan #ImranKhan #PrimeMinisterImranKhan pic.twitter.com/18WOKNSEKX

— Muhammad Ali Abbasi (@AliJaswaal98) October 5, 2019
October 5, 2019


Leaders of other political parties also expressed their best wishes for the premier.

1952 - 1971

Born to Ikramullah Khan Niazi and Shaukat Khanum, Imran was the only son out of the five offsprings of the couple.

He received his primary education from Lahore, then moved to the United Kingdom (UK) for higher education, where he graduated from the University of Oxford.

1971 - 2018

Imran returned to Pakistan in 1971 after completing his education from the UK and joined Pakistan's national cricket team.

He also served as the captain of the team from 1982 and 1992. Under his leadership, Pakistan won the cricket World Cup in 1992.

In 1994, Imran laid the foundation of Shaukat Khanum Hospital for cancer treatment in the name of his mother.

Politics

He formally established his own political party, the PTI, on April 25, 1996.




His party gained popularity, especially among the youth of Pakistan, and succeeded in forming a provincial government in Khyber Pakhtunkhwa in 2013 polls.

PTI came to power in the federal government in July 2018 and he was elected the 22nd prime minister of Pakistan on August 17, 2018.

Personal Life

Imran married Jemima Goldsmith in 1995 and had two children: Suleman and Qasim. The couple filed for divorce in 2004.

Imran's second marriage was with journalist Reham Khan in 2015. The couple separated a few months later, the same year.

His third marriage was with Bushra Maneka in 2018.
COMMENTS (1)
Comments are moderated and generally will be posted if they are on-topic and not abusive.
For more information, please see our Comments FAQ