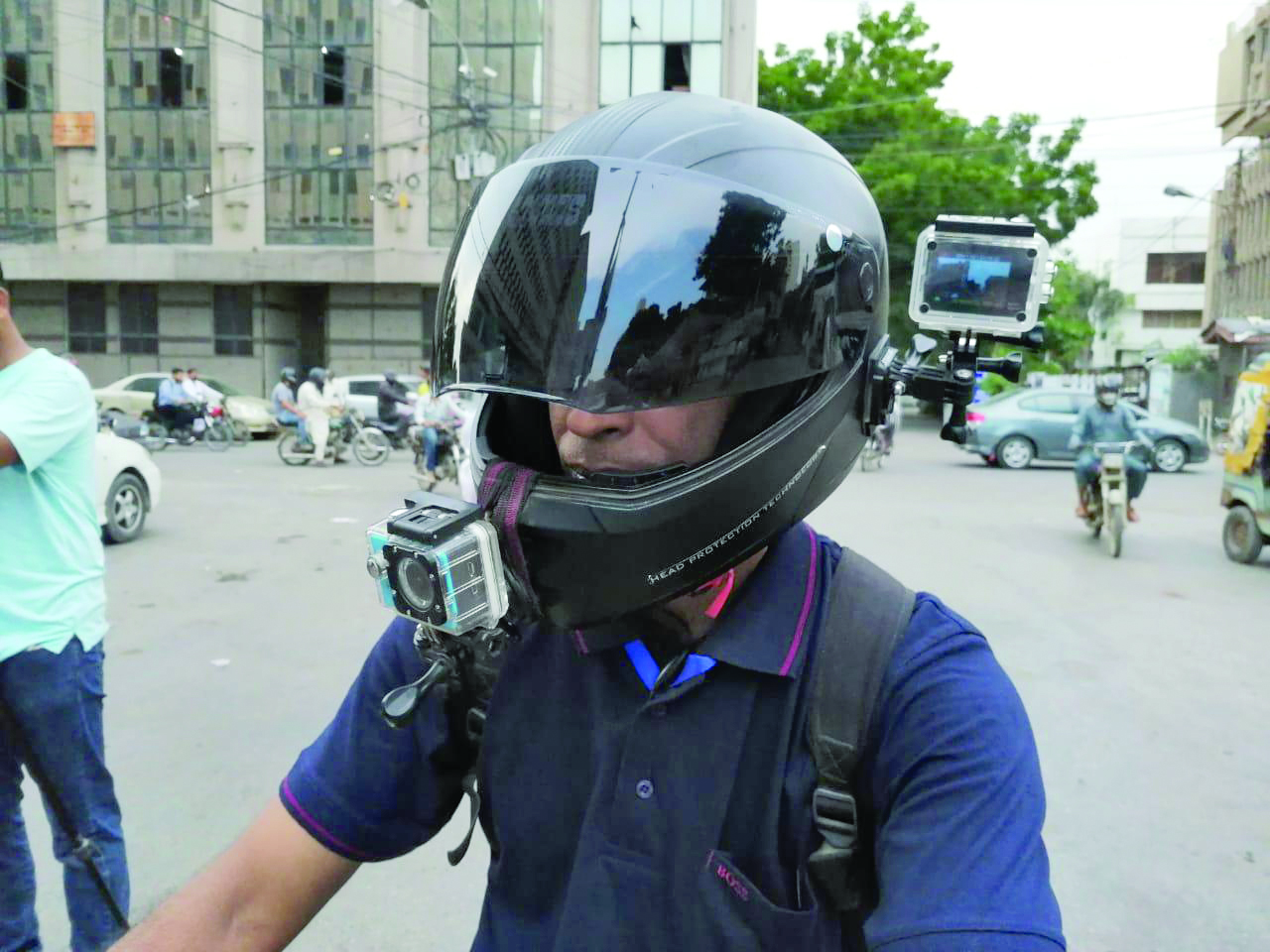 ---
KARACHI: If you see Abdul Qudoos on the road, you may mistake him for a stuntman. Or a spy. In reality, Qudoos is an amateur filmmaker, who chanced upon the world of social media and realised the potential in using YouTube as a platform to share his views.

Today, as he whizzes past noisy streets and cramped lanes on his 70CC motorcycle, he takes his followers along on a ride across some of the city's most ghettoised neighbourhoods, opening them up to a global audience.

The resident of Manzoor Colony has retrofitted two cameras on his helmet which film everything he passes on his journey from one point to another. He then uploads the videos on one of his six YouTube channels.

Having only cleared his intermediate exams, Qudoos claims he has learned everything, from installing cameras on his helmet to editing videos, on YouTube. He has invested Rs200,000 to procure four cameras that can be fixed on his helmet, a spy camera, two mobile phones and standby batteries.

Make Karachi federal capital again: Agha Siraj Durrani

As he carries expensive equipment, he is wary of the monster of street crime in the city. He arms himself with a Taser gun to tackle any unwanted situation and avoids going to areas that are dubbed unsafe.

The daily grind

On average, Qudoos spends three to four hours each day visiting budget markets, where he finds the savviest deals that are likely to interest his audience. Other times, you may find him in public offices, raising awareness on the government's negligence.




"People are interested in videos related to animals, places where low-price, quality products are available, repairs and refurbishment of old items and ways to save electricity," he tells The Express Tribune.

Currently, Qudoos runs six YouTube channels, all focused on a different theme, with the help of his siblings. The most popular channel, Punjabi da Kitchen (Kitchen of Punjabi), is run by his sister and is dedicated to homemade food. The channel alone has half-a-million subscribers. The other five channels, Pakwaan, Muskurati Life, Baccha Jamoora, Mughal Enterprise and Islamic channel that features Friday sermons, have not made their mark yet.

Karachi among world's 10 least liveable cities

The idea

Qudoos stumbled upon the idea of making money off YouTube after losing his father, who owned a bookshop in Urdu Bazaar. With no source of income for his family, Qudoos saw potential in YouTube and started educating himself on the same platform.

"YouTube has made the acquisition of income easy as people can start earning by uploading positive and purposeful videos," he says.

Qudoos, who does not show his face in his videos in order to keep his identity a secret, is planning to launch another YouTube channel to highlight the issue of trash and untidiness in the city and aims to feature the government's 'Clean My Karachi' campaign.

He hopes to take his drive to the national level and wants to travel across the country, wearing his camera-fitted helmet, to show the world how beautiful Pakistan is and portray a positive image of the country.

Published in The Express Tribune, September 30th, 2019.