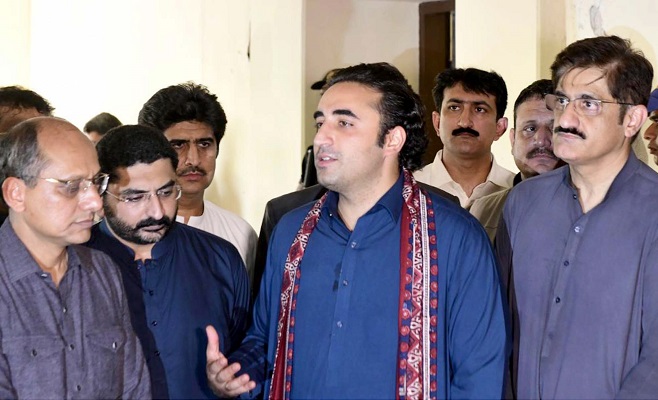 ---
KARACHI/ISLAMABAD: Pakistan Peoples Party (PPP) Chairman Bilawal Bhutto Zardari on Sunday downplayed the Prime Minister Imran Khan's maiden address to the UN General Assembly and accused him of using the Kashmir issue for his own publicity and not taking any concrete steps for the cause.

"The selectors and selected analysts are heaping praise on a meaningless speech. The reality is that the whole nation and the Kashmiri people are disappointed that that the selected government has failed to do justice with the issue of Kashmir," he told reporters at a village near Sehwan.


سلیکٹڈ حکومت کا سلیکٹڈ میڈیا اور اس کے سلیکٹرز، ایک بے معنی تقریر کے گُن گا رہے ہیں جبکہ پوری قوم خاص طور پر کشمیر کی عوام مایوس ہے کہ کٹھپتلی نے مسئلہ کشمیر کے ساتھ انصاف نہیں کیا۔@BBhuttoZardari
(1/2) pic.twitter.com/5GGY6QgOPj

— PPP (@MediaCellPPP) September 29, 2019


PM Imran during his speech to the UNGA on Saturday in New York highlighted the Indian government's clampdown in occupied Kashmir which has been under curfew since August 5 after New Delhi revoked its special status.

"Just like people are gathered to clap for a dictator in North Korea, similarly selected analysts are clapping for the selected [prime minister]," he added.

The PPP chairman maintained that when the premier was talking about human rights violations in occupied valley, people were questioning his hypocritical approach as he was committing similar atrocities in his own country.

India engaged in state terrorism for over 30 years, Pakistan tells UN

"A process of political victimisation like the ones in the past is under way in the country in guise of accountability and this is affecting the country's economy and political stability," he added.

JUI-F Reaction

Jamiat Ulema-e-Islam-Fazl (JUI-F) chief Maulana Falzur Rehman maintained the government had failed to convince the world to back its stance on Kashmir. "The world has not supported our stance even after Imran Khan's speech at the UNGA," he told reporters in Dera Ismail Khan.

The JUI-F chief claimed that Kashmir had been sold out and India and the United States were aware of this secret.

"Imran Khan has imposed on us under a global conspiracy and he is responsible for the difficult time we are facing today," he added.