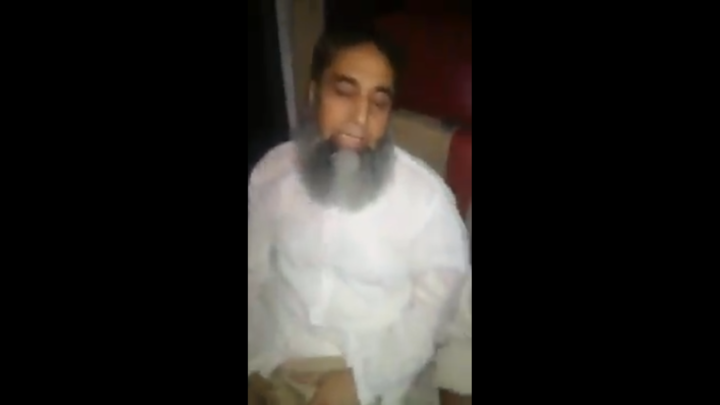 ---
A video of a woman slapping a man who sexually harassed her on a bus from Multan to Islamabad has gone viral.



The video that was initially made public by a Facebook user Zahra Nain,  shows an elderly man apologising while the woman in the video accuses him of "constantly touching her back." According to the Facebook post, the woman initially didn't realise that someone was touching her due to the 'tingling feel' she is used to getting on her back because of a herniated disc. It was after someone tried to take off her dupatta that she felt a force on her body that she figured out that he was allegedly molesting her.

As soon as the video went public, several other platforms also shared it, condemning the elderly man who harassed her and lauding the woman for taking charge of the situation.

Social media has been on fire since then:


These criminals should no longer be allowed to hide behind their beards and false piety.

This lecherous old man tried assaulting and groped a woman on the Multan to Islamabad bus.

Shocked that the other men are protecting this uncle. They should have also slapped him. pic.twitter.com/GCEX5GjPXB

— Shehzad Ghias Shaikh (@Shehzad89) September 26, 2019
September 26, 2019
So proud of that girl who slapped an old bearded man in a public bus(enroute Multan to Islamabad) for inappropriately touching her and also for filming him.

If you're reading this girl, let me tell you YOU'RE FIERCELY AMAZING.

— لاہوری صرف🌸نہیں پیسے بھی پھینکتے ہیں (@hinasafi) September 26, 2019


https://twitter.com/K_freakk/status/1177150258964520960


This Hobbit was trying to touch this lady in a bus then she stood for herself alone & slapped this rascal #Pakistan pic.twitter.com/s0ZxfBmW5C

— 🇫🇷ٹھا (@rananast) September 26, 2019


Have something to add to the story? Share it in the comments below.