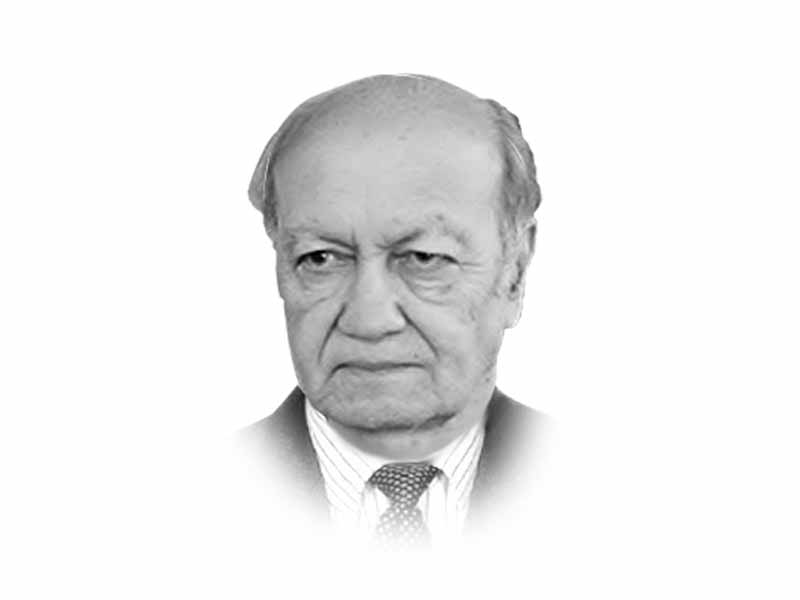 ---
The call of the JUI leader, Maulana Fazlur Rehman, for a mass protest next month, had a lukewarm response. His rationale is that he and his party were cheated during the last national and provincial elections. He does not say so openly, but points a finger at the "establishment" for helping out Imran Khan and his party. The Maulana is claiming that his protest movement is also to show solidarity with the poor masses that are the main sufferers of the present price hikes and overall inefficiencies of the government.

In democracies, it is perfectly normal for parties in opposition to organise protest movements or aggressively agitate in parliament. One does not have an issue with that. However, what is worrying is dragging the country into chaos and derail democracy. Especially when it is not clear if his rationale for the protest movement has a sound legal, political and moral basis. Has the JUI leadership hard evidence that the elections were rigged and if so, why is it that it is not sharing it fully with the public. Moreover, if he is so confident that this is the case, he should initiate legal remedies such as approaching the election commission and the judiciary. It is unthinkable that they would all be siding with the government even if clear evidence points to the contrary. Moreover, Maulana Fazlur Rehman is an experienced and intelligent politician, and insisting on using street power at this time seems odd. No doubt the PTI government has earned a reputation of being inefficient but how will the shape of the government he has in mind would be any better? Most probably it would be much worse if past experiences were to go by. It would be educative for the JUI and the PML-N to look back at the history of all such movements or protests. These have ended up creating more problems than solving the existing ones.

Apparently, as is being reported, the JUI leadership apart from its own and that of its associate party cadres is relying heavily on the madrassa students to provide mass and numerical strength to the protest movement. One would be deeply concerned to find young madrassa pupils are being exploited for political purposes. Instead, they should be focusing on religious teachings and general education. As it is, their educational standard is compromised due to a scarcity of funds, inadequate teaching cadres and poor facilities. They are unfairly handicapped in comparison to normal government or private school-going children. Involvement in these types of activities pushes them back further.

There are other serious implications of street politics as our own national experience reminds us. Every time political and religious parties have taken to the streets the armed forces have stepped in. In the present security and regional scenario and drawing lessons from our past, such a possibility could be excluded. But certainly, the power of non-democratic forces or other state institutions increases proportionately when anarchy exists.

We cannot ignore the reality that our democracy is extremely fragile and needs to be nourished by strengthening institutions — working within the framework of Parliament and drawing strength from an independent judiciary and a supportive executive. We expect the Prime Minister in all earnestness would use the Cabinet for both policy and decision-making. Surely, he should seek advice from the military on security and defence issues just as he relies for economic matters on economists, ministries of finance and commerce and successful entrepreneurs.

This is not to ignore that the government's attitude has been very hostile and vindictive towards the opposition. This is also a major factor in promoting confrontational politics. The uncertainty about the future of the leadership of the opposition parties in which so many are facing NAB investigations and prosecution is a cause of serious concern. As regards the PTI government, its performance so far fell far short of peoples expectations. The initial euphoria that was generated when Imran Khan became prime minister has generally faded and given place to despondency in certain segments of society.

It is generally not realised that foreign powers exploit Pakistan's weak state of democracy and poor governance by dealing directly with military leadership and other state institutions.

The recent judicial proceedings against Justice Qazi Isa have once again given rise to the importance of all state institutions remaining within constitutional boundaries and performing their tasks. The mobilisation of lawyers to uphold the sanctity of the constitution and integrity of the system is another step in that direction.

PM Modi's recent contemptuous remarks at the Houston rally about Pakistan, although meant to cover his own despicable conduct against the Kashmiris and Muslims at large, are suggestive how inimical forces exploit this weakness.

The major opposition parties PML-N and PPP need a course correction. They are in disarray ever since their leaders are facing court cases and are more focused on saving them than leading their parties effectively inside and outside Parliament. NAB has been aggressively pursuing cases against opposition leaders and in contrast, gives an impression of treating the PTI leadership gently. Clearly, many questions arise about neutrality and fairness of the accountability process.

The government's policy of trying to control the media and introducing administrative and legal structures to monitor and control the news content and shape the discourse is contrary to the basic principles of democracy. Political legitimacy is not limited to elections alone but is closely linked to popular will. The government should be in a position to address the people's grievances and Human Rights violations. The number of cases of child abuse, rape and murders related to forced marriages are a direct challenge to democracy and social stability.

The struggle in Pakistan is as much to strengthen democracy as it is for ensuring social justice. People have been looking up to earn a decent living that seems unrealisable at least in the near future. The poor segments of society continue to face humiliation and indignities which thankfully, the media has been forcefully portraying.

Published in The Express Tribune, September 25th, 2019.

Like Opinion & Editorial on Facebook, follow @ETOpEd on Twitter to receive all updates on all our daily pieces.