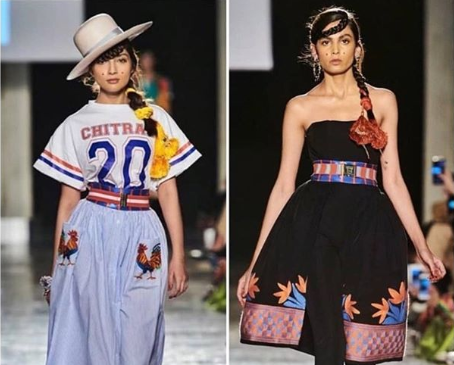 ---
Just last week, Pakistani models Mushk Kaleem and Alicia Khan made headlines for being selected to walk for Haitian-Italian designer Stella Jean at the ongoing Milan Fashion Week.

But that's not all. Stella showcased her latest Spring/Summer 2020 collection at the event, which incorporates multiple elements from the culture of Chitral and Kalash!

Kaleem opened the show for Jean sporting two looks, and was immensely grateful for the opportunity.

https://www.instagram.com/p/B2ryNr3IrDJ/

The collection was later featured on Vogue. Jean seems to be on a fashion mission of-sorts, travelling to different parts of the world to discover little-known artisanal traditions.

For her latest collection, the designer travelled to Pakistan where she met with the women of Kalash who specialise in multi-coloured embroideries.

https://www.instagram.com/p/B2oNTSmoehZ/

According to Vogue, these local artisans made the 15,748 inches of embroideries that Jean used to in her designs. The handmade embellishments, mixed flowers and geometric shapes, popped up on a flared mini-dress with a voluminous bottom punctuated by eyelet, a kimono-like jacket, a shirt-dress featuring utility pockets and a puffy blouse with a maxi collar.

For two weeks, Jean lived in the remote valleys of Chitral with the Kalash people. There, among a small population of about 3,000, she learned about the embroidery women do to adorn their dresses, a tradition that, much like the Kalash people themselves, is at risk of becoming extinct.

https://www.instagram.com/p/B2pd8aFIT2o/

In an effort to raise awareness about the Kalash and to provide their community with income, Jean collaborated with the Chitral Women's Handicrafts Center, founded by the 22-year-old Karishma Ali, on the collection. For several weeks, 46 women in the center embroidered more than 4,000 meters of material for her.

On the runway inside Milan's Palazzo Arengario, the colourful stitching wrapped around dresses, adorned belts, and decorated the hemlines of Jean's summer dresses. It was the first time the embroideries were ever presented for use outside the Kalash community.

https://www.instagram.com/p/B2rxO-doZKc/

Jean should be more than proud of her ability to use her fashion for good. Her activism goes far beyond slogan tees and hashtags and actually invites economic and social change. But when it comes to innovation, the collections have become somewhat repetitive.

Waisted sundresses in crisp stripes, logo-ed sports jerseys and slim tailoring are signatures on Jean's runways, as are bright embroideries and even brighter prints.

https://www.instagram.com/p/B2t3VbAhPa4/

Nonetheless, it was a big honour for local crafts to be shown on such a mainstream platform. Kaleem took to her Instagram to share the details of the exciting opportunity and why it matters so much. "I feel so immensely honoured and proud to represent Pakistan at the Milan Fashion 2019," she wrote. "I've been given this unbelievable opportunity to work with Stella Jean, who collaborated with UNIDO, and paid a heart-felt homage to our culture by infusing the embroidery done by women of Pakistan in the northern areas as an essential part of her collection, also paired with jewellery by Sherezad."

Kaleem continued to share how the collection has brought Pakistani creativity to the global stage. "None of this would have been possible without Zahir Rahimtoola, who has bent over backwards to make this dream become a reality, that will go down in history as one of the most defining moments of our fashion industry!"

Have something to add to the story? Share it in the comments below. 
COMMENTS
Comments are moderated and generally will be posted if they are on-topic and not abusive.
For more information, please see our Comments FAQ