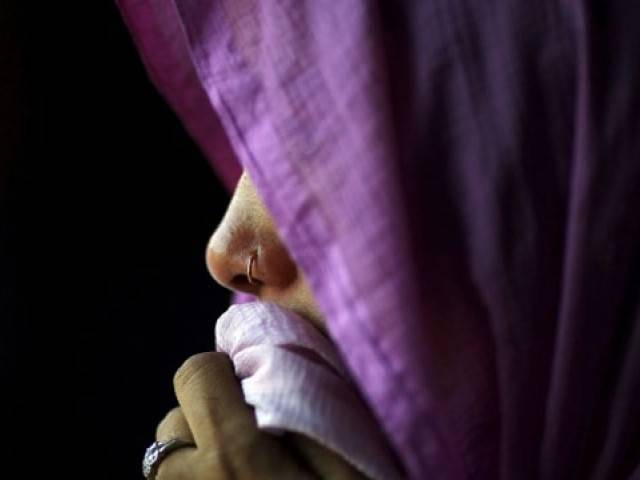 ---
LAHORE: Another woman fell victim to the heinous crime of acid throwing in the provincial capital.

The victim, a working woman, was attacked by two suspects in Factory Area in the morning.

She was identified as Nadia, 45, wife of Boota Maseeh, and was employed as a sanitary worker at the Walton Cantonment Board.

Boota told The Express Tribune that Nadia was going to work when two suspects, one of them identified as Hamayun, intercepted her. They suddenly attacked Nadia by emptying a canister of acid on her before fleeing from the scene.

She received burn injuries to the head, face and other parts of the body. One of her eyes was also damaged.

The victim was admitted to the hospital where her condition was stated to be critical.

Boota believed a grudge was the motive behind the crime as Hamayun's family and his wife exchanged harsh words over a marriage proposal dispute two months ago.

Police have registered a case and later managed to arrest the suspect within a few hours of the attack. He was taken into custody by Factory Area Investigations In-Charge Shabbir Awan and his team. Cantt SP Investigations appreciated the efforts of the team involved in the arrest.

Acid attack an offence worse than murder, says CJP Khosa

Acid throwing was a serious issue in Pakistan. It was one of the worst forms of violence against women in local society. According to Acid Survivors Foundation Pakistan (ASF), a non-governmental organisation (NGO), at least 3,412 cases have been reported in Pakistan between 1999 and June 2019. These attacks affected as many as 3,791 victims.

In 1999, 165 incidents were reported, affecting 168 victims. In 2000, the number of incidents was reported to be 240 with as many victims, while there were 351 such attacks in 2001 with 352 victims. For 2002, 494 cases were reported with 496 victims and 2003 saw 417 attacks with 420 victims.

In 2004, there were 326 cases with 333 victims and 222 cases with 277 victims in 2005.

The year 2006 saw 183 cases with 224 victims, while 162 incidents were reported in 2007 with 199 victims. 2008, meanwhile, saw 142 cases with 184 victims and there were 129 incidents in 2009 with 159 victims.

In 2010, there were 122 incidents and 160 victims, while where were 91 cases and 118 victims 2011. The year 2012 witnessed 71 cases with 98 victims, while there were 70 incidents in 2013 with 86 affected people.  In 2014, 59 cases were reported with 74 victims and 2015 saw 59 incidents with 74 victims.  In 2016, there were 44 incidents with 50 victims and 39 incidents were reported in 2017 with 48 affected people.  Finally, 2018 saw18 cases with 22 victims.

Due to the efforts of rights activists, the National Assembly of Pakistan passed the Acid and Burn Crime Bill 2017. The law also promised rehabilitation for victims.