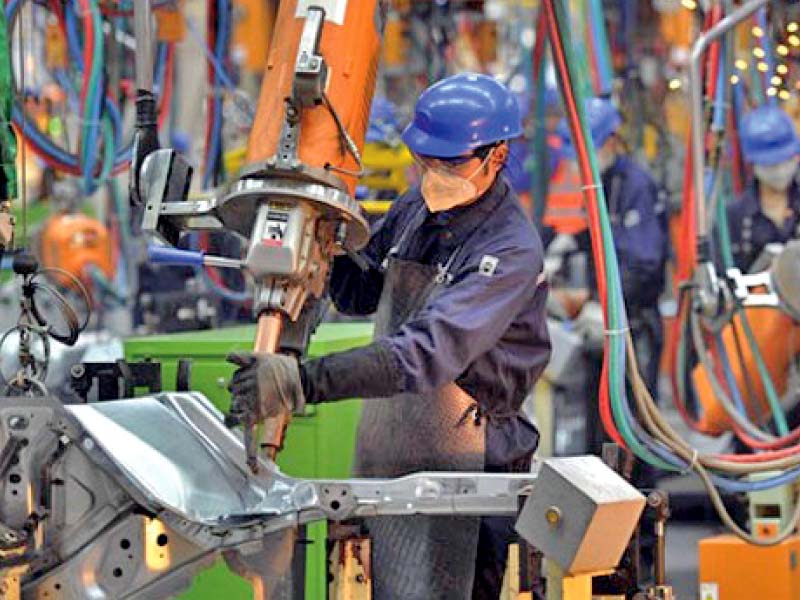 ---
ISLAMABAD: The growth in large-scale manufacturing (LSM) industries contracted 3.3% in July as the central bank remained inflexible in its tight monetary policy stance despite intervention by Prime Minister Imran Khan.

In first month of the current fiscal year, out of 15 major industries, seven recorded negative growth while two saw less than 1% growth in their output including textile, according to figures released by the Pakistan Bureau of Statistics (PBS) on Friday.

Overall LSM output decreased 3.28% in July as compared to the same month of previous year, according to the PBS. The continued slump in large industries, which heavily contribute to the revenue collection, has now made it difficult to maintain even existing jobs, what to talk about creating new jobs.

PM Imran won the July 2018 elections on the promise of creating 10 million new jobs and constructing five million homes at affordable prices - a dream shattered at the end of first year of the Pakistan Tehreek-e-Insaf (PTI) government.

A meeting between the premier and SBP Governor Dr Reza Baqir last month had triggered hopes that the central bank would review its monetary stance. But this week, the central bank kept the policy rate unchanged at 13.25%, which was more than double the rate set one and a half year ago.

"A one-percentage-point increase in interest rate reduces investment by 0.7%," remarked Dr Ayesha Ghaus Pasha, Pakistan Muslim League-Nawaz's (PML-N) member of National Assembly and former Punjab finance minister.

At present, the real interest rate is positive by 5.05%, which is far above the core inflation of 8.2%.

For the first time in the past 10 years the LSM sector had recorded negative growth in the last fiscal year 2018-19. Owing to the poor output, the share of LSM in the total national output plunged to a 19-year low at 10.1%.

Of the 15 major sectors, eight registered some growth and seven saw a contraction in July, according to data released by the national statistics agency.

The steep reduction in LSM output will heighten the risk of a prolonged economic slowdown besides increasing unemployment in the country. Higher inflation due to currency depreciation and the imposition of indirect taxes has also adversely affected the purchasing power of people.

The International Monetary Fund (IMF) has projected only 2.4% economic growth for Pakistan in the current fiscal year due to fiscal consolidation and a tight monetary policy adopted by the government to overcome economic challenges.

The data collected by the Oil Companies Advisory Committee (OCAC) showed that 11 types of industries registered average 1.7% negative growth in July. The Ministry of Industries, which monitors 15 industries, reported 3.1% decline in growth. Similarly, the provincial bureaus reported over 1.5% contraction in 11 industries.

On a month-on-month basis, the LSM sector grew less than 1% in July over June.

The sectors that posted growth on an annual basis included textile that grew just 0.12% and non-metallic mineral products that grew only 0.55% in July. The fertiliser sector showed 16.34% growth whereas electronic goods recorded 67.23% growth in first month of the current fiscal year.

The manufacturing of leather products expanded by only 1.4%, engineering products 8.1%, rubber products 2.92% and wood products 8.4%.

Industries that were producing seven major products recorded a dip in their manufacturing in the first month of the current fiscal year. The production of food, beverages and tobacco went down 7.9%, coke and petroleum recorded a steep reduction of 25.1%, pharmaceuticals 12.1% and chemicals 5.94%.

The automobile sector registered a reduction of nearly 27.4% due to almost 50% increase in prices by local assemblers that kept their relatively low-quality vehicles compared with imported cars out of the reach of consumers.

Indus Motor has temporarily shut down its production plant due to the piling up of inventories. The production of iron and steel products dropped 15.4% and paper and board 3.32%.

SBP Deputy Governor Jameel Ahmad said on Friday that the central bank had protected export and small and medium enterprise sectors from the interest rate hike by continuing low interest financing facilities. However, he admitted that there was no credit offtake by the SME sector.

Published in The Express Tribune, September 21st, 2019.

Like Business on Facebook, follow @TribuneBiz on Twitter to stay informed and join in the conversation.
COMMENTS
Comments are moderated and generally will be posted if they are on-topic and not abusive.
For more information, please see our Comments FAQ