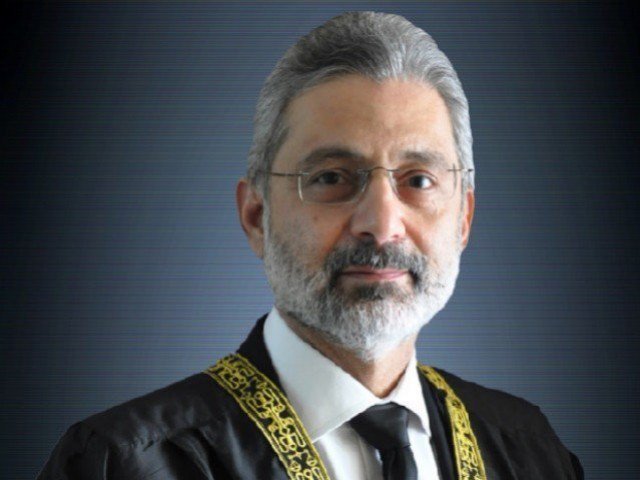 ---
ISLAMABAD: The Supreme Court will hear Justice Qazi Faez Isa's petition against the presidential reference against him on September 24.

Justice Umar Ata Bandial will head 10-member full-court bench. The other judges include Justice Maqbool Baqar, Justice Manzoor Ahmad Malik, Justice Faisal Arab, Justice Mazhar Alam Khan Miankhel, Justice Sajjad Ali Shah, Justice Syed Mansoor Ali Shah, Justice Muneeb Akhtar, Justice Yahya Afridi and Justice Qazi Muhammad Amin Ahmad.

Justice Isa had requested the apex court to form a full-court bench comprising all eligible judges to hear his petition against the presidential reference filed against him over the alleged non-disclosure of assets in his wealth statement.

Apart from Justice Isa's plea, the full court will also hear petitions filed by the Supreme Court Bar Association, the Pakistan Bar Council, Abid Hasan Minto, High Court Bar Association Quetta President Abdul Basit, Quetta Bar Association President Asif Reki, the Sindh High Court Bar Association, the Balochistan Bar Council and the Sindh Bar Council.

Sixteen judges are currently working in the Supreme Court – of which 10 are 'eligible' to hear the case. Three top most judges are members of the Supreme Judicial Council (SJC) hearing the presidential references against Justice Isa.

Two judges, Justice Sardar Tariq Masood and Justice Ijazul Ahsan, have recused themselves from hearing the case while the sixth judge is Justice Isa himself.

Earlier, Justice Isa's counsel Muneer A Malik, who just underwent angiography, had filed an application before the chief justice of Pakistan requesting a two-week general adjournment in the hearing of the petition.

It has also been learnt that one member of the full court, Justice Syed Mansoor Ali Shah, is travelling to South Africa to attend the International Organisation for Judicial Training Conference next week.

Muneer A Malik is assisted by eminent lawyers namely Tariq Mahmood, Babar Sattar, Salahudin Ahmad and Kazim Hassan.

A senior lawyer believes that the full court may simply issue notice to all respondents including government functionaries on September 24 and may adjourn the matter for a couple of weeks to start hearing on a daily basis.  It is unlikely that Malik will attend the next hearing.

Likewise, the Judicial Commission of Pakistan has nominated Lahore High Court (LHC) judge Amin-Ud-Din Khan as a Supreme Court judge.

It will be interesting as to whether or not Justice Khan will be part of the full court hearing Justice Isa's case after his elevation next month.

It also remains to be seen whether or not Justice Isa's fate will decided before the retirement of CJP Asif Saeed Khosa.

The incumbent CJP is retiring in December this year. Legal experts are also wondering as to why most of the judges who have faced charges of misconduct before the SJC in the recent past have accused the CJP Khosa of being biased.

One LHC judge objected to Khosa's presence in a bench hearing a complaint against him and the CJP recused himself from hearing the case. Three other judges also pointed the finger at the CJP, two of then claiming he was responsible for their resignation and in the third case, removal.

One section of lawyers, however, believes that the incumbent CJP has set high standards of judicial excellence which many find difficult to come up to.

However, senior lawyers wonder as to that why the CJP had not dissented to the SJC's opinion to withdraw a complaint against former Islamabad High Court chief justice Anwar Kasi who faced serious allegations of involvement in illegal appointments.