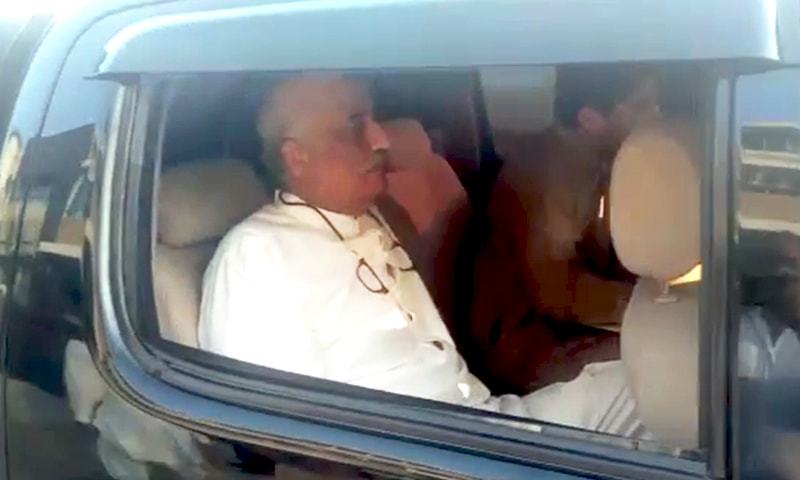 ---
ISLAMABAD: A National Accountability Bureau (NAB) team on Thursday searched the Islamabad residence of Pakistan Peoples Party (PPP) leader Khursheed Shah, who was taken into custody a day earlier over charges of possessing assets beyond known sources of income.

The NAB team searched Shah's home for three hours but was unable to find anything significant related to the investigation there.

Shah's domestic aide told The Express Tribune that the NAB team took away two electricity bills they found in PPP leader's room.

At the time of the raid, the NAB team took away cell phones from the domestic aides and nobody was allowed to enter to exit the premises.

Separately, an accountability court In Islamabad granted Shah's two-day transit remand to NAB. It ordered that the PPP leader be produced before an accountability court in Sukkur on September 21.

Shah was produced before Judge Muhammad Bashir with strict security measures in place. NAB sought a seven-day transit remand of the PPP leader. However, the judge questioned the reason behind seeking a seven-day transit remand. The NAB team told the judge that it was unable to transfer Shah to Sukkur on a morning flight on Thursday. It added that they would send the PPP leader to Sukkur on the next available flight. The judge granted a two-day transit remand of Shah to NAB.

Speaking to reporters in the court premises, Shah said they allegations against him were baseless and he had spent his life fighting against corruption.

"I don't own even an inch more than the property I have already disclosed in my wealth statement," he added. "I have nothing to do with the properties that are being linked to me."

Shah said time would prove his innocence and the government's biased accountability was disappointing.

The PPP leader demanded that the chief justice of Pakistan should take suo motu notice of his case. "Prime Minister Imran Khan and other ministers face corruption inquiries but no action is being taken against them," he maintained.

"My conscience is clear because I have done nothing wrong."

NAB sources said Shah was taken to Islamabad Polyclinic on Thursday evening after he was having difficulty in breathing and also had symptoms of cholera.

According to details provided by the NAB sources, Shah allegedly owns Taj Mahal Hotel located on Shikarpur Road in Sukkur registered under the name of his frontman Ejaz Baloch. He also accused of owing a filling station on Rohri Road in Sukkur under the name of another frontman Qasim Shah. NAB has also alleged that Shah has built a bungalow on government land using a frontman, Pappu Mahar.

He is accused of owning Gulf Hotel in Rohri as a benami asset. Shah allegedly constructed a bungalow in Professors Cooperative Society in Sukkur without disclosing the source of the money used to build it.