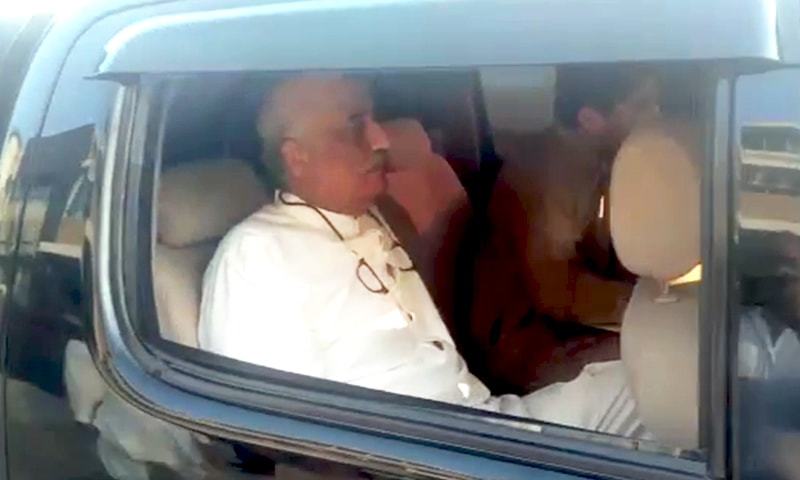 ---
ISLAMABAD: The National Accountability Bureau (NAB) arrested on Wednesday Pakistan Peoples Party's senior leader Khursheed Shah in Islamabad.

According to a brief statement issued by the accountability watchdog, he was taken into custody by the bureau's Sukkur chapter in an assets beyond means case.


NAB arrested senior PPP leader Syed Khursheed Shah in a case regarding his alleged assets beyond means. pic.twitter.com/9hE68TUv4v

— Faisal Sahi (@faysalsahi) September 18, 2019


The senior leader will be presented before an accountability court in Sukkur, his home town, on Thursday, the press release added.

Sources said a team comprising officers of NAB Rawalpindi and Sukkur rounded up Shah.

He will be shifted to Sukkur after an accountability court in Islamabad grants his transit remand.




Last month, NAB had converted an inquiry against Shah into an investigation. He faces charges of transferring an amnesty plot in Sukkur Cooperative Society under his name to build a bungalow, and owning hotels, filling stations and bungalows registered under the names of his frontmen and benami companies.

The sources said NAB Sukkur had summoned the PPP leader on Wednesday, but he had written a letter to it excusing himself from appearing before the anti-graft body because of his presence in the National Assembly session.

The PPP leader's domestic aide, meanwhile, shared details of the arrest.

"Forty NAB officers forced their way into the home," Ghulam Asghar said in a video statement. "It seemed like they came to arrest a terrorist and not an elected representative."

He said he told the authorities that Shah was sleeping; however, they still barged into his room.

"They took our [domestic aides] cell phones and spread inside the house. A NAB officer asked me which way was the roof. I told him Saeen [Shah] isn't running away then why was he asking about the way to the roof."

Asghar said Shah's wife and brother-in-law were present there at the time of the arrest.

"He [Shah] was still in his nightwear when NAB officers arrested him. We gave him other clothes and he quickly changed to leave with the officers."

The domestic aide further said 67-year-old Shah had been ill for the past several weeks. He was also taken to the emergency ward in the middle of the night recently and had also fainted but did not allow this news to be disclosed. "We have handed over Saeen medicines to the NAB officers, insisting that he is provided with them given his health complications," Asghar added.

Hours before his arrest by the apex anti-graft body, Shah told journalists that the government would not be able to survive in view of the prevailing situation inside the country.

"They [the government] have no one to blame but themselves for the quagmire they are in," the PPP leader said.

Shah said he hoped the government could complete its tenure; however, in light of recent events it would be difficult.

Earlier this month, NAB Sukkur had raided the office of the Pano Aqil Mukhtiarkar as part of the investigation against Shah and seized several records. They revenue officers there were asked about properties owned by Shah and family.

NAB Sukkur had also sought records of Shah and his family's properties from the Sindh Finance Department and the Dadu deputy commissioner.

Condemnation

PPP Senator Sherry Rehman termed Shah's arrest a contravention of rule of law in the country, saying, "We condemn what is going on in Kashmir but what about the rule of law here."

She questioned why the PPP leader was taken into custody during a National Assembly session without the speaker being taken into confidence.

The senator deemed the arrest as the government's ploy to further its vested interests.


سید خورشید شاہ کی گرفتاری پر سینیٹر شیری رحمان کا ردعمل pic.twitter.com/pGMqnHvq9N

— PPP (@MediaCellPPP) September 18, 2019


Sindh Chief Minister Murad Ali Shah said his arrest would dent the unity needed in the country in the wake of the situation. "It wasn't like he was running off to a foreign country...he was right here and ready to face any proceedings against him," Murad said.


نیب کی جانب سید خوشید شاہ کی گرفتاری پر وزیر اعلیٰ سندھ سید مراد علی ساہ کا رد عمل@MuradAliShahPPP @S_KhursheedShah pic.twitter.com/1kcLK4847e

— Team Syed Khursheed Ahmed Shah (@TeamSKAS) September 18, 2019


Ambassador for Polio-free Pakistan Aseefa Bhutto-Zardari also condemned the arrest as "politically motivated."

She added that NAB was formed by "a runaway dictator for political victimisation."


Strongly condemn the politically motivated arrest of Syed Khursheed Shah . NAB was put together by a run away dictator for political victimisation , which is exactly what its doing.

— Aseefa B Zardari (@AseefaBZ) September 18, 2019
PTI has decided that the only way out of its incompetence at basically every level, is to discredit, harass and target the opposition.

— Aseefa B Zardari (@AseefaBZ) September 18, 2019


Bakhtwar Bhutto-Zardari, the daughter of slain political heavyweight Benazir Bhutto, also spoke out on Twitter saying Shah was arrested "without any probe or investigation".


Again in another power trip, NAB with their power beyond means have arrested PPP Khurshid Shah in asset beyond means, without any probe or investigation. Every time PTI announce their Sindh Gov takeover an elected member from PPP Sindh is arrested. #FreshFaceOfFacsim

— Bakhtawar B-Zardari (@BakhtawarBZ) September 18, 2019


Born in 1952, Shah has represented PPP both as an MPA and MNA. He studied at Sukkur's Islamia College and obtained the degrees of MA and LLB.

He has remained a part of the federal cabinet several times, and enjoys an influential position in the party.

With additional input from News Desk
COMMENTS
Comments are moderated and generally will be posted if they are on-topic and not abusive.
For more information, please see our Comments FAQ