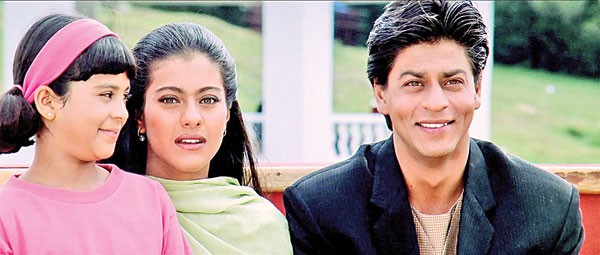 ---
KARACHI:
There is certainly no escaping iconic villains like Gabbar Singh and Mogambo. However, there is a clear misconception surrounding certain heroes in some of our favourite Bollywood films.
These people have not only misrepresented what they stand for but also twisted others cunningly into believing them to be innocent. Here's a list of five Bollywood heroes you know and love, for all the wrong reasons.
1. Rahul Khanna from 'Kuch Kuch Hota Hai'


Rahul from Kuch Kuch Hota Hai was probably one of the reasons why a lot of 8th graders fell in unrequited love with their playboy best friends. Although his flirtatious attitude was established when he went around distributing friendship bands to random girls, to warn the underexposed minds, both Tina and Anjali, along with the viewers, only took him seriously when he fell in love with both of them.

Not only did Rahul lead Anjali on for the longest time, he married Tina and then completely forgot about his college bestie. After Tina's death, he met Anjali again and suddenly fell in love with her because she was more 'feminine' now.

Even though it seemed Rahul had left his mischievous ways by the middle of the story, his decision to try and break Anjali's engagement from a man who genuinely loved her for who she was, it becomes utterly obvious, that once a play boy, always an egotistical, self-centered play boy.

2. Sonu & Monu from 'Haseena Man Jaayegi'


Sonu and Monu kicked off the idea that "no means yes" in Bollywood. For all the love and appreciation that movie received, at a point it became obvious that such characters in real life would qualify as nothing more than stalkers and harassers.

They not only tricked the girls into believing they are someone else but also continued to breach their private space and even attempted to abduct them, after picking them up on a horse and kissing them without consent.

3. Alok Malhotra from 'Baghban'
The year 2003 was cursed for children across the subcontinent because Baghban became the biggest hit for desi parents everywhere. Not only did the film depict how children are not supposed to behave but it also dictated what children are supposed to behave like and that too, in a rather preachy manner.
For that very reason, came in Alok Malhotra, the adopted child of Raj Malhotra. Alok, was undoubtedly a kind gentleman, but perhaps that was his biggest flaw. He set unattainable, unrealistic, and unbelievably high standards in morality for the Malhotra's biological children and made them completely replaceable.
The biggest irony of the film was how this character suddenly decided to pop up in the end, just like a villain who had been waiting for the downfall of his enemies to take away all the credit.
4. Kabir Thapar from 'Ye Jawaani Hai Deewani'
Of course, Ye Jawaani Hai Deewani was all about living life and Kabir, also known as Bunny, was the prince charming who taught a damsel in distress how to live it to the fullest.
However, he was another flirtatious Bollywood hero who did not realise, let alone care, about who he was hurting in his quest to live a happening life.
Even though he decided to marry Naina in the end, he only confessed to loving her when he finally saw that someone else could be a potential threat and take her away.
5. Kabir Singh from 'Kabir Singh'


No, Kabir was not being romantic when he slapped Preeti. No, he was not representing what real love looks like. Yes, he was mentally unstable and incapable of handling criticism when insulted by her father.

He was also extremely narcissistic for believing no one could love her more than him and he continued to display that narcissism throughout the film.

Also, Kabir screamed at her in the middle of the road while abusing her parents. He also pushed her around in front of everyone and represented a toxic and misogynistic male, not a hero.

This is not to say that we didn't enjoy watching the afore-mentioned films. We truly did. But it's time the film world woke up to the misogyny it depicts, knowingly or unknowingly.

Have something to add to the story? Share it in the comments below.