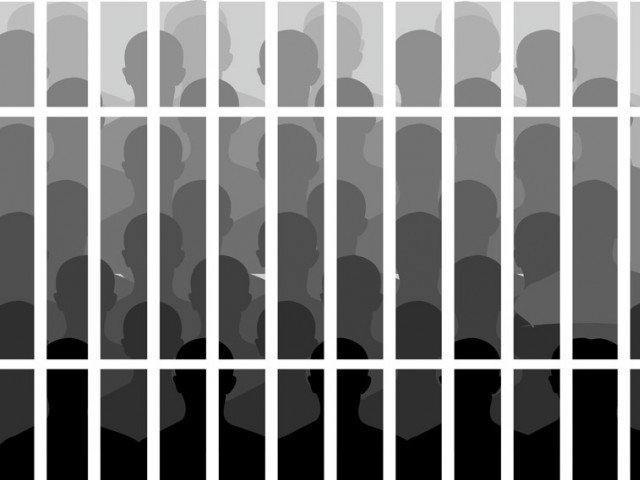 ---
KARACHI: Police have nominated more than 200 people in three cases registered in connection with the violent anti-Hindu riots witnessed in Sindh's District Ghotki on Sunday.

Officials confirmed to The Express Tribune that three separate cases have been filed in which a total of 218 people have been nominated.

The development comes a day after hundreds of angry protesters took to the streets in Ghotki after Notan Lal, a member of the Hindu community and owner of the Sindh Public School, was accused of passing blasphemous remarks by a student.

The mob vandalised the school and at least five shops in Jilani Market owned by members of the Hindu community, while also desecrating the Sacho Satram Das temple.

In the first case registered against the rioters, 45 people have been booked under Section 295 of the Pakistan Penal Code (injuring or defiling place of worship, with intent to insult the religion of any class).

Of these 45, officials said, 22 people have been identified while 23 remain unidentified.

Mob runs riot in Ghotki after Hindu teacher booked for alleged blasphemy

In the second case, 150 people - 27 identified and 123 unidentified - have been accused of blocking roads and disrupting vehicular traffic.

A total of 23 people - 12 identified and 11 unidentified - have been nominated in the third case which pertains to ransacking and damage to property.

Speaking to The Express Tribune, Sukkur Additional Inspector General of Police Dr Jamil Ahmed said all three cases have been registered on behalf of the state.

"This is a warning to all such miscreants that no one will be allowed to challenge the writ of the state," he said.

Dr Ahmed later took to Twitter to announce that five of the 61 identified accused have been arrested.


Ghotki Police has registered 3 FIRs so far against rioters who indulged in desecration of a temple, damaging a school and other property & blocking NHW yesterday. 61 rioters have been nominated and 5 of them arrested. Remaining 157 unknown hooligans are being identified #Ghotki https://t.co/KR85Sn7LwK

— IGP Dr. Jamil Ahmed PSP, PPM (@jahmed95) September 16, 2019


Allegations and agitation

A student of the SPS, Muhammad Ihtisham, had complained to his father that the school owner had allegedly passed derogatory remarks against Prophet Muhammad (PBUH).

In a video that went viral on Sunday, Ihtisham said he had complained to other teachers about the remarks but he was told to keep quiet. "I then approached my family," he said.

On Saturday, protesters gathered at the A-Section Police Station and demanded the police to register an FIR against Lal. According to the FIR, a copy of which is available with The Express Tribune, it was registered late on Saturday night.

For the better part of Sunday, the city administration and law enforcers failed to act even as thousands of supporters of Mian Mithoo held a sit-in on the main roads and marched towards the school.

Mian Mithoo has in the past been accused of facilitating forced conversions of Hindu girls in the region. The main protest, which attacked the Sindh Public School, was allegedly led by his elder brother, Mian Aslam.

For his part, Mian Mithoo told The Express Tribune that he knew nothing about the incident.

In one of the videos that went viral on Sunday following the riots, Mian Aslam is seen leading a charged mob. But Mian Mithoo, a former member of the National Assembly, denied any involvement.

"I did not lead the protest," he told The Express Tribune. "I was in Ubaro in a meeting," he explained, adding that he was unaware of the situation in Ghotki. "I don't have any idea. I just heard someone [a Hindu] passed comments against our Prophet (PBUH)."

Ghotki's Hindu community finally breathed a sigh of relief on Sunday night as political and religious leaders sat down in the Sacho Satram Das temple and assured them of their full support.
COMMENTS (1)
Comments are moderated and generally will be posted if they are on-topic and not abusive.
For more information, please see our Comments FAQ