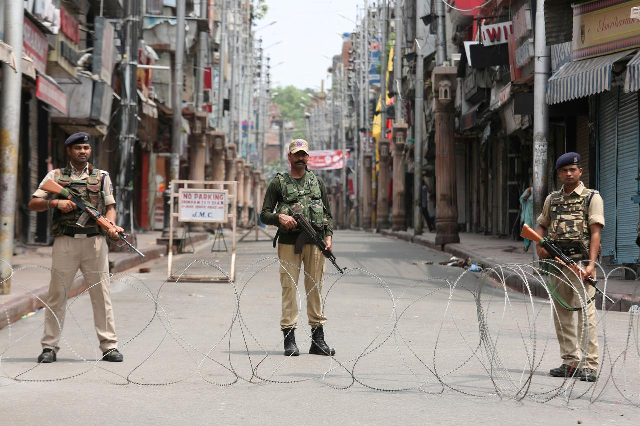 ---
Indian Supreme Court on Monday said every effort should be made to restore normalcy in occupied Kashmir that has been under lockdown for over 40 days, India Today reported.

Chief Justice Ranjan Gogoi said, "We are not passing any orders. We are saying restore keeping in mind national security" and added, "We have said all facilities should be restored keeping in mind national security. We are not carving out exceptions for any category."

The court was hearing petitions filed on the restrictions in IOK, media curbs and Article-370.

Islamabad refuses backdoor talks with New Delhi

CJI Gogoi expressed concerns and also sought a report from IOK High Court chief justice on allegations that people were finding it difficult to approach the high court.

"It is very, very serious if people are unable to approach the high court. I will myself visit Srinagar" to see if the situation in IOK was as dire as people were suggesting.

"If you make a statement that it's difficult to approach the HC, it's a very serious statement. Is anyone coming in the way of you going to the high court? Please tell why?" CJI Gogoi asked.

Petitions in SC challenging abrogation of Article 370 in J&K: Supreme Court asked Union Of India and Jammu & Kashmir Government to file an affidavit in the case, and fixed the matter to September 30 for further hearing. pic.twitter.com/khkfUcBeSY

— ANI (@ANI) September 16, 2019

Farooq Abdullah detained under PSA                                              

The former chief minister of Indian Occupied Kashmir (IOK) and National Conference leader Farooq Abdullah has been detained under the Public Safety Act (PSA).

According to India Today, the law allows the government to detain a person for up to two years without any trial.

The Kashmiri leader has been kept under house arrest at his residence in Srinagar since India abrogated the Article-370 on August 5, stripping the disputed valley of its special status and imposing a strict lockdown and communications blackout in the region.

The decision to slap PSA on Abdullah came on the night of September 15.

Under the PSA, Abdullah's house has now been declared a sub prison where he will continue to stay. There will be, however, no bar on meeting relatives and friends.

Earlier, Kashmiri leader Shah Faesal was also detained under the IOK Public Safety Act.

Meanwhile, the Indian SC on Monday also sought a response from New Delhi and the IOK administration on a plea seeking to produce Abdullah before the court.

Screams in the night in occupied Kashmir

It issued a notice to the Narendra Modi-led government and the IOK. The court also fixed Indian politician Vaiko, also a member of the Rajya Sabha, for hearing on September 30.

More than 50 politicians and leaders in IOK, including former chief ministers Omar Abdullah and Mehbooba Mufti, were either detained or put under house arrest following the abrogation of Article-370 last month.