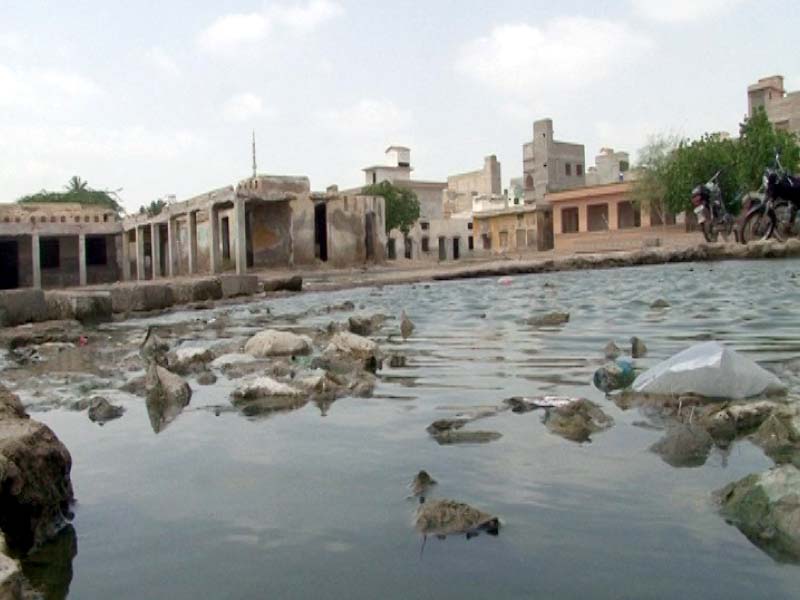 ---
KARACHI: Academic activity at the Government Boys Secondary School 5E in New Karachi remains affected due to rain and sewerage water collected in the school's premises. On September 5, Sindh Chief Minister Murad Ali Shah had taken notice of the dire conditions in and around the school and had issued directives to relevant officials to clear the water from the school immediately and initiate fumigation process.

However, 10 days later, academic activities have not resumed properly in the school as no action has been taken so far to clear the water.  A foul stench surrounds the school as the stagnant water has remained for nearly a month now. Flies and mosquitos around the area have multiplied while the fate of around 630 students' education hangs in balance.

The land has soaked some of the water collected around the school's entrance and after 22 days, the school has resumed classes.

However, only 150 to 200 students manage to wade through the water each day against the total enrolment of around 630.

Students have placed concrete rocks in the water to make some sort of a pathway for themselves.

"The future of students is at risk and this is unacceptable," Shah had said while issuing the directives. Since then, officials of the works and services department, representatives of the provincial and local governments and the Central deputy commissioner have visited the school but no efforts have been made to clear the stagnant water.

Speaking to The Express Tribune, the students noted that no teacher, school administration or government would take responsibility if their academic year is wasted. "It is about the future of over 600 of us," said one student adding that his classmates were getting sick due to the dirty water.

The students said that the swarm of flies and mosquitoes around the school had made it near impossible for them to attend school. They appealed to senior officials to clear the stagnant water.

Published in The Express Tribune, September 15th, 2019.