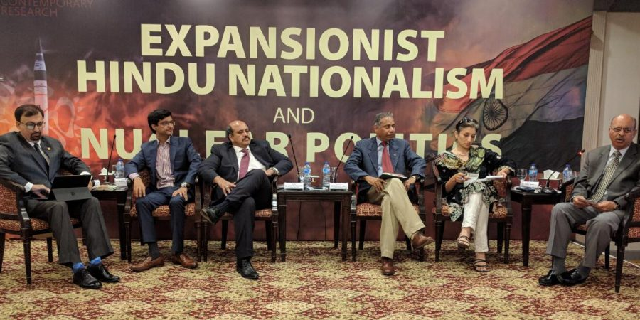 ---
The rising Hindutva hyper-nationalism in India is not a domestic issue of the country anymore. It is already spilling over to become a regional issue and has global implications, too. The region has become a nuclear flashpoint due to the current situation in Indian Occupied Kashmir.

This threat was highlighted by leading security experts and defence analysts in Islamabad during a seminar "Expansionist Hindu Nationalism and Nuclear Politics" organised by Centre for Strategic and Contemporary Research (CSCR) held at a local hotel on Thursday.

The speakers included former defence secretary Lt Gen (retd) Naeem Khalid Lodhi, former defence secretary Lt Gen (retd) Asif Yaseen Malik, Quaid-i-Azam University (QAU) School of Politics & IR Dr Zafar Nawaz Jaspal,

Thousands detained in occupied Kashmir crackdown, official data reveals

QAU Department of Defence and Strategic Studies Dr Salma Malik, Arms Control and Disarmament Affairs (ACDA) Adviser Air Commodore (retd) Khalid Banori, Strategic Plans Division (SPD) Sultan M Hali, author of Rising Hindutva & Its Impact on the Region Brigadier (retd) Dr Naeem Salik, ACDA former director Mansoor Ahmed, Centre for International Strategic Studies (CISS) research fellow, and CSCR President Anas Abdullah.

The experts were also of the view that the international community has historically only moved seriously on matters of compliance of international law when something really bad has happened to the world, such as German Nazism, South African apartheid, Rwandan genocide. Pakistan and Kashmiris should not expect much from it, though continued exposition of Hindutva fascism could sensitise the global conscience in the long run.

Dr Jaspal talked about the evolving nuclear posture of India under the influence of Hindutva. He said India has lost confidence in its conventional military capabilities against Pakistan that is why its leaders are frequently giving threats of 'no-first use' strategy in nuclear weapons domain.

Published in The Express Tribune, September 13th, 2019.