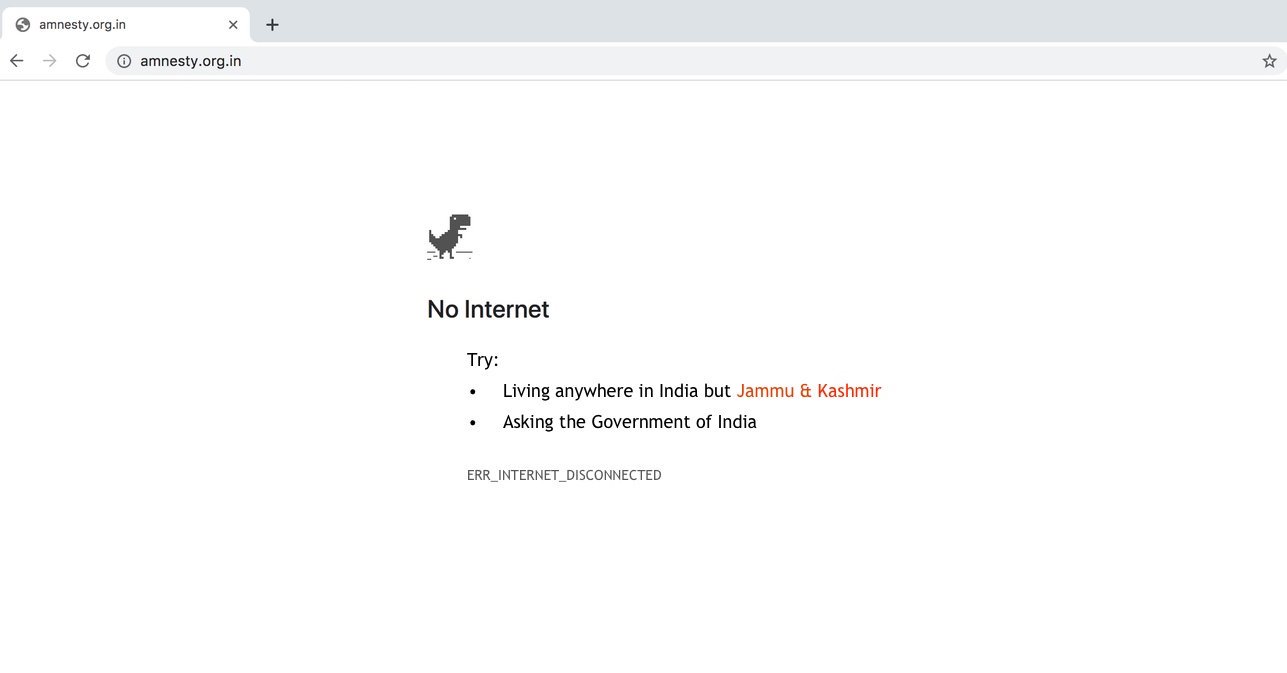 ---
KARACHI: Military clampdown in Indian Occupied Kashmir (IOK) continues for over a month since August 5 when New Delhi revoked the disputed region's autonomy.

With mobile phone network and the internet still cut off, the United Nations as well as other international bodies and states have voiced alarm over the situation in the occupied valley.

Among other things, restriction on internet communications has been specifically pointed out.

To know more about internet disruption in general, and the clampdown in IOK, The Express Tribune interviewed Alp Toker, Executive Director NetBlocks. Excerpts:

Express Tribune: How is an internet shutdown implemented in any geographical space? Is there anything like an internet kill switch?

Alp Toker: Internet shutdowns are implemented in a variety of manners. NetBlocks has identified shutdowns ranging from highly technical and selective measures using specialised censorship equipment. In the crudest form were a cable is cut or a data center unplugged.

In some cases, throttling is used to slow down connection in order to evade detection. In such a case the internet works, but it cannot be used for news gathering or reporting and videos or images cannot be uploaded.

To disconnect a small area, deactivating cell towers is a typical measure – often implemented without legal or regulatory oversight. For shutdowns targeting larger regions or entire countries, especially where telephone service is also affected, the cooperation of telecommunication operators is required.

ET: How is the internet blocking being executed in Kashmir? Is it completely off since August 5?

Toker: NetBlocks data from Kashmir indicates that network operators have been ordered or compelled to disconnect certain regions. Our data shows that Jammu is not heavily targeted, while Srinagar and surrounding regions are, indicating the use of demographic targeting by the Indian state.




In affected regions of Kashmir there are signs of some connectivity being made available, but this may be reserved for security forces, officials or other specific purposes. Hence, the Kashmir internet shutdown can be classed as total or near-total.


There are a number of aggravating factors in the Kashmir shutdown, foremost of which is that it has been used to exclude civic participation at a time when the public most need to be engaged about the future of their state. The second aggravating factor is that the measure was taken on security grounds while the objective transpired to be political in nature.

ET: Are any laws being violated here? Is internet a human right?

Toker: The United Nations Human Rights Council passed a resolution in 2016 condemning countries that prevent or disrupt online access and information. More recently, the United States and Europe have been adopting laws that regard any cyber-attack affecting critical infrastructure as an act of war, which potentially encompasses shutdowns.

ET: Are there any alternatives for citizens to defy the internet shutdown?

Toker: Options are few for communities affected by the shutdown in Kashmir: With telephony cut, the only remaining options are slow and expensive satellite phones which are regulated and risky to possess or community mesh networks which are technically challenging and not yet fully proven in challenging terrain. Hence, the remaining option is to seek change through policy.

ET: Is there any recent precedent of internet remaining shut in any region for over a month? 

Toker: Long-lasting internet shutdowns are not unheard of. NetBlocks tracked a shutdown in Ethiopia that spanned weeks this June following a political crisis. Indonesia applied highly targeted restrictions on social media uploads in a bid to prevent protests. NetBlocks detected severe outages in Sudan when hundreds seeking civilian rule were killed by paramilitary groups. In each case, rights have been severely impacted and the leadership is often undermined rather than strengthened.

The writer is a member of staff. He tweets @WaleedTariq89