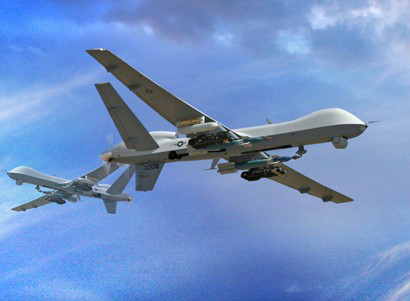 ---
MIRANSHAH: US drone attacks killed at least 18 militants and destroyed hideouts in North Waziristan, officials said on Friday.

The twin strikes 12 hours apart struck west and east of Miranshah, the main town in the wild tribal district, where Pakistani commanders feel under increasing US pressure to carry out a military offensive. Both attacks targeted militant hideouts, but the identity of the dead, the networks to which they may have been affiliated and whether there were any high value targets was not immediately clear.

Pakistani officials said 11 militants were killed in the attack in Bahadar Khel village early on Friday and three in the village of Khaddi late Thursday. The US military does not, as a rule, confirm drone attacks, but its armed forces and the Central Intelligence Agency operating in Afghanistan are the only forces that deploy pilotless drones in the region.

"US drones fired three missiles at a house used by militants around 7.30 am (0230 GMT)," said a senior security official in the northwestern city of Peshawar. "Eleven militants were killed," the official told AFP of Friday's strike, revising up an initial toll of three dead.

Security officials in Miranshah said seven other militants were injured and that three of the 11 dead were "foreigners", a term used by Pakistani officials for al Qaeda linked militants operating in the tribal regions. In the earlier attack, officials said missiles killed three militants, two of whom were reportedly foreigners.

The areas around Khaddi and Bahadar Khel are known for being strongholds of two groups loyal to Taliban linked warlords Hafiz Gul Bahadur and Moulvi Sadiq Noor, officials said.

The two men are reputed to control thousands of fighters who attack US-led forces across the border in Afghanistan, where the Afghan Taliban are waging a nearly nine year insurgency to evict the estimated 142,000 foreign troops. More than 900 people have been killed in nearly 100 drone strikes in Pakistan since August 2008, including a number of senior militants, but the attacks fuel anti-American sentiment in the country.

On June 1, al Qaeda said its number three leader and Osama bin Laden's one-time treasurer Mustafa Abu al-Yazid had been killed, in what security officials said was an apparent drone strike in North Waziristan.

Washington has branded the rugged tribal area a global headquarters of al Qaeda and officials say it is home to extremists who hatch attacks on US-led troops in Afghanistan and on cities abroad. Waziristan came under renewed scrutiny when Faisal Shahzad, the Pakistani-American charged over an attempted bombing in New York on May 1, allegedly told US interrogators he went there for bomb training.

The United States has been increasing pressure on Pakistan to crack down on militant havens along the Afghan border. Pakistani commanders have not ruled out an offensive in North Waziristan, but argue that gains elsewhere need to be consolidated to prevent their troops from being stretched too thin.

Last week, a UN human rights expert warned that the "prolific" use of US drone attacks amounted to "a licence to kill without accountability" and was setting a damaging example that other countries would follow.

In a report to the UN Human Rights Council, Philip Alston sharply criticised the legal arguments used to justify them, their civilian toll and the involvement of the Central Intelligence Agency (CIA).
COMMENTS (2)
Comments are moderated and generally will be posted if they are on-topic and not abusive.
For more information, please see our Comments FAQ