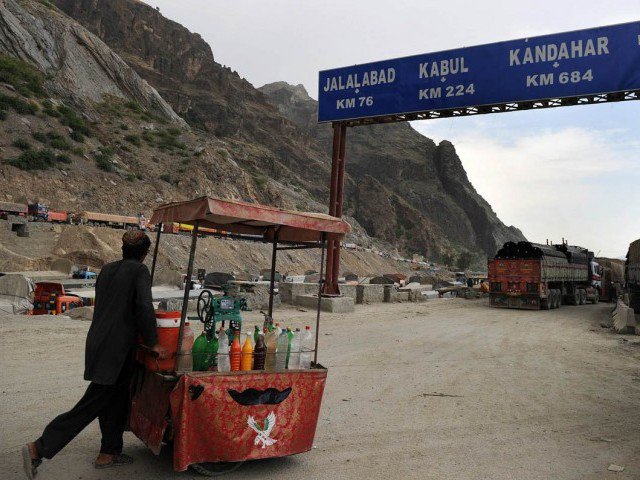 ---
LANDI KOTAL: Pakistan and Afghanistan on Sunday opened the Torkham border crossing round the clock on a trial basis kicking off 24-hour trade activities and transportation services.

Officials from both sides also held a flag meeting to discuss security measures and trade affairs.

The district administration finalised arrangements for Prime Minister Imran Khan's arrival at the Torkham border on Monday. The prime minister will formally open the crossing.

The participants of the meeting decided that 24-hour trade activities were in their initial stage and if they were successful, cross-border movement of citizens from the two sides would be started in the second phase.

By then, round-the-clock trade activities would take place on a permanent basis.

Both side expressed their satisfaction over the step, expecting the trade volume between the two countries to double and people-to-people contact to increase.

In January this year, Prime Minister Imran Khan had ordered the officials concerned to make arrangements within six month for keeping the Torkham border crossing to Afghanistan open 24 hours a day.

"This step will be instrumental in boosting bilateral trade & enhancing people to people contacts between the two brotherly countries," he had said at the time.

The Khyber-Pakhtunkhwa chief minister had also announced opening all trade routes with Afghanistan once the security environment improved.

In April, the Economic Coordination Committee had approved a supplementary grant of Rs500 million for the construction for an additional carriageway on the Torkham-Jalalabad road under the Prime Minister's Programme for Reconstruction of Afghanistan.

Traders have welcomed the decision and said it would boost the trade volume between the two countries.

The Afghan Ministry of Industry and Commerce had stated in a press release last year that the trade and transit volume between Afghanistan and Pakistan had decreased by 20 percent.

Sarhad Chamber of Commerce and Industry (SCCI) President Faiz Muhammad Faizi has hailed the government's decision to keep the Torkham border open around the clock. He, however, urged the National Logistics Cell (NLC) to build a modern terminal to overcome issues of long queues during the clearance of goods and consignments at the Torkham border.

He also said that impediments in exports via Afghanistan to the Central Asian Republic countries should be resolved.

In 2010-11, Pakistan's exports to Afghanistan were $2.4 billion, which fell to $1.3 billion by 2018-19. The total volume of Pak-Afghan trade has declined from $2.5 billion to below $1 billion.
COMMENTS
Comments are moderated and generally will be posted if they are on-topic and not abusive.
For more information, please see our Comments FAQ