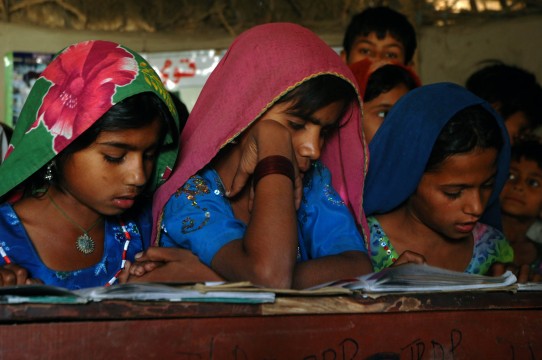 ---
PESHAWAR: A report on the government's efforts to increase female literacy rate revealed that authorities are spending on an average Rs1,670 on all girls enrolled in primary schools across the country.

The Education Monitor, prepared by the Free and Fair Education Network (FAFEN), was released at the Peshawar Press Club on Thursday. The event was organised by the Network's provincial representative, Zaheer Khattak. He said that Sindh is spending the most money on educating girls: Rs2,543 on every girl student.

Meanwhile, the report also stated that Balochistan spends just Rs747, the lowest among the provinces. Education authorities in Khyber-Pakhtunkhwa are spending Rs1,216, while Punjab spends Rs1,628 per girl student.

The report also highlighted the inadequate number of teachers in primary schools for girls in Punjab, Khyber- Pakhtunkhwa and Fata. According to figures in the report, Punjab maintained the worst ratio teacher-to-student ratio, adding that there was only one teacher for 37 students.  The teacher-to-students ratio in Khyber-Pakhtunkhwa was 34. In one case, there were just two teachers in a girls' primary school which had a total of a 175 students.

The report stated that another worrying statistic was the lack of attendance in schools. About 12 out of 19 schools in Punjab showed that teachers were maintaining an attendance of less than 17 per cent. Meanwhile, figures obtained from 56 schools showed that in 15 of them, students attendance was less than 75 per cent.

The situation was relatively better in Balochistan where all girls' students were being monitored, and an attendance of over 75 per cent.

In Khyber-Pakhtunkhwa, student attendance was around 90 per cent. The report also said that primary schools monitored in May this year needed improvements because many of them lacked basic infrastructure. The condition of one-thirds of the school buildings were dilapidated, 30 per cent did not have well lit classrooms, only 32 per cent had access to drinking water, 56 per cent lacked complete furniture for teachers and 25 per cent did not have electricity or fans.

Two thirds had no playgrounds and other recreational facilities and only 63 percent a separate staff room for staff.

Zaheer Khattak said that these estimates "are based on the budgetary data provided by schools to FAFEN governance monitors, who visited 133 girls' primary schools across the country". He said that monitors visited 56 schools in 31 districts of Punjab, 30 schools in 21 districts of Khyber-Pakhtunkhwa, seven of 38 girls' schools in Balochistan. He said that they visited a girls' school each in Islamabad and Fata.

Published in the Express Tribune, June 11th, 2010.
COMMENTS (2)
Comments are moderated and generally will be posted if they are on-topic and not abusive.
For more information, please see our Comments FAQ