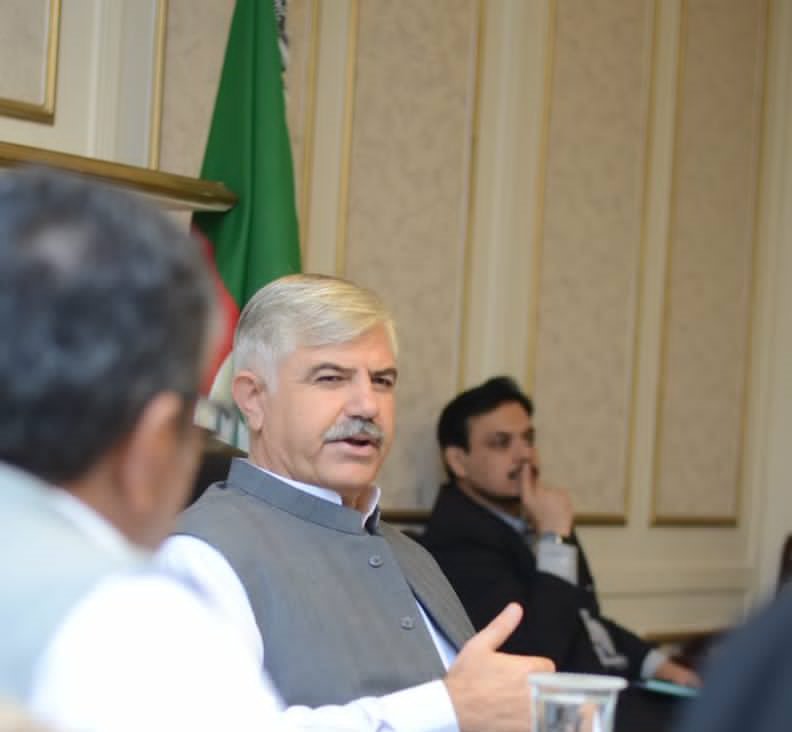 ---
PESHAWAR: Khyber Pakhtunkhwa Chief Minister Mahmood Khan said on Saturday he will lead from the front as sipah salar of his people if ever the Jihad of Kashmir was formally declared by the state.

"We will return from Jihad only after complete victory and liberation of Kashmir from India," he said while inaugurating the construction work on Pehur High-level canal having a discharge capacity of 230 cusecs and Utla Small Dam Project in District Swabi.

Commenting on the Kashmir issue, the CM univocally stated that the government of Khyber Pakhtunkhwa along with its people fully support the stand of Prime Minister Imran Khan on the issue and are completely supporting the armed forces in the fight against the atrocities of Indian Army in occupied Kashmir. He stated that the provincial leadership and people of the province are ready to fight alongside its armed forces whenever the state demands it.

While addressing the inaugural ceremony, Mahmood Khan stated that the extension of Pehur High-Level Canal will bring about an agricultural revolution in the province by irrigating 3,500 acres of barren land and increasing the crop yield from 5,000 tonnes to 115,000 tonnes. He also announced the construction of bypass road as demanded by local people.

The project will be completed at an estimated cost of Rs10,156 million having future provision, in the 29km long pressure pipeline, for irrigating additional 10,930 acres of barren land. The project is scheduled to be completed by the year 2022.

As per details, the villages to benefit from the scheme include Mainai, Pabini, Malik Abad, Mian Dheri, Kala, Shah Mansoor, Gajju Kham, Kunda, Mera, Panjpir, Jhangidher, Lahore Sharqi, Lahore Gharbi, Jalsai, Jalbai, Lahore Mera and Nandrak.

While addressing a public gatherings Gadoon, the Chief Minister also announced the establishment of College, Hospital and two Higher Secondary Schools for girls in the area. The Chief Minister stated that the dam will benefit more than 45 villages by not only providing them with clean drinking water but will also help in raising the ground water levels in adjacent areas.

The dam will be constructed at an estimated cost of Rs1,577 million and will be completed in approximately a two-year time. According to details, the total storage capacity of the dam is 458-acre feet whereas 68km of supply pipelines will ensure supply of water to end-users.

The Chief Minister while addressing the inaugural ceremonies stated that previous federal governments have not only left the national kitty empty but have also left every individual of Pakistan in debt amounting to Rs 1lakh 15 thousand per individual.

He stated that the present government is committed to addressing the basic issues of the province and for the first time in the history of the country, national and provincial leadership is visiting remote areas of the province so as to witness public issues first hand and take remedial measures accordingly.

Published in The Express Tribune, August 25th, 2019.