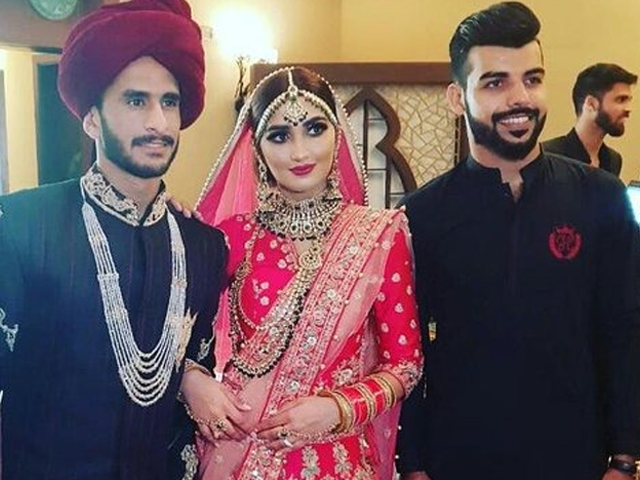 ---
LAHORE: The newly wedded couple, cricketer Hassan Ali and wife Samiya Arzoo tied the knot in a closed knit nikkah ceremony in Dubai.

However, now that the wedding function is over, Ali has now started a hashtag for fellow team member Shadab Khan's wedding.

"You said that you will get married after me, now it's your turn," Ali tweeted to Khan.

#WaitingforShadabsWedding has since been trending on Twitter.

Ali's wife however, has predicted four weddings for the spinner. "Soon, Shadab will be a bridegroom and will marry four times," she shared.


you said that you will get married after me now it's your turn. #waitingforShadabswedding

— Hassan Ali 🇵🇰 (@RealHa55an) August 21, 2019


A special marriage ritual was performed at Ali's wedding. Arzoo, made Khan sit on a chair and tried breaking the garland. The garland broke easily and into four parts.

As per the ritual, an easily broken garland is a sign of an early marriage. The number of pieces it is broken is, is how many times the person gets married.

"Couples are made in heavens. I will get married with the will of Almighty and my parents," said Khan.

Have something to the story? Share it in the comments below.