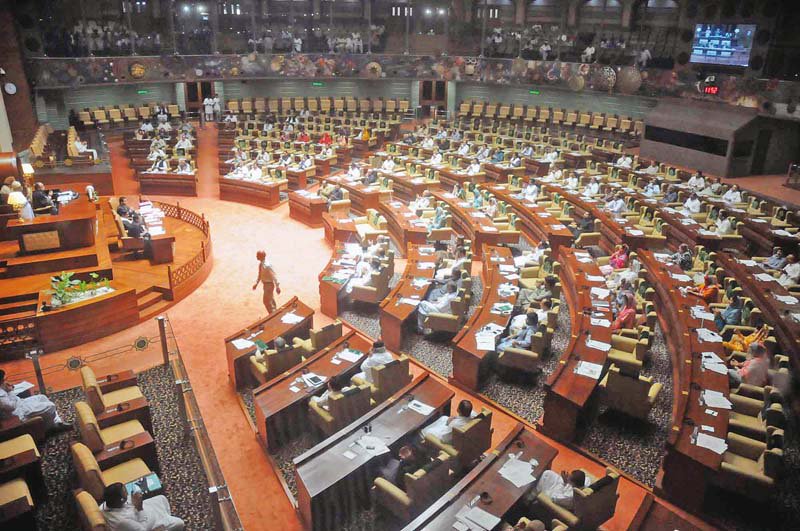 ---
KARACHI: Sindh Assembly Speaker Agha Siraj Durrani adjourned on Wednesday the session for want of quorum. The session was adjourned till 2pm on Thursday, in view of the thin attendance of the ruling Pakistan Peoples Party (PPP) members in the House.

The issue was raised by Pakistan Tehreek-e-Insaf MPA Kareem Bux Gabol during the question-answer session. "Mr Speaker, you are presiding over the session, but the quorum is not complete," he said, while pointing a finger at the treasury benches where only 10 MPAs were present.

According to the rules, 42 MPAs [that is one-fourth of a total 168 of the House] are required to be present to run the session. When the quorum was pointed out, only 25 members were present in the House.

After counting, the speaker adjourned the session for five minutes, asking the ruling party to complete the quorum. When he returned to chair the session, the same number of MPAs was present. Looking at the thin attendance, he adjourned the session.

Law and order

Earlier, Shaharyar Mahar of Grand Democratic Alliance (GDA) drew the attention of the House towards the rising incidents of kidnapping for ransom, extortion and killings in Shikarpur district. "Around 42 people have been killed in the last two months in our area. Not a single murderer has been arrested. Where is the police and writ of the government?" he questioned.

Mahar said that dacoits have made the lives of people miserable and extortion is being collected from the Hindu community living over there for centuries.

In response, the minister for parliamentary affairs and excise and taxation, Mukesh Kumar Chawla, admitted to the rise in the cases of extortion and said, "It is true. We have fixed a day today [Thursday] for discussion on law and order where this issue will come under debate. The government will give its version and efforts to deal with it."

During the session, only one question about the transport department was discussed. Transport Minister Syed Awais Qadir Shah informed the House that the provincial government has inked an agreement with a private company and would bring 100 buses on Karachi's roads by October this year.

Published in The Express Tribune, August 22nd, 2019.
COMMENTS
Comments are moderated and generally will be posted if they are on-topic and not abusive.
For more information, please see our Comments FAQ