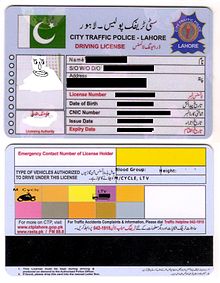 ---
LAHORE: Inspector General Police Punjab Captain (retd) Arif Nawaz Khan has directed officials to follow recommendation of the Punjab Information and Technology Board experts to improve the quality of driving licences.

He was speaking to officers at a meeting held at the Central Police Office on Saturday.

Khan also directed officials to increase the size of the picture of the cardholder. He added other credentials, like the name, should be bolder to give the cards a more appealing look. He added that there should be a legal provision to record the history of traffic violations on the licence. He said this would enable easy access to necessary records.

During the meeting, Khan directed officers that improvement of driving licence quality, according to contemporary needs, was necessary.

"Therefore, after considering all aspects, a new design should be finalised according to a comprehensive strategy which must also be linked to a computerised database under an integrated system."

Khan also said to consider the feedback from field offices to prepare a final licence in its best form. He directed officials to present a sample licence in the next meeting so that after finalisation, it can be implemented in all districts across the province.

Published in The Express Tribune, August 18th, 2019.