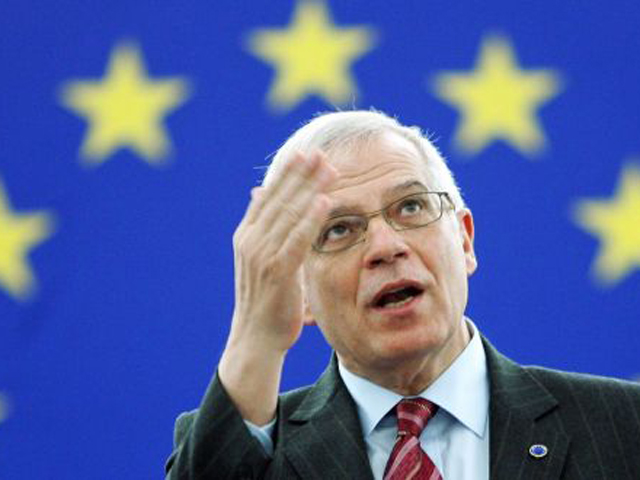 ---
Spanish Foreign Minister Joesp Borrell has assured Pakistan that Spain and the European Union (EU) would make every effort to ensure peace and stability in South Asia following New Delhi's ill-conceived move to strip Occupied Jammu and Kashmir of its autonomy on August 5.

In a telephonic conversation with his Pakistani counterpart Shah Mehmood Qureshi on Friday, Borrell said that they were closely monitoring the situation and that any further escalation would have severe impact on the peace and security in the region.

The contact was established the same day the UN Security Council is taking up the precarious situation in Indian Occupied Kashmir which has been turned into a 'giant prison camp' by the Modi adiminstration in an attempt to contain the simmering rage in the disputed territory.

Kashmir dispute in UNSC focus after decades

The government of Prime Minister Narendra Modi is visibly upset at the UNSC decision to take up the Kashmir dispute at Pakistan's request endorsed by China after almost 50 years. Islamabad calls the UNSC decision a huge "diplomatic achievement".

Prime Minister Imran Khan has warned the international community of "severe repercussions and reactions" if they "silently witness another Srebrenica-type massacre & ethnic cleansing of Muslims in IOK".

During today's telephonic conversations, Qureshi and his Spanish counterpart also agreed to continue to work together for peace and stability in the region, according to a statement issued by the Foreign Office.

India defence minister makes veiled threat of nuclear war

Qureshi had telephoned the Spanish foreign minister to brief him on the current situation in the Indian Occupied Jammu and Kashmir. He highlighted the illegal and unilateral steps taken by New Delhi to change the disputed status of IOK and its demographic structure.

The foreign minister added that these steps were in contravention of the United Nations Security Council (UNSC) resolutions on Jammu and Kashmir and the international law.

Qureshi maintained that the actions taken by India entailed grave risk for peace and security in the region and were aimed at bringing a material change to the status of the occupied valley. He highlighted the severe hardships being faced by the people of Occupied Jammu and Kashmir in the face of unprecedented lockdown of the entire population.
COMMENTS
Comments are moderated and generally will be posted if they are on-topic and not abusive.
For more information, please see our Comments FAQ