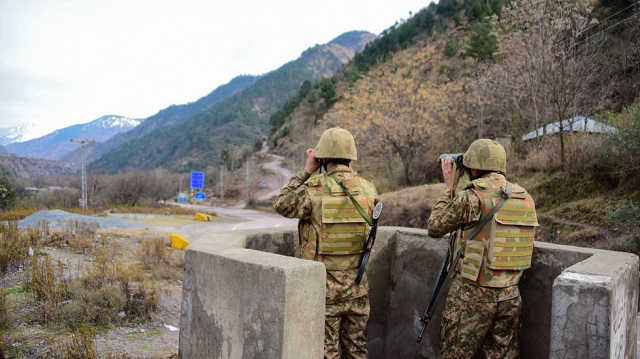 ---
A Pakistan Army soldier was martyred on Friday by unprovoked Indian firing in the Buttal sector along the Line of Control (LoC), said a statement from the Inter-Services Public Relations (ISPR).

The latest incident of cross-border firing comes less than 24 hours after three soldiers were martyred in skirmishes with Indian troops along the disputed border.

The military's media wing named the martyred soldier as Sepoy Muhammad Sheeraz.


Another brave son of soil laid his life in the line of duty. Sepoy Muhammad Sheeraz embraced shahadat due to Indian firing in Buttal Sector along LOC. pic.twitter.com/BAozVnsuGY

— DG ISPR (@OfficialDGISPR) August 16, 2019


While the international media is focused on India's draconian steps in occupied Kashmir, the Narendra Modi government is desperate to take the global spotlight off the "precarious situation" in the disputed region.

On Thursday, Indian troops provoked a skirmish with Pakistani forces on the LoC in Azad Jammu and Kashmir.

Three Pakistan Army soldiers were martyred in unprovoked Indian fire along the LoC, which was retaliated effectively resulting in the killing of five Indian troops, the military said in a statement.

"In efforts to divert attention from the precarious situation in IOJ&K [Indian Occupied Jammu and Kashmir], Indian army increases firing along the LoC. Three Pakistani soldiers embraced shahadat [martyrdom]," the military's media wing, the ISPR, said in the statement.

Pakistani troops responded effectively to the attack and killed five Indian soldiers and injured many others. "Five Indian soldiers killed, many injured, bunkers damaged. Intermittent exchange of fire continues," ISPR had said.

Separately, two civilians were martyred and one was injured by Indian troops along the LoC in Rawalakot district, a senior local official there told AFP. Mirza Arshad Jarral said intermittent exchanges of fire between the two militaries had been ongoing since morning.

The Indian provocation comes as occupied Kashmir seethes with anger over New Delhi's attempt to strip the disputed region of its semi-autonomous status, paving the way for outsiders to buy land and settle in the occupied valley.

On Monday, army chief General Qamar Javed Bajwa said India is trying to shift global attention from its illegal Kashmir move to the LoC and Pakistan.

Prime Minister Imran Khan had also strongly condemned the unprovoked firing by Indian forces along the LoC while praying for eternal peace for the martyred Pakistani soldiers.

Foreign Office Spokesperson Dr Muhammad Faisal urged the Indian side to instruct its forces to respect the ceasefire in letter and spirit and maintain peace along the LoC and working boundary.

The unabated ceasefire violations by Indian troops are a threat to regional peace and security and may lead to a strategic miscalculation, he added.


COMMENTS (2)
Comments are moderated and generally will be posted if they are on-topic and not abusive.
For more information, please see our Comments FAQ