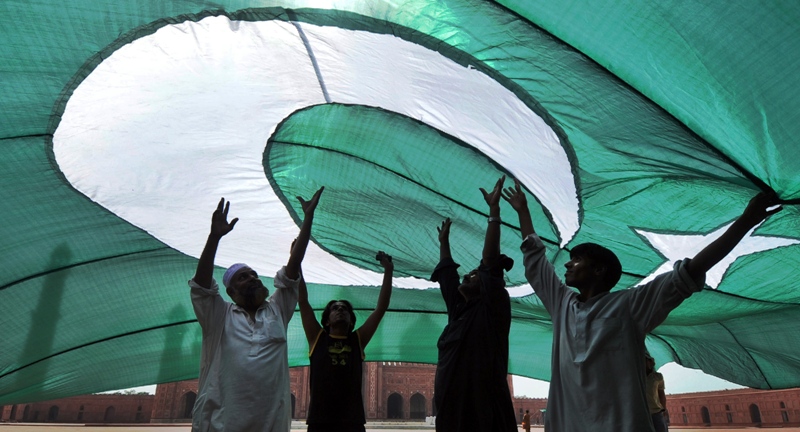 ---
ISLAMABAD: The 73rd Independence Day will be celebrated on Wednesday as Kashmir Solidarity Day to express full support to Kashmiri brethren in their just struggle for right to self-determination.

To mark the occasion, Prime Minister Imran Khan will address the Azad Jammu and Kashmir Legislative Assembly (AJKLA) on August 14, while rallies will be taken out in all small and major cities of the country and seminars would be organised to highlight the plight of oppressed people in the occupied Kashmir.

The government has decided to celebrate this year's Independence Day to express solidarity with people of occupied Kashmir and the entire nation in unified voice has reiterated moral, political and diplomatic support to Kashmiri brethren.

Brisk preparations to celebrate the Independence Day with traditional enthusiasm and zeal are under way across the country. People are purchasing buntings, national flags, Kashmir flags, banners, badges and pictures of national heroes.

The day will dawn with special prayers in mosques for the stability, prosperity and security of Pakistan, and for early success of the Kashmiris' indigenous struggle for their right to self-determination. The national flag hoisting ceremonies, rallies, processions and colourful functions in all small and major towns and cities will be the hallmark of the day.

The federal government has revealed a special logo for the Independence Day to express solidarity with the people of occupied Kashmir. The logo is based on "Kashmir Banega Pakistan" theme.

Prime Minister Imran Khan will arrive in Muzaffarabad by helicopter on Wednesday morning to show his solidarity with the people of Kashmir. A number of federal ministers will also accompany the prime minister during the visit.

Khan will also attend the All Parties Hurriyat Conference and discuss the current situation of the country with Kashmiri leaders. The prime minister of Azad Jammu and Kashmir, opposition leader and the assembly speaker will also address the meeting.

In AJK, the main national flag hoisting ceremony will be held in Muzaffarabad. In Mirpur, the national flag hoisting ceremonies will be held at the lawns of the City Municipal Corporation. A Jashan-e-Azadi Pakistan rally will be brought out in Mirpur.

Similar arrangements have also been made in the provinces of Pakistan. The coalition parties in the Balochistan provincial government have decided to hold rallies across the province to express solidarity with Kashmiris.

The parties will also hold a public meeting in Quetta on August 14, to pay homage to the courage and bravery of the people of Kashmir. Various organisations have also arranged programmes to mark the day.
COMMENTS
Comments are moderated and generally will be posted if they are on-topic and not abusive.
For more information, please see our Comments FAQ