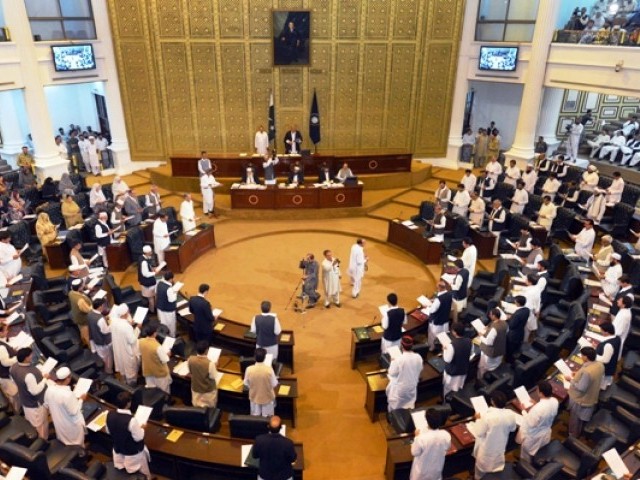 ---
PESHAWAR: The Khyber-Pakhtunkhwa Assembly marks one full year, surviving political uncertainty and several legislative challenges.

During its first legislative year, the provincial assembly was able to pass a total of 30 bills -- the highest compared with any other provincial legislature and weather innumerable political storms including a no-confidence move against the speaker of the house.

In May last year, the provincial legislative body made history by approving the Khyber-Pakhtunkhwa (K-P) -Federally Administered Tribal Areas (Fata) merger bill, paving way for the merger of the Fata with the province.

Starting with internal divisions over the election of the chief minister, to the landmark merger of Fata, the provincial legislative assembly has witnessed many ups and downs.  In total, the provincial legislature was able to adopt 44 resolutions, answer 67 questions, table 4 privilege motions and pass two fiscal budgets during the year.

Despite the ruckus of opposition members, the provincial assembly was able to approve the new surplus budget for the fiscal year 2019-20 with a record outlay of over Rs900 billion, with Rs693 billion allocated for settled districts and Rs162 billion for newly merged areas.

In its very first legislative move, the Pakistan Tehreek-e-Insaf-led provincial assembly, decided to do away with the K-P Ehtesab Commission, insisting that the accountability body was largely dysfunctional.

Among other political battles within the assembly, lawmakers from the ruling party were able to appoint their governor within the first year.

In terms of administrative challenges, holding the polls in K-P's newly merged tribal districts, stand out as the landmark accomplishment for the provincial lawmakers.

Amid protest and uproar from opposition parties, the assembly was able to pass the K-P Local Government Bill 2019 in April this year, paving way for a two-tier local government system in the province. The bill passed following the longest-ever protest of the opposition parties, ending after more than 90 amendments proposed by both opposition and treasury benches.

Among other bills, the Protection against Harassment of Women a Work Place Act also fared through the legislative body.

According to a comparative analysis released by the Pakistan Institute of Legislative Development and Transparency (PILDAT) on the performance of the four provincial assemblies, the K-P Assembly sits at the third spot for holding sessions for 61 working days during the year.

In its analysis, PILDAT, a think tank known for promoting democracy, also acknowledged that the K-P legislature was the first provincial assembly which formed its Standing Committees within three months of its formation.

The think tank gives the lowest attendance marks to K-P Chief Minister, Mahmood Khan, who attended 9 out of the total 61 legislative sessions.

Published in The Express Tribune, August 14th, 2019.