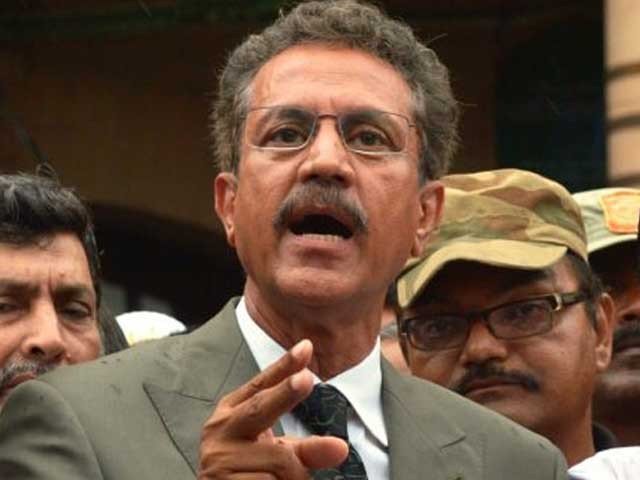 ---
Mayor Waseem Akhtar on Monday approached Darakshan police to lodge a case against the K-Electric -- Karachi's power utility -- after several people electrocuted to death following heavy rainfall in the city over the weekend.

The move came a day after Talha Tanveer, Faizan Saleem and Hamza Tariq Butt -- all three young men in their early 20s -- electrocuted to death during rains in DHA's Khayaban-e-Shahbaz area, Express News reported.

"Being mayor of the city it is my responsibility to register an FIR and pursue this case," said Akhtar while speaking to the media outside the police station.

However, police officials refused to register the compliant, objecting that the names of certain individuals cannot be mentioned in the FIR, he added.

"After drafting the FIR, they [police] stayed short of completing the procedure because I wanted to nominate KE's owner, CEO and chairman in the report," said the mayor.

"Now they are saying that the FIR would only be lodged in presence of deceased's families... we'll wait for them to arrive and won't leave the premises before completing what we came here for."

Earlier on Sunday, as the video of the incident went viral, social media users deplored the loss of the young lives and slammed the authorities for their neglect.

Federal govt to draft comprehensive plan for Karachi: PM Imran

"At least 30 people lost their lives during the rainfall and I appeal to the Supreme Court to take notice of criminal negligence of K-Electric," said Akhtar.

Most of the deaths occurred due to electrocution and people washed away into nullahs, he added and lamented that the emergency should have been imposed in the city to avoid the untoward incidents from happening.

"Heavy rainfall frequently takes place in Lahore and Islamabad also, but do the people also get killed there due to electrocution?" questioned the mayor while criticising the Pakistan Peoples Party (PPP) government.

Large parts of the city, including almost all major thoroughfares, remain inundated as civic authorities failed to drain out water that had collected during uninterrupted rain on Saturday and Sunday.

Yesterday, Mayor Akhtar had called for a state of emergency to be declared in the port city.

Following the collapse in the metropolis, the mayor rebuked the provincial government and held it responsible for the abject conditions of the city.

Power supply remained suspended in multiple areas of the city over the last two days. The K-Electric had urged the city administration to declare a state of emergency to deal with the post-rain situation.

It also announced that electricity supply was suspended in certain areas of the city owing to fears of urban flooding.
COMMENTS
Comments are moderated and generally will be posted if they are on-topic and not abusive.
For more information, please see our Comments FAQ