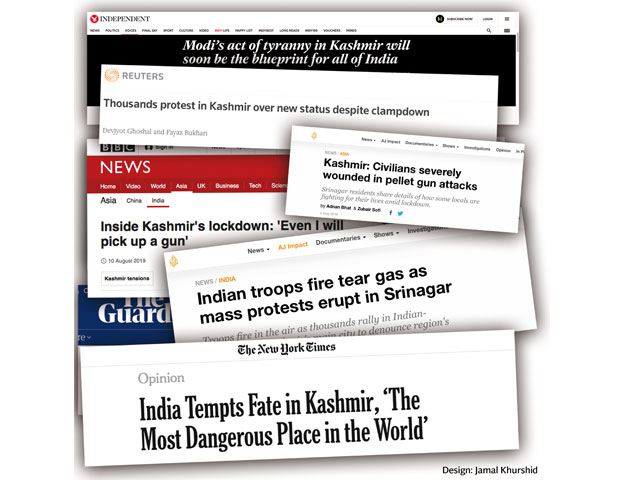 ---
KARACHI: It has been six days since Narendra Modi's Hindu nationalist government illegally and unconstitutionally stripped Indian Occupied Kashmir of its special status. Six days since the world last heard anything from inside the disputed region.

A total information blockade has been in place in IOK ever since the repeal of Article 370, which guaranteed the disputed territory its special status, was announced. Days before the hubristic move, thousands of additional Indian forces were dispatched to the region to reinforce the tens of thousands of troops already stationed there.

In doing so, the Modi government had just one objective: to muzzle the voice of the Kashmiris by every imaginable means, no matter how brutal or inhuman. It doesn't want the world to see its draconian and tyrannical measures and it doesn't want the simmering cauldron of rage among the Kashmiris boil over.

https://twitter.com/HinaKharaI/status/1159878670145732615

Up till now, it has been virtually impossible to ascertain the current state of IOK's citizenry to the communications blockade. But as the first handful of new footage and reports trickled out of the region, it appeared that Modi's move to stamp subservience on the Kashmiris was beginning to blow back.

A brief video clip obtained by the BBC showed a never-ending throng of Kashmiris march on Friday through the streets in open defiance to the curfew imposed on them by Indian forces. It also showed them look for safety amid plumes of tear gas and echoes of gunshots.


Dear India,
You cannot stop the ocean wave of people with brute force, it will cause a tsunami.
This is #Kashmir and #KashmirWantsFreedom!! pic.twitter.com/KlkEqYKpeW

— Zain Khan (@ZKhanOfficial) August 10, 2019


The clip showed a reality that was a far cry from what the Modi government would have the world believe. While the Indian home ministry released a statement claiming that no protests were taking place in IOK, Modi's security advisor Ajit Doval, in a PR stunt, released videos of him having tea while chatting up 'locals' in Shopian.

But as New Delhi chanted all is well while deliberately preventing the leaking of any information from the IOK to the outside world, foreign media representatives decried the restrictions that prevented them from independently verifying facts on the ground in the disputed region.


Pro freedom protests in Srinagar yesterday. #KashmirWantsFreedom #Kashmir pic.twitter.com/w0mxCfjAD2

— MundaKoshur (@MundaKoshur) August 10, 2019


According to a report by Indian news publication The Print, only two foreign journalists were allowed permission to visit IOK in the last seven months of 2018. It added that while many foreign journalists applied for permits, the Indian government appeared to be 'sitting on them without explanation'.

Already, under a policy announced last May, foreign correspondents need to apply for permission eight weeks in advance. Whether eight weeks will be enough to restore some measure of normalcy to the valley is something the Modi government can only hope for at this stage.

The limited media presence that managed to reach out to Kashmiri voices in IOK revealed their resentment was higher than ever. Even India's NDTV news channel was unwittingly forced to admit that the situation in IOK threatened to run out of New Delhi's control.

"I have been struggling to find a person here in the valley who sides with India today," an NDTV correspondent told a shocked anchor during a live broadcast. "Politics in Kashmir has changed forever. The narrative has changed forever," he stressed.


بھارت نے جو کشمیر کے ساتھ کیا وہ انتہائی انتہائی خوفناک ہے ، جو کسی صورت قبول نہیں کیا جا سکتا - میں اس معاملے کو یقینی طور پر یورپی پارلیمنٹ میں ہنگامی بنیادوں پر اٹھاؤں گا - فلپ بنئین ممبر یورپی پارلیمنٹ#KashmirWantsFreedom pic.twitter.com/K7JrXJW0Xb

— Siasat.pk (@siasatpk) August 10, 2019


A BBC correspondent who managed to travel around IOK for two days narrated how the Kashmiris felt they had been reduced to living inside an open-air jail. "This is extreme thuggery… you lock us up during the day, you lock us up at night," she quoted an elderly Kashmiri man as saying. Another, younger man said he was ready to pick up a gun to fight India and would prepare his only son, an infant, to do the same.

"If they (authorities) have used force on unarmed Kashmiris, we will also react with force," Reuters quoted man, a university worker as saying. "We have no faith in the Indian government. They should let us protest. Otherwise, the only option is armed struggle."

https://twitter.com/_Faysal/status/1160125283342663680