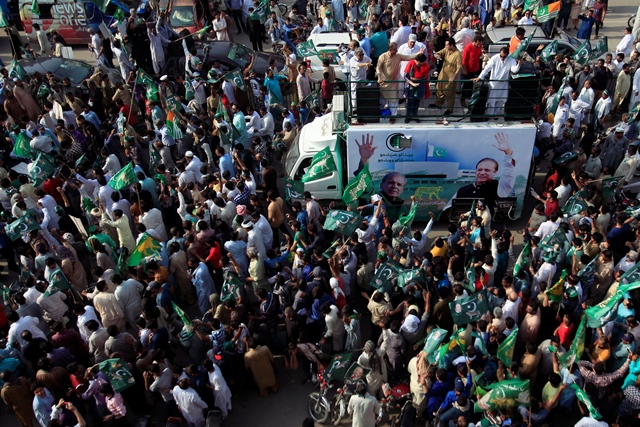 ---
LAHORE: As the Pakistan Muslim League-Nawaz (PML-N) ponders a replacement to address its 'black day' convention on August 15 after the arrest of party Vice-President Maryam Nawaz, sources within the party say that Maryam's children were not being considered for the address.

However, the situation is not completely clear with certain party leaders insisting that the two Sharif family scions, Junaid and Mahnoor Safdar, were still being considered as potential stand-ins for their incarcerated mother.

According to the party sources, PML-N has called a high-powered meeting of parliamentarians and party position holders on Saturday (today) to devise a strategy over the Kashmir issue and the recent arrest of its leaders.

Maryam remanded in NAB custody till Aug 21

Sources revealed that the decision regarding the August 15 convention, to mark 'black day' on India's Independence Day, which was to be led by Maryam Nawaz, will be taken in the said meeting.

The main purpose of the meeting, to be held at the PML-N Central Secretariat in Model Town, is to devise a strategy to ensure that all the commitments made by the government on the Kashmir issue were fulfilled. The other main agenda is the post-arrest scenario and increasing political victimisation of the PML-N leadership by the National Accountability Bureau.

Those privy to developments also dismissed as speculation reports that Junaid and Mahnoor were being considered for addressing the convention, saying it was not even on the agenda. "Addressing a political gathering is not child's play," said one source.

Senator Pervaiz Rashid, while claiming ignorance of such reports, said that the August 15 event would go ahead as planned and it could be attended by any senior party leader. He added that the party would suffer due to the absence of Maryam Nawaz, calling her an inspirational crowd-puller, but added that the turnout would still exceed expectations.

Maryam to spearhead PML-N's nationwide protest

According to another party leader, Maryam's spouse Captain (retd) Muhammad Safdar floated the idea of having either of his children address the convention but the party leadership had not made a decision on the issue as yet.

The source added that Junaid was articulate on the podium and could be a good alternative for Maryam at the convention.

PML-N Punjab spokesperson Uzma Bokhari said that both Junaid and Mahnoor Safdar were being considered for the August 15 convention. "A decision in this regard will be taken in a day or two," she added.

She added that PML-N President Shehbaz Sharif would be an ideal choice to lead the convention if the party decided against having either Junaid or Mahnoor address the convention.