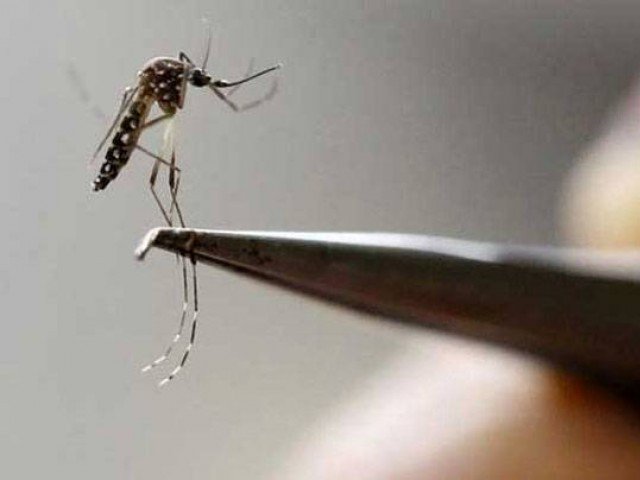 ---
RAWALPINDI: Owing to poor performance of health department, a constant threat of dengue epidemic prevails in the garrison city where millions of larvae dengue mosquitos have been detected after rains.

During monsoon season, the city is on the verge of a dengue outbreak with some 13 patients found infected with virus while two others are in a critical condition.

According to reports, some 150-200 patients are being brought to government hospitals daily with complaints of dengue symptoms while huge quantity of dengue larvae were found from different areas in last three days.

Most of dengue patients were residents of areas including IJ Principal Road, Islamabad Expressway, Rawat Road, Pirwadhai, Peshawar Mor and inner city areas such as Dhok Hassu, Dhok Ratta, Pandora, Dhok Manshi, Morgah and Tanch Bhata.

Rawalpindi Deputy Commissioner Muhammad Ali Randhawa has directed all related institutions to expedite searching process of dengue-larvae and spraying.

Meanwhile the allied hospitals of Rawalpindi have set up quarantine wards for dengue patients.

Capital's hospitals told to devise dengue management plans

Rawalpindi Cantonment Board (RCB) under anti-dengue drive has inspected 3,478 houses and other points and removed dengue larva from 115 sites. Board had taken effective measures to control dengue while special teams under anti-dengue drive were inspecting residential and commercial places and educating the citizens about importance of sanitation, cleanliness and preventive measures against dengue.

Dengue larvae were found at British Homes, Naseerabad, Westridge, Masrial Road, Chor, Range Road and Dhoke Gujaran areas. At 17,160 water containers were also checked during the drive, a statement said.

Hepatitis control

Punjab government has launched two projects to control the spread of hepatitis.

The projects were initiated after it was reported that every ninth person in Punjab was affected with either hepatitis B or C.

In the first phase of the project, the provincial government has made it mandatory for every citizen to undergo hepatitis test which would be done for free.

In Rawalpindi, these tests would be conducted in allied hospitals, district and tehsil headquarter hospitals and dispensaries free of charge. Any person found infected with virus would get a free treatment from any of these hospitals.

In the second project, the registration process of all beauty parlors and barber saloons would be undertaken under which their licenses are being made for free.

All beauty parlours and saloons have been directed to use sterilized tools for every individual.

The government intends to make Punjab hepatitis free in next two years.

Safe milk

Punjab Food Authority (PFA) has decided to launch a massive crackdown against supply and preparation of adulterated milk.

Newly appointed PFA Chairman Umar Tanvir Butt told The Express Tribune that they were all set to start a major operation in Punjab in line with the prime minister's vision. He said that Imran Khan had given strict directions to take action against milk adulterators.

Butt said that a survey was near completion about points where the activity was being done. He informed that operation would be done on a regular basis with the police's support.

He added that PFA had acquired its radio license after which experts would inform the public about adulterated items.

Published in The Express Tribune, August 10th, 2019.