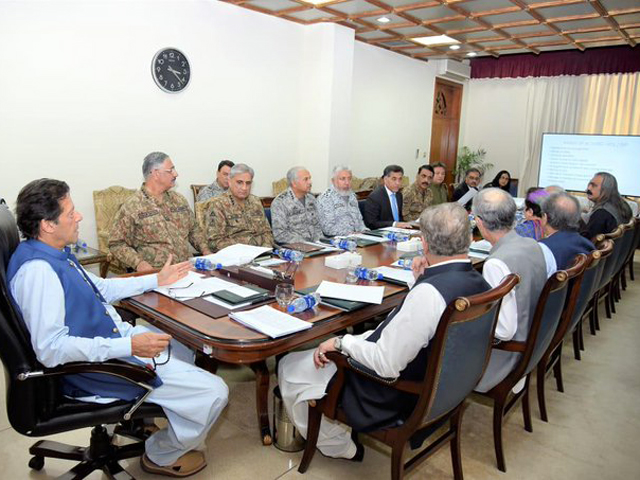 ---
ISLAMABAD: In a decision that would certainly further deteriorate already strained ties between the two nuclear-armed neighbours, Pakistan on Wednesday downgraded diplomatic ties and suspended bilateral trade with India in response to New Delhi's illegal annexation of disputed Jammu and Kashmir region.

Within an hour of the government decision to downgrade diplomatic ties with India, Pakistan officially asked New Delhi to withdraw its High Commissioner Ajay Bisaria from Islamabad. Similarly, Pakistan now would not send its newly-appointed envoy Moinul Haq to New Delhi, who was due to take up his new diplomatic assignment on August 16.

The decision was part of a series of measures announced by the government after civil-military leadership discussed the situation, arising out of Indian decision to abrogate Article 370 of its constitution, which gave the Himalayan region a special status.

The National Security Committee (NSC) meeting was chaired by Prime Minister Imran Khan while those in attendance were the military and intelligence chiefs as well as senior cabinet ministers.

Recording strong protest, the NSC decided to suspend bilateral trade with India. The current volume of bilateral trade between the two countries is around $2 billion annually. It is not clear at this stage which country is going to be affected the most by this decision.

An official hand-out issued by the Prime Minister Office after the high-level huddle, which was second in four days, said the NSC discussed the situation arising out of "unilateral and illegal actions by the Indian government, the situation inside Indian-occupied Jammu and Kashmir and along LOC."

The meeting besides downgrading the diplomatic ties and suspending bilateral trade also announced that Pakistan would review bilateral arrangements. Pakistan and India had a number of bilateral arrangements, ranging from water treaty to other pacts. At this stage, however, there is no clarity which bilateral agreements Pakistan intends to review with India.

On the diplomatic front, the NSC agreed to take the issue of India's abrogation of Article 370 and bifurcation of dispute Kashmir region to the UN Security Council. "The PM directed that all diplomatic channels be activated to expose brutal Indian racist regime, design and human rights violations. PM directed Armed Forces to continue vigilance," the statement said.

"Independence Day this 14 August to be observed in solidarity with brave Kashmiris and their just struggle for their right of self-determination. 15th August will be observed as Black Day," according to the decision of NSC.

The government was under pressure to take tangible steps instead of merely condemning the Indian action. Prime Minister Imran faced criticism from opposition benches when he opened a debate in the joint session of parliament on the row over Kashmir. Opposition parties were critical of the government's lack of clarity and strategy to deal with the crises triggered by India's sudden move to do away with the special status of Jammu and Kashmir.

Officials said the civil and military leadership agreed that Pakistan needed to send a clear message not only to India but also to rest of the world that it would not sit idle following New Delhi's decision on Kashmir. The decision to downgrade diplomatic ties and suspend bilateral trade is also meant to make the international community, particularly the powerful countries, realise the gravity of the situation, the officials added.

The international reaction to India's unprecedented step has been lukewarm with many countries declared it as India' internal matter. The lacklustre response from the global community compelled Pakistan to go for hard options, said a government official while requesting anonymity.
COMMENTS (1)
Comments are moderated and generally will be posted if they are on-topic and not abusive.
For more information, please see our Comments FAQ