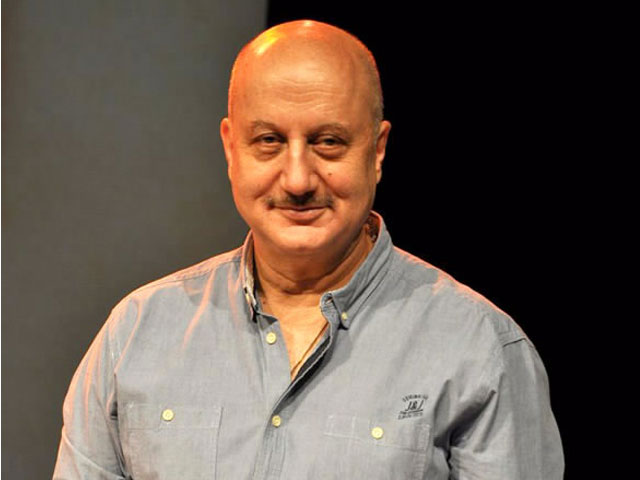 ---
Bollywood veteran Anupam Kher has irked many by sharing his stance on recent tension in Indian Occupied Kashmir.

While many Pakistani celebs criticised the ongoing brutality, Kher shared how it was the 'solution' for Kashmir. Taking to Twitter, he shared, "Kashmir solution has begun."


Kashmir Solution has begun.🇮🇳

— Anupam Kher (@AnupamPKher) August 4, 2019


Soon after his tweet, many lashed out at the actor for instigating hate speech.

https://twitter.com/zeeeenion/status/1158119602435416065


@UN do all your ambassadors from India propagate hate and advocate for bloodshed of innocent unarmed civilians?

— خان (@KaliDaal) August 5, 2019


https://twitter.com/thecuriouself/status/1158220261524738050


A man who pretended a human all is life acting on screen showed his miserable reality & hindutvadi bloodline. Unmasked himself to a vulture as he was. Kashmir solution has begun coz your 700k ducks lost & now more for genocide of Muslims in lynchistan.
Will catalyse independence

— SaadiaSattar (@SaadiSattar_) August 5, 2019


https://twitter.com/SorayaAziz/status/1158130014392659975


Does your liberal, Hollywood friend Robert De Niro know how bigoted you are back home in India?

— Dimple George (@DimpleTGeorge) August 5, 2019
What an unfortunate choice of words, Mr. Kher. A disservice to your own people and a painful reminder for many others. Shameful.

— Ayesha Sindhu (@ayeshasindhu) August 5, 2019


Kher's tweet, can be seen as a historical reference to the Nazi 'Final Solution', which led to the Holocaust and the systematic genocide of Europe's Jews.

Authorities in Indian-occupied Kashmir (IoK) placed large parts of the region under lockdown early on Monday while India sent in tens of thousands of additional troops and traded accusations of clashes with Pakistan along the Line of Control (LoC).

Communications were cut, with private mobile networks, internet services and telephone landlines made inaccessible too.

Other Indian celebs also weighed in on the tensions.


Peace, prosperity and sustainable development for the people of #Ladakh and #JammuAndKashmir 🙏🏻 Good Luck @PMOIndia @HMOIndia #Article370revoked #Artical35A

— Dia Mirza (@deespeak) August 5, 2019
370 gone!
That was an incredibly bold move.
Good luck @PMOIndia @HMOIndia 🙏

— Gul Panag (@GulPanag) August 5, 2019
This too shall pass! #Kashmir

— Zaira Wasim (@ZairaWasimmm) August 4, 2019
What the hell us happening ??? May Allah keep every one safe ! In Kashmir https://t.co/bVicpsYOO7

— Gauahar Khan (@GAUAHAR_KHAN) August 5, 2019
Have something to add to the story? Share it in the comments below.