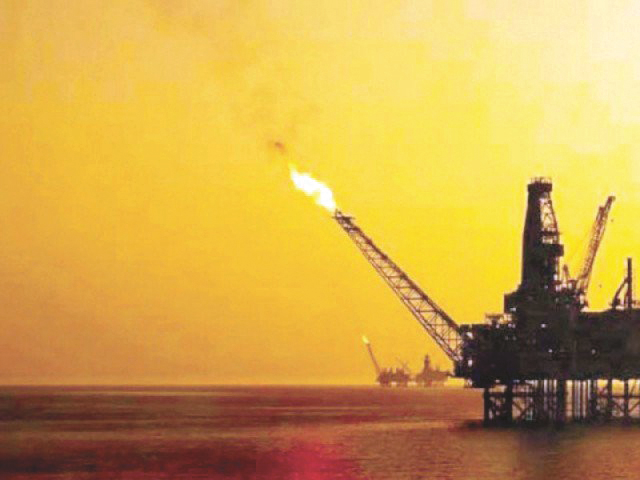 ---
ISLAMABAD: Pakistan has been one of the biggest fossil fuel customers of the Organisation of the Petroleum Exporting Countries (OPEC).

This reliance creates energy supply risk and the subsequent desire to mitigate risk through strategic relationships with countries, oil stockpiling, energy supply diversification, development of domestic energy resources and other means.

At present, Pakistan's fuel import addiction (including the recent switch from residual furnace oil and high-speed diesel) can be judged from more than $2 billion worth of liquefied natural gas (LNG) imports in seven months from July 2018 to January 2019, up 75% from the corresponding period of previous year.

Several LNG terminals have been set up or are in conceptual phases such as Karachi (Port Qasim, Engro, 2015), Somiani (Pakistan Navy, incomplete) and Jharri Creek/Chann Wado (under regulatory review).

Oil drops below $65 on Fed outlook, ample supply

The need for conventional fossil fuel resources with relatively negligible renewable energy sources and high dependence on petroleum and byproducts, coupled with an insatiable surge in electricity demand, has amassed a circular debt monster requiring constant feeding through lending from either the friend and family pool of the Middle East and China or global monetary agencies such as the International Monetary Fund (IMF) or World Bank.

It is Pakistan's absolute need to explore alternatives to fuel imports, especially natural gas from within the country. Several rudimentary scientific studies on sediments and water have been conducted mainly in Balochistan for methane hydrate reserves.

Pakistan-German research vessels reported oceanic gas hydrates in the Mekran coast. These gas hydrate occurrences in marine sediments also appeared in 1982 and its extent was confirmed by seismic methods in 1997.

Methane hydrate is a naturally occurring clathrate in which a host lattice of water ice encloses guest molecules of methane. In methane hydrate, the gas molecules are not chemically bound to the water molecules but are instead trapped within their crystalline lattice.

Methane hydrates exist at different depths. Arctic and marine sands contain shallow reserves close to the surface, with a higher reservoir quality and estimated percentage of recoverable resource. Fractured muds, mounds and undeformed muds are deep reserves with high volume, but extraction is costly.

Global reserves

Countries such as the United States, Japan, China, India, Canada, South Korea and Russia are in different stages of exploring and developing methane hydrates. Global deposits are estimated to be over 187 trillion cubic metres (tcm).

Amongst the top players, Japan is at the most advanced stage of exploration. Conservative estimates put the country's gas hydrate reserves at more than 6 tcm, enough to meet its current natural gas needs for 80-plus years.

Similarly, China's conservative estimate stands at around 5 tcm, though smaller neighbours in East Asia hold another 10 tcm. Korea has confirmed hydrates in the Ulleung basin, the base of its modest traditional natural gas production. In the sub-continent, drilling and coring by the Indian National Gas Hydrate Programme have established the presence of gas hydrates in the eastern Indian margin.

Without data from a long-term production test, private sector partners are collaborating with government agencies to understand the economics of gas production from gas hydrate deposits.

The International Energy Agency has estimated that methane hydrates will be produced by 2025 at a cost of $4.70 to $8.60 per million British thermal units (mmbtu). The breakdown of this range is not clearly defined and the evolution of the industry over time will dictate the eventual price per unit.

Should methane hydrate development follow a growth curve similar to that for shale and tight gas reserves in North America, infrastructure deployment in the next decade would be followed by hydrate production that could result in a significant portion of energy demand, particularly in the power sector, being met by hydrate resources by 2040.

This opportunity will only be realised, however, if countries leading hydrate development, particularly Japan, pursue policies to implement the necessary infrastructure tapping into hydrate-rich fields.

Challenges

The current production of methane hydrates is low due to the technical challenges of mining.

The first problem is accessing the hydrates. Extraction is an issue in the majority of sites as deposits are likely to be too dispersed for economic extraction. Despite their abundance, most hydrates are located either in cold environments or deep underwater.

Extraction means operating at low temperature and extremely high pressure, reaching down through more than 500 metres of water and then another several thousand feet of drilling before methane hydrates can be reached.

A more significant potential threat is methane escape. Even if a rig is safely situated, methane hydrate is unstable once removed from the high pressures and low temperatures of the deep sea.

Methane begins to escape even as it is transported to the surface. A method must be devised to prevent this leakage of natural gas, otherwise, extraction would not be efficient.

Escaping methane has severe consequences for global warming. Once methane is in the atmosphere, it becomes a greenhouse gas even more potent than carbon dioxide (CO2) at trapping solar radiation. Methane is 30 times more damaging than CO2 from a climate perspective. Many geologists believe that gas hydrates play an essential role in stabilising the seafloor. Drilling in oceanic deposits could destabilise the seabed, causing vast swathes of sediment to slide for miles down the continental slope.

The timeline for commercialisation of methane hydrates depends most critically on two factors:

One, research and development advances to prove the resource and to surmount some of the technical obstacles. Two, an economic, political or natural gas supply climate exists in which there is an urgency to develop methane hydrates.

Commitment needed

For Pakistan, a long-term commitment is required to reduce imports by exploring opportunities with potential in excess of the shale revolution.

Investment in geographic/seismic studies either by the government itself or through public-private partnership is an absolute must. The recent failure of ExxonMobil and Eni does not mean that any, if not all, exploration activities be brought to a standstill. Hydrates in Pakistan are largely reported to be offshore, far from traditional gas resources and suggesting slow initial development, limited reach and substantial logistical hurdles.

Oil and gas equipment could be used initially and once the infrastructure is in place in these fields, operators should be able to ramp up production, with more long-term predictable output.

Pakistan must participate in the global industry for research and development of advanced extraction equipment and must strategise for technology ventures for large-scale production viability. Technical hurdles are different and non-trivial for hydrates.

Oil edges further above $63 on Middle East tensions

Early gas production from shale reserves occurred at a time of high gas prices worldwide. Gas demand is still relatively high in the country. Pakistan can portray itself as a market player by benchmarking methane hydrate find as a global commodity and influence global natural gas market pricing through supply-demand volume control.

The US shale gas revolution and growing US energy independence illustrate how vital the development of domestic energy resources can be for a nation and how disruptive such events can be for global energy trading partners. Methane hydrates are labeled as the Shale of the East with effects manifold on shale of the West.

Energy strategies of countries, such as Pakistan, must therefore explicitly account for hydrate progress to ensure the necessary commitments are in place. Only the development of domestic energy resources, such as hydrates or natural gas, will offer energy security, independence from OPEC and import control that the country is longing for decades.

The writer is a PhD in Engineering from the University of Cambridge, United Kingdom

Published in The Express Tribune, August 5th, 2019.

Like Business on Facebook, follow @TribuneBiz on Twitter to stay informed and join in the conversation.