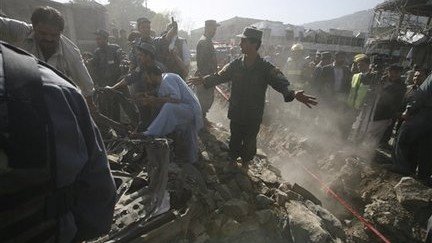 ---
KANDAHAR: NATO on Thursday blamed the Taliban for a suicide attack that killed at least 40 Afghan wedding guests in an area where US-led troops are massing to drive insurgents from their fiefdom.

Officials said a suicide bomber strapped with explosives had walked into Wednesday's wedding party -- which relatives said was attended by members of an anti-Taliban militia -- and unleashed a deadly hail of ballbearings.

The Taliban, who are leading a nearly nine-year insurgency against the Western-backed government and the estimated 142,000 foreign troops in Afghanistan, denied responsibility and blamed a NATO airstrike for the deaths. More than 70 people were wounded when the explosion ripped through the celebrations in Arghandab district, 20 kilometres (12 miles) north of Kandahar city, local officials said.

Most of the victims were male as the explosion occurred in an area of the wedding festivities reserved for men, they said. The groom's brother, Mohammad Zanif, told AFP: "My brother was wounded. We don't know what happened. There was an enormous explosion and as a result everyone there was either killed or injured."

The groom is a policeman and his colleagues were attending the wedding, Kandahar Governor Turiyalai Wisa told a news conference onThursday. "A suicide attack was the cause of this bloody incident," he said. "The casualties are massive but so far we have been able to confirm 40 people killed and another 78 wounded, which includes 14 children," the provincial governor said.

"Our investigation is ongoing and the casualty toll might rise. Most of the wounded are in critical condition, and some of them unfortunately may lose their lives." NATO Lieutenant General Nick Parker said: "This ruthless violence brought to the Afghan people at what should have been a time for celebration demonstrates the Taliban's sickening and indiscriminate tactics."

But the Taliban, who routinely deny causing civilian casualties, blamed the bloodshed on NATO bombing and offered condolences. "This is a disaster. We blame the foreign forces and the Afghan government for this calamity. We pray for the quick recovery of the wounded and patience for the families of those martyred," Taliban spokesman Yousuf Ahmadi told AFP.

Kandahar is the focus of a massive build-up by US-led military forces trying to drive the Taliban from their spiritual homeland and end their bloody insurgency. Wednesday's explosion came during a particularly bloody week for foreign forces with 23 international soldiers killed, including four US servicemen who died when a NATO helicopter was shot down in neighbouring Helmand province.

US military chief Admiral Mike Mullen offered condolences after the wedding attack and warned that more bloodshed was expected. "We will succeed in Afghanistan. We will prevent that country from ever becoming a safe haven again, but it will be a slow, messy and often deadly business," he said in Washington.

US Defense Secretary Robert Gates said the military expected a "high level of violence, particularly this summer" as coalition forces move into areas controlled by the Taliban. Relatives told AFP that the groom and other wedding guests were members of an anti-Taliban militia set up with the support of US Special Forces.

Brigadier General Ben Hodges, head of US forces in the south, told AFP that US Special Forces were helping villages organise their own protection against Taliban militants. "There are some programmes where special forces units are out in a village stability programme where they might find a large village and then help train the locals to defend themselves," Hodges said.

The Taliban rejected a "peace jirga" hosted by President Hamid Karzai last week with a view to coaxing militant fighters to lay down their weapons. The jirga was marred by a rocket attack for which the Taliban claimed responsibility, prompting two of Karzai's top security officials to resign.

US troops have been in Afghanistan since the invasion to topple the Taliban regime which gave safe haven to Al-Qaeda and refused to surrender Osama bin Laden after the September 11, 2001 attacks.
COMMENTS
Comments are moderated and generally will be posted if they are on-topic and not abusive.
For more information, please see our Comments FAQ