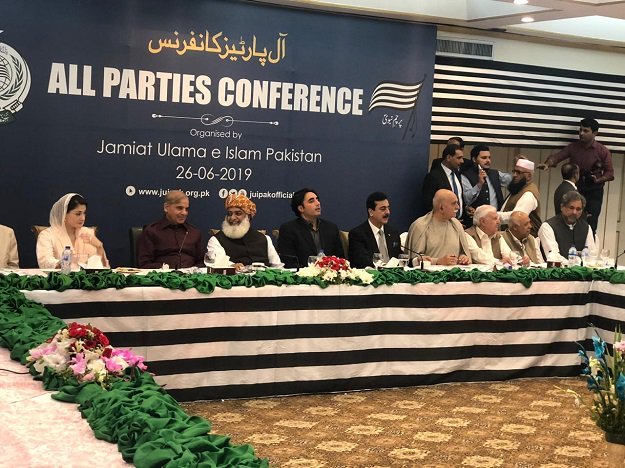 ---
ISLAMABAD: Opposition parties in the National Assembly (NA) have decided to raise the issue of surging dollar prices in the ongoing parliament session.

The decision was taken in a meeting of parliamentary delegations of major opposition parties in Islamabad on Thursday.

It was also decided that opposition members must ensure their presence in the assembly sessions as the government intensifies its efforts to have the federal budget approved.

The parliamentary parties of opposition forces would meet again at 10am on Friday.

Opposition ratchets up pressure on govt

On Wednesday, the opposition in its all parties conference vowed to step up pressure on the Pakistan Tehreek-e-Insaf (PTI) government, announcing that they would launch a countrywide protest movement and observe a black day on July 25.

They had agreed to move a no-confidence motion against the Senate chairman.

The conference, chaired by Jamiat Ulema-e-Islam-Fazl (JUI-F) chief Maulana Fazlur Rehman, was held in the federal capital to chalk out a joint strategy of the opposition parties against the government.

Speaking about the joint communiqué signed by the participants of the conference, Fazl, accompanied by Pakistan Peoples Party (PPP) Chairman Bilawal Bhutto Zardari and Pakistan Muslim League-Nawaz (PML-N) President Shehbaz Sharif had said the conference unanimously rejected the federal budget proposed for the new fiscal year as it would "make the life miserable for the poor, was detrimental to the interests of traders and industrialists and neglected the education and healthcare sectors".

Bilawal said, "The opposition parties will continue to protest inside and outside parliament."

"They [opposition parties] will try their best to rescue the people from the excruciating hike in prices and the economic crises caused by the policies of the incompetent government which has come to power through the rigging."

In the first phase, Fazl said, the opposition parties would launch a public contact drive so that awareness could be spread about the agenda of the proposed "anti-poor" budget.

The conference also condemned the government's alleged attempts to have the budget passed through rigging and demanded that production orders be issued for the two detained National Assembly members belonging to Waziristan so that they could represent their constituents.

The participants denounced the government's references against the judges, describing them as politically motivated and an attack on the independence of the judiciary and demanded their immediate withdrawal.

Fake accounts case: Zardari reaches accountability court

They stressed the need for legislation in connection with the judicial reforms, the procedure of the appointment of judges and suo motu notices.

The opposition parties also called for an end to the state institutions' involvement in politics.

The conference rejected the debt inquiry commission announced by Prime Minister Imran Khan, describing it as unconstitutional.