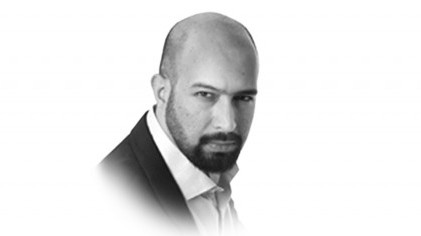 ---
Here's a confession: I don't watch PTV. Like most of my generation, I was seduced in my teens, away from this old digital maid by a fresh young thing called STN, only to be charmed by a curvaceous, sexy foreigner mysteriously known as Dish (for which, unfortunately, I forced my parents to dish out the big bucks as that's how curvaceous foreigner work in our land), and after college, found my passage to manhood by getting intimate with a long suppressed yet super sultry fixation called Cable.

But Monday last, when the prime Minister of our republic was scheduled for a busy day visiting a distant place called Balochistan, I cleared out my schedule to implement an old exercise all broadcasters have to go through to earn their spurs: monitoring. I was not going to let the Private Vamps of Cable overshadow the Puritan Maternity of State-run television. Quetta is, after all, where I was born.

So, I would dedicate my day to watching PTV cover our premier in that proud, barren land. Here's what happened:

12:00 pm: I'm not watching PTV. Actually, I'm off schedule, thanks to my addiction to Geo. I snap to attention when they cut to the PM's speech at the Command and Staff College - the home of future Army leaders - in Quetta. I lose track of where PTV is, confused by PTV Home, PTV National, PTV Static (which must have been PTV Bolan till, I start to suspect, the BLF took it out this morning) and finally find PTV News.

12:11 pm: The PM is speaking. The producer keeps cutting to hundreds of majors glistening in their dress khakis, looking like focused, lethally trained school boys. There are no close-ups of the audience, except for General Kayani, who is alert and stoic.

12:28 pm: Everyone is getting restless. The attentive majors are shifty, ever so slightly, and General Kayani now his hands folded. As he tells the Pakistan Army's brightest young minds about women's emancipation and labour rights, the PM is also beginning to stammer and struggle with the English his press officer has drafted to sound like the premier's Siraiki.

12:50 pm: The speech is over. Cut to a Kashmir song. It actually starts with that title: "Kashmir Song". I am intrigued as the geo-political musician in me gets piqued by the possibility of the poor Kashmiris showing new resolve by recording their own national anthem. But the song credits tell me it was recorded and edited at PTV Studios by around 250 composers, technicians, coordinators, cameramen, producers, directors and engineers. As the title "A Production of PTV Kashmir Cell" finally tops off the credit roll, I am impressed, The fact that PTV has 250 guys dedicated to liberating Kashmir through a music video that would compel Schindler to rewrite his List, move to Srinagar and join the Hurriyet Conference swells me with pride. I also wonder what other Cells exist in PTV: Afghanistan, for sure. Chechnya?

12:54 pm: A documentary called White Revolution: Food Security Initiatives starts to run. Its geared towards getting Pakistani farmers to understand the PPP's firm resolve to secure food. All the farmers interviewed look like MNAs (complete with fine 'vaskets' and even pocket pens). I am impressed, as my earlier impression about Pakistani farmers living in abject poverty has now been permanently erased. The English titles and subtitles (along with subtle references to the Shah of Iran's White Revolution) also ensure that my views on a lack of education in our rural areas are also misguided.

13:00 pm The Bulletin begins. The credits promise to show me truth with responsibility. Just when I suspect the line reminds me of the ending scene in the first Spider Man movie, the first headline rolls. Its about the PM. Not about what he said, but just him (paraphrased: 'the PM spoke to Army officers in Quetta about national development and security"). I can sense the Producer having to wait till the last minute for a fax/telegram/letter to appear from the Information Ministry for a sassier headline, but he never got anything. Beaten by the clock, he pushed the envelope and mentioned the PM, the Army and Quetta in the same sentence. He is scared, but proud, as he has just taken the greatest professional risk of his career. He will go far, perhaps even to the 9pm bulletin, by the time he retires in around 75 years.

13:02 pm: Second story: Cyclone Phet has gone to India. It's not here. It's gone. To India. Once again, Phet is in India. Not here. India.

13:03 pm: The third story is about the federation submitting something to the Supreme Court regarding the NRO. This story lasts around 10 seconds. It is delivered in a speed I cannot fathom to transcribe. The bright pink anchor, who had earlier looked like she was coming from an Eid-Milan Party now seems tougher than Angelina Jolie in Tomb Raider. I have no idea what she has just said. The State has just bared it teeth...

Published in the Express Tribune, June 10th, 2010.
COMMENTS (15)
Comments are moderated and generally will be posted if they are on-topic and not abusive.
For more information, please see our Comments FAQ