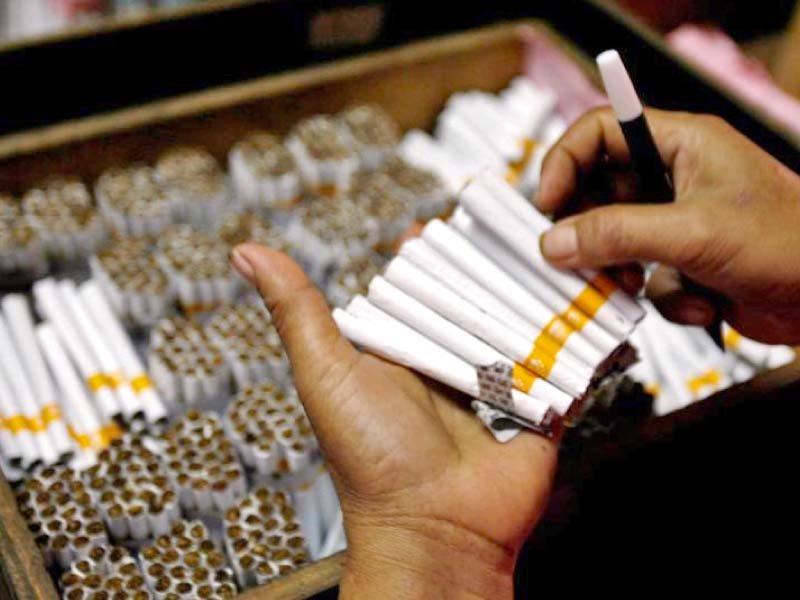 ---
KARACHI: A cigarette manufacturing firm has welcomed the imposition of Rs300-per-kilogramme levy on tobacco processing at the factory level and has asked the government not to drop the tax under the influence of illegal cigarette manufacturers.

"The tax under consideration will not be charged from farmers, but from the cigarette manufacturers," Pakistan Tobacco Company (PTC) Senior Regulatory Affairs Manager Noor Aftab told The Express Tribune.

"The legitimate tobacco industry supports the Rs300-per-kg adjustable advance tax. This measure assists in documentation of the industry," he said. Illegal and tax-evading cigarette manufacturers are creating an impression that the tax will be collected from farmers, which is incorrect. They are running the campaign in an attempt to influence the government to withdraw the tax, which basically discourages the production of tax-evaded cigarettes.

The federal government has proposed a hike in the federal excise duty (FED) to Rs300 per kg on green leaf threshing (GLT) at cigarette manufacturing plants in the budget for FY20. "The tax was introduced at Rs10 per kg in October 2018 and it remains an adjustable tax at the cigarette production level," Aftab said.

He added that there were only two legal cigarette manufacturers in the country whose market share in total sales of cigarettes was 60% while they paid almost 98% of the total tax collected from the sector.

On the contrary, there are some 21 tax-evading cigarette manufacturers whose market share stands at 40% and they pay only 2% of total taxes.

An industry source, speaking on condition of anonymity, said a few members of national and provincial assemblies as well as sitting ministers were involved in the illegal production and sale of cigarettes in the country. "A big government figure is pressurising the Federal Board of Revenue (FBR) to withdraw the tax," he said, adding that FBR officials, however, had refused to withdraw it.

"The politician is going against Prime Minister Imran Khan's will of discouraging tax evasion in the cigarette manufacturing sector," he said.

Referring to a speech that PM Imran made at the end of his government's first 100 days, he quoted the PM as saying "two (cigarette manufacturing) companies, which have 60% market share, pay 98% of taxes and the remaining, whose market share is 40%, pay only 2% of taxes. So, the ones who are paying (higher) taxes are in a loss." 

Published in The Express Tribune, June 23rd, 2019.

Like Business on Facebook, follow @TribuneBiz on Twitter to stay informed and join in the conversation.