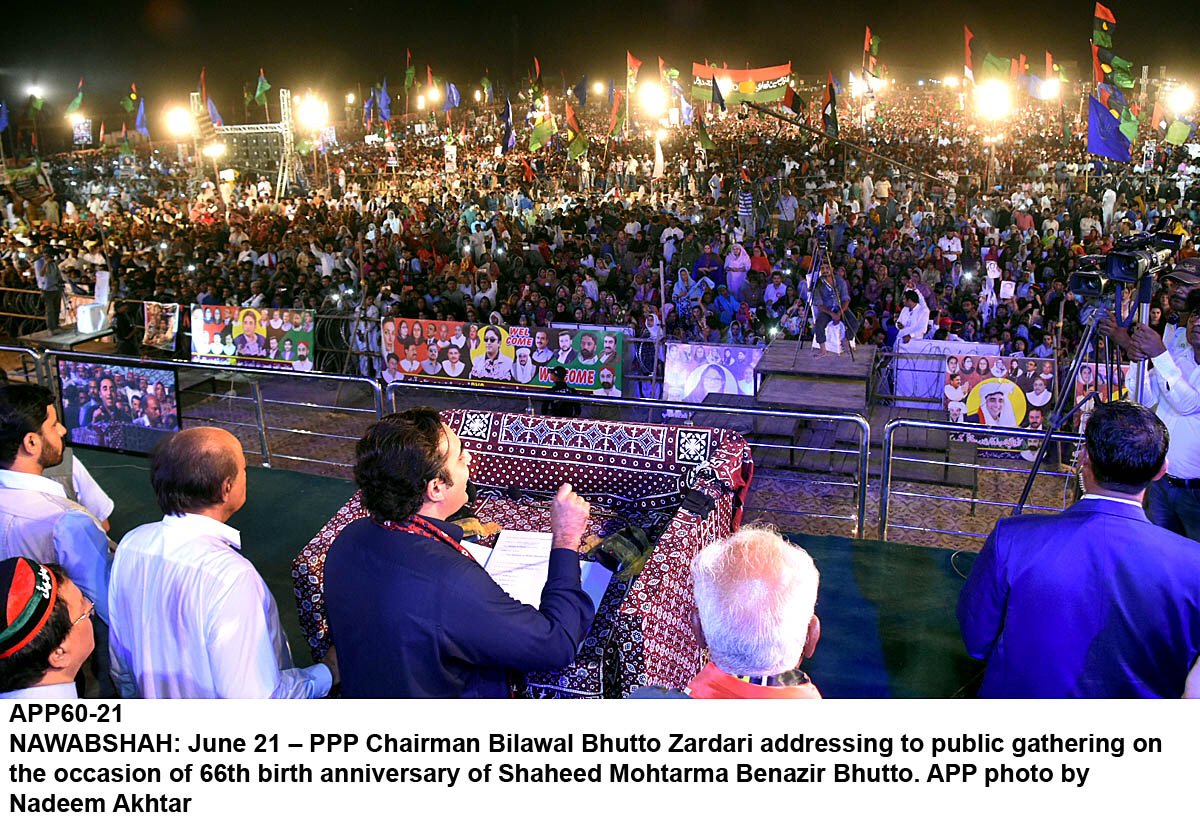 ---
HYDERABAD: Taking up cudgels on behalf of his father, former president Asif Ali Zardari, Pakistan Peoples Party (PPP) Chairman Bilawal Bhutto Zardari has said Zardari is treading on the heels of former prime ministers Zulfikar Ali Bhutto and Benazir Bhutto.

"Shaheed Benazir Bhutto, your son is telling you that your Asif is ill but he is not afraid. He hasn't bowed nor been sold. He has not wept nor is broken. There is no fear on his face and not a scowl on his forehead," said Bilawal while addressing a public meeting in Nawabshah on Friday organised to mark the 66th birth anniversary of former prime minister and PPP chairperson Benazir Bhutto.

"But he is still smiling and honouring the promise made to you [Benazir] in his fight against the dark forces in which Zulfikar Bhutto and Benazir Bhutto embraced martyrdom," said the PPP chairman.

Bilawal dedicated around half of his 50-minute speech to defend his father who has been arrested by the National Accountability Bureau in a graft case.

Zardari, Faryal's arrest bid to divert attention from 'anti-people' budget: Bilawal

He recalled that his father spent 11 years in jail without being convicted and the powers that be put him behind bars again though he was appearing before the courts as well as NAB inquiry officers.

He said, "The nation is being told about Zardari's corruption of trillions of rupees, but only Rs1.5 billion graft case has been framed against him."

He asserted that his father's crimes were restoration of the 1973 Constitution, 18th Amendment, provincial autonomy, National Finance Commission award, strengthening the embattled federation and the China-Pakistan Economic Corridor.

"Why was it necessary to put Zardari behind bars … because today this government is conspiring to abolish the 1973 Constitution and 18th Amendment, and they want to weaken the provinces and to snatch the rights of the people," he added.

Bilawal said his party was the biggest bulwark against the alleged scheme of the Pakistan Tehreek-e-Insaf government.

"Zardari is the defender of your rights. Zardari is committing the same crimes which Zulfikar Bhutto and Benazir Bhutto had committed. What can I do the history has put the burden of these crimes on my shoulders," said Bilawal, asking the people to promise that they would also commit the crimes of standing up for the rights of weak and deprived people and the provinces.

Bilawal also defended his paternal grandfather the late Hakim Ali Zardari, saying that his father's family had always been subjected to biased mudslinging.

He recalled that Hakim was a big landlord and a businessman of Karachi.

"It was rare in the 1960s that a landlord also happened to be an urban businessman. In 1962, he was elected mayor from Mirpurkhas and became an MNA in 1970," said Bilawal, adding that he was carrying forward the legacies of his grandfathers.

Zardari threatens Imran's govt with long march

Criticising the PTI government's economic policies, Bilawal said the government was mistaken to think that arresting Zardari on the day of releasing the annual economic survey would deflect the people's attention.

"You [PTI government] thought that arresting Faryal Talpur on the day of presenting an anti-people budget [in the National Assembly] won't let the people know that how you have robbed them of their economic rights."

The PPP chairman said he met the opposition leaders to forge a consensus against the budget, vowing that his party would not let the 'anti-people' budget sail through the lower house.

He urged the Muttahida Qaumi Movement-Pakistan, the Grand Democratic Alliance and the Pakistan Muslim League-Quaid not to vote for the budget otherwise the people would hold them accountable.

"We won't compromise on our economic rights. Likewise, we will have to fight for our democratic and human rights."

Mimicking Prime Minister Imran Khan, he contended that the PM's actions had belied his assertion that he would not give a National Reconciliation Ordinance (NRO) type pardon to the politicians. "You [PM] indeed have given an NRO to dozens of persons, including Aleema Khan baji."

Bilawal also questioned NAB's impartiality, pointing out that the PTI's federal and provincial ministers implicated in the corruption references had not been arrested unlike his father and other opposition leaders.

"What sort of freedom is it in the country? The people aren't free; journalism isn't free; politics isn't free."

He said the people were not allowed to speak or get involved in politics, adding that the people could not take their decision and the elected representatives could not perform their legislative work freely.

"Quaid-e-Azam didn't win freedom for the country so that the people become slaves of a puppet government. We don't accept the puppet government, controlled democracy, censorship of media and economic murder of people," said Bilawal. "This new Pakistan is a puppet Pakistan, an expensive Pakistan where economic, human and democratic rights of the people aren't safe."

He asked his party's workers and other people of the country to reject the PTI government's economic policies which he termed "murderous and suicidal".

Sindh Chief Minister Murad Ali Shah, PPP Sindh President Nisar Khuhro, former Sindh CM Syed Qaim Ali Shah and other party leaders also spoke.
COMMENTS
Comments are moderated and generally will be posted if they are on-topic and not abusive.
For more information, please see our Comments FAQ