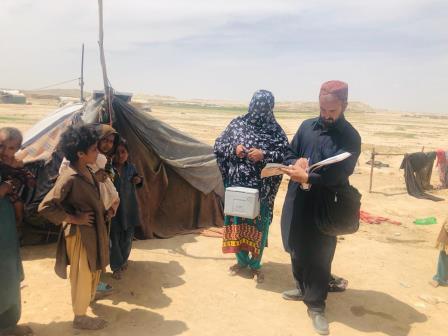 ---
QUETTA: Under the harsh summer sun, Zafarullah trudges through the dusty, rugged terrain of a barren field on the outskirts of the Pishin town in Balochistan. He pants and wheezes. A simple stroll is an arduous task for someone left crippled as an infant by the dreadful polio virus.

Trying to catch his breath after every couple of steps and sweating profusely, he still manages to put up a smile for the children who run up to him to greet him. The polio worker, who is himself a survivor, is a beloved figure in this neighbouhood of a nomadic community.

Zafarullah has been supporting his wife Akhtar Bibi, a polio frontline worker in the Pishin district. Bibi is assigned with the task of vaccinating the children in the migrants moving in from other parts of the country.

In the latest immunisation campaign in the area, each polio worker had to vaccinate over 360 children -- almost 220 or 60% of them belonging to the nomadic population.

Zafarullah was infected with polio at the age of six months. It affected his left foot.




"Difficulties come into our lives not to deter us, but as an opportunity to let us gather enough courage and strength to carry on," he told The Express Tribune.

"I am working for a positive cause. Being a part of the society, it's my responsibility to save our children."

Akhtar Bibi sometimes feels sad that her husband cannot walk like others and participate in routine activities.

"But I am proud because he's not just a good husband and father, but also a good human being," she said.

"He is supporting me despite being part of a conservative society. He is a determined person who is working for a cause and that is saving every child from polio."

Being a polio survivor, Zafarullah understands the difficulties associated with living with a disability. "I don't want any child to be paralysed because of polio and want to save them. That's why I started working with my wife in the polio eradication programme."

From January to June last, only three polio cases were reported in Pakistan. However, 27 children have been affected by the crippling disease this year during this period alone.

Environmental samples show that children are at risk of contracting the disease across the country.

Negative propaganda against polio vaccine and violence in recent months has affected the efforts to eradicate the disease from the country but people like Zafarullah inspire others to not give up.

His message to all the stakeholders is simple: "it's not the duty of the government and health organisations alone to rid the country of polio. All of us must play their role for the sake of our children."
COMMENTS
Comments are moderated and generally will be posted if they are on-topic and not abusive.
For more information, please see our Comments FAQ