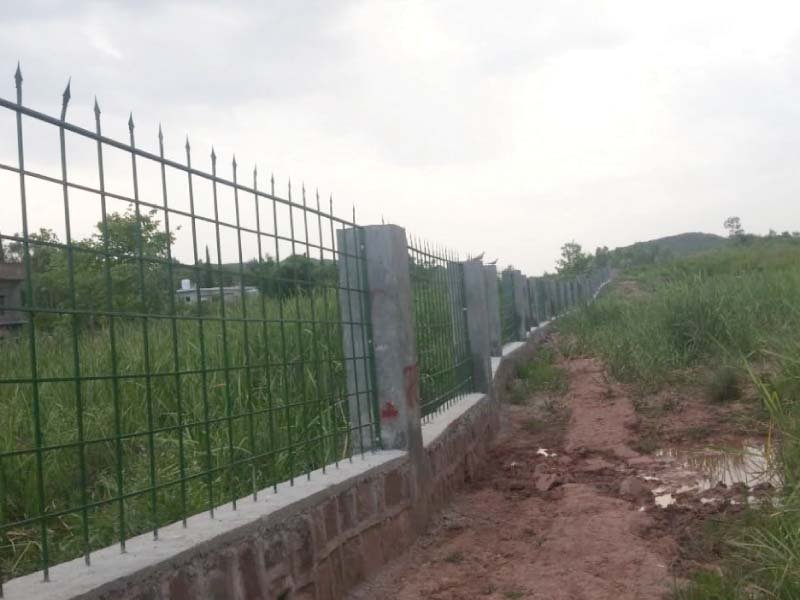 ---
ISLAMABAD: The geological survey of Pakistan (GSP) has demarcated 725 acres of land in Bani Gala for construction of a zoological and botanical (Z&B) garden.

Around 2,700 cemented pillars, with distance of 15 feet (ft), and two-foot high walls between the pillars, on which the grills would be fixed, have been erected along a 14-kilometer (km) long boundary.

Sources disclosed that the GSP has placed grills in around two kilometers (kms) of them. The pillars are 10ft high while pillar-to-pillar distance is 15ft.

However, a nearby housing society is creating obstacles in its construction. The sources said that the Z&B administration has informed the secretary of the Climate Change Ministry regarding the situation and asked for further assistance.

Commission formed to regularise PM's Bani Gala residence

Around four companies have been given the contract to make grills which collectively make 100 of them daily.

The sources disclosed that the construction of the boundary wall started in 2017 while the project was due to be completed in February, 2019.

However, the project was mired into litigation owing to which it was delayed. Furthermore, Rs60 million of the project worth Rs100.34 million have also been released to the contractors.

Encroachment

Earlier this year the government managed to retrieve possession of part of the zoo-cum botanical gardens from the illegal occupation of land grabbers near the prime minister's Bani Gala residence and handed it over to the Zoological Survey of Pakistan.

Following orders from the Supreme Court of Pakistan, the Islamabad Capital Territory Administration (ICTA) retrieved around 2,323 kanals of land of the gardens from encroachers.

In July 2016, it had been observed that two builders had started development work on the demarcated land.

This prompted the government to raise a 14km-long boundary wall around the 5,800 kanals (725 acres) of the gardens.

Once the wall and pillars have been built, fences will be put in hilly areas and places where walls are unfeasible.

The government allocated up to Rs900 million for the construction of a wall and fences along the boundary of the garden's land in the development budget for the fiscal year 2018-19.

Having secured control of its land, the federal government started work on preparing a new project concept paper for building a massive zoological, botanical and research garden in Bani Gala.

Published in The Express Tribune, June 16th, 2019.