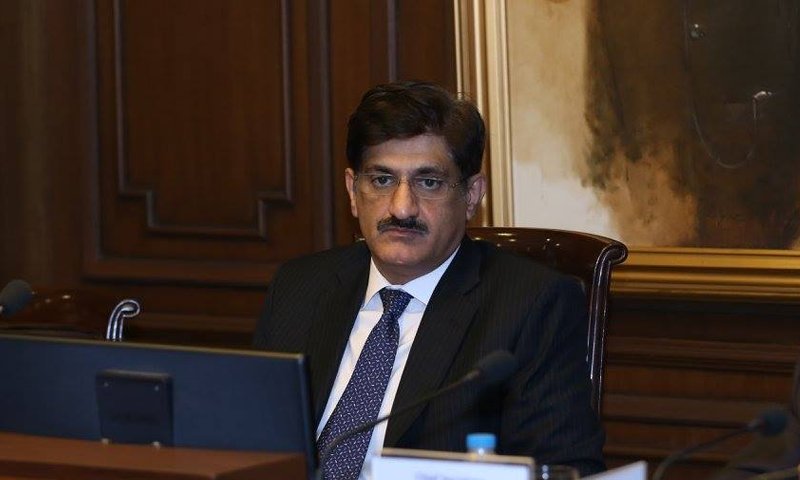 ---
KARACHI: [fbvideo link=" https://www.facebook.com/etribune/videos/870322926667475/"][/fbvideo]

The Pakistan Peoples Party (PPP) led Sindh government on Friday presented for financial year 2019-20 a Rs1,217 billion 'balanced budget' with 'zero deficit' amid strong protest by the opposition.

In the budget – presented by Sindh Chief Minister Murad Ali Shah, who also holds portfolio of Sindh Finance Ministry – salaries and pensions have been increased by 15% while the minimum wage has been declared to be Rs17,000.

The government has earmarked a total of Rs284 billion for development. This amount includes Rs208 billion provincial funds, Rs51 billion foreign project assistance, Rs4.8 billion federal grants and Rs20 billion district funds.

A programme for poverty reduction as pledged by PPP Chairman Bilawal Bhutto Zardari in its election campaign has also been unveiled.  In this programme, the first priority [in terms of budgetary allocation] has been given to education, followed by health and law and order.

And around 6,000 jobs have been announced in police and other departments.

The total receipts of the province for the financial year 2019-20 are estimated at Rs1.217 trillion against an estimated expenditure of Rs1.217 trillion. As federal transfers and grant to offset losses of abolition of OZT, the province is expected to receive Rs835.375 billion.

The provincial taxes collection estimation stands at Rs288 billion as compared to Rs243 billion in outgoing year. A part from this, around Rs11 billion has been estimated from loans, grants, bank borrowing and international development association for upcoming year.

The budget books said the receipts from federal government will account for 74.3% of the total receipts.  On the current revenue side, the expenditure budget for next year is estimated at Rs.870.217 billion which shows an increase of 12.5% over the current year [2018-19] allocation of Rs.773.237 billion.

In his speech, the chief minister said in current fiscal year [2018-19] the federal government had revised federal transfers from budgetary estimates of Rs665.085 billion to Rs631.543 billion, but, such claims were misleading.

"In the last 11 months, Sindh has received only Rs492.135 billion on account of federal transfers and it is anticipated that by the end of financial year the shortfall would be Rs117.527 billion," he said.

On the current revenue side estimates for the year 2018-19 have been revised from Rs773.237 billion to Rs751.751 billion. According to budget books, the reduction on the current revenue side is primarily because of the severe austerity measures and strict financial discipline.

He said in the financial year 2018-19, he had to cut the operating expenses. The repair & maintenance budget of various government departments have been substantially reduced from Rs27 billion to Rs11 billion. Also, the fourth quarter of budget under operating expenses has been partially released.

The CM said despite all the financial hardships, he has tried to ensure that all health and educational facilities receive substantial budgetary allocations.

"We have nurtured initiatives like SIUT, Indus Hospital, HANDS, Aman Foundation, Sindh Education Foundation etc, so that service delivery is not compromised," the chief minister said.

"Due to austerity drive we were able to revise our expenditure estimates from Rs1.144 trillion to Rs956.779 billion. As a result, the budget deficit for the current financial year comes to be Rs16 billion against an expected Rs20.457 billion.  I must reiterate that we are able to control deficit only because of budgetary cuts as we timely adapted austerity measures," he added.

The CM said Sindh was unjustly treated in the Federal PSDP. He said overall size of the federal PSDP was Rs.951.0 billion with Rs127.0 billion of Foreign Project Assistance (FPA).

"Out of above portfolio, Sindh specific schemes are 50 – both ongoing and new – with an allocation of Rs.33.7 billion. Total schemes included in the Federal PSDP 2019-20 for Sindh are 12 having an allocation of Rs.4.89 billion as compared to Rs.15.0 billion in 2018-19 and Rs.27.3 billion in 2017-18."

Education

Sindh government has increased the budget from Rs170.832 billion to Rs178.618 billion for school education in the next financial year, 2019-20. Rs15.15 billion have been allocated for education in ADP 2019-20.

In the budget, government has abolished registration and examination fee for all matric and intermediate boards in Sindh and announced scholarship for students securing grade A-1

The current revenue expenditure of Health Department, excluding medical education, has been significantly increased by 19% from Rs.96.8 billion in 2018-19 to Rs.114.4 billion.

However the development budget of health for 2019-20 is similar as the outgoing year of Rs.13.50 billion. For law and order, Sindh government has increased non-development budget from Rs100.483 billion in 2018-19 to Rs109.788 billion in 2019-20 while announcing to appoint 3,000 cops.

Social protection and poverty reduction

Sindh has allocated Rs.12.3 billion for social protection and poverty reduction programme in the development budget. Under this, three major interventions such as Peoples Poverty Reduction Programme (PPRP), Poverty Reduction Strategy (PRS) and Social Protection have been focused.

The ongoing umbrella programme of Accelerated Action Plan (AAP) for improving nutrition and containing malnourishment and stunting will be a cross-cutting intervention across the three major interventions.

Energy

The allocation for energy sector has been increased in non-development budget from Rs23.883 billion in 2018-19 to Rs24.920 billion in 2019-20. Shah said conventional energy from Thar coal and renewable energy from Jhimpir Wind Corridor would improve the energy mix profile and also fulfill the growing energy requirement.

The Energy Department has facilitated in provision of electricity and gas to numerous villages. Different projects related to provision of renewable energy to villages and schools were completed in the year 2018-19, he said.

The allocation for Irrigation Sector has been increased in non-development budget from Rs22.744 billion in 2018-19 to Rs23.070 billion for 2019-20.

With a view to conserve water, the government plans to develop high efficiency irrigation systems, revive the freshwater bodies, build small dams and undertake lining for greater water availability.

Karachi package

The Sindh government under the Mega Projects for Karachi city has invested Rs29 billion during last three years (2016-17 to 2018-19) which has helped in completing 19 major projects of Karachi city. For the coming FY, the Sindh government has earmarked Rs.40.59 billion under ADP 2019-20.

In addition, it has signed big investments worth US$ 1.5 billion (Rs.226 billion) over a period of five years with international development partners for high priority sectors.  Karachi Neighbourhood Improvement Project; Competitive and Liveable City of Karachi (CLICK) is a US$ 240 million intervention envisaging institutional strengthening and infrastructure financing of local councils in Karachi; overhaul of urban immoveable property tax and improving ease of doing business.

KWSSIP is a US$ 105 million World Bank Assisted project, which focuses on long term strengthening of the KW&SB through multiple reforms. The BRT Yellow Line, US$ 438 million project, is yet another mega transport intervention for the city. BRT RED Line, US$ 561 million ADB funded project, has been approved and would soon be put into execution as one of the main transport corridor in the city.

In addition to that the government is going to launch the biggest infrastructure road project of Karachi "Malir Expressway" from Qayyomabad to DHA city. The project's feasibility study has been completed and soon it would be launched under PPP mode. Another project 'Link Road' for facilitating heavy traffic from N5 to M9 would also be launched under public private partnership mode, next year.

Urban development

The chief minister said the Sindh government is cognizant of fact that for balanced growth of Sindh, urban development should address the infrastructure gaps for Karachi and simultaneously address the urban and municipal infrastructure needs of other major cities of Sindh.

With this approach, the government conducted Karachi Diagnostic Study, leading to Karachi Transformation Strategy for improving Karachi's livability and enabling it to play its due role for provincial and national growth. The strategy resulted in various projects relating to Municipal Service Delivery, Urban Transport, Improved Urban Spaces, and Conducive Business Environment.

Urban Development Strategies for Hyderabad, Sukkur, and Larkana have been developed focusing on physical and economic development as well and environmental management of these cities and their hinterland. Development master plans of 14 district headquarters towns have been undertaken.

For agriculture, the allocation for ADP 2019-20 is pitched at Rs8.4 billion, which includes Rs.4.7 billion of foreign assistance.

A Sarsabz Sindh project has been planned for making Sindh green with the target of planting 100 million trees in next five years. The department will attain the target of planting 200,000 trees in FY 2019-20.

Increase salaries

The chief minister announced an increase of 15% in pay as adhoc relief allowance for all the employees of BPS-01 to BPS-12. The pensioners will also be entitled to get 15% raise.