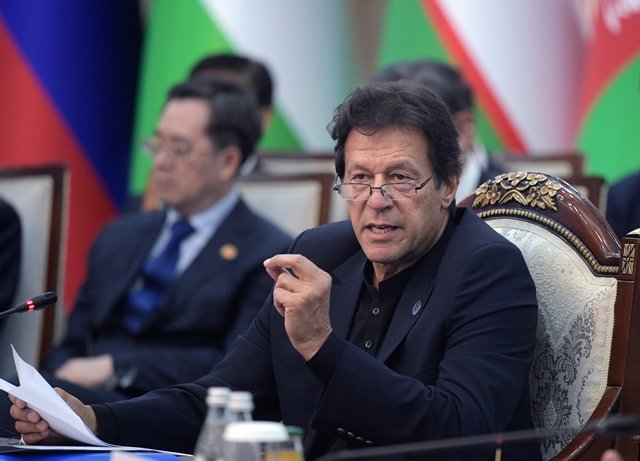 ---
Prime Minister Imran Khan on Friday stressed the importance of the Shanghai Cooperation Organisation (SCO) in a multipolar world as he addressed world leaders at the summit.

Addressing the formal session of the 19th meeting of the Council of the Heads of State of SCO in Bishkek, the premier stated the world is standing at a crossroads and the "advent of a multipolar global order" is being witnessed.

PM Imran also reiterated Pakistan's importance due to its geographical location and stressed upon the "vital connectivity" the country provides in the region.


Prime Minister of Pakistan @ImranKhanPTI at 19th Meeting of the Council of the Heads of State of the Shanghai Cooperation Organization in Bishkek Kyrgyzstan (14.06.19)#PrimeMinisterImranKhan #PTI #Pakistan 🇵🇰 #Kyrgyzstan 🇰🇬 #SCO #SCOSummit2019 pic.twitter.com/Q9nimk1lU2

— PTI (@PTIofficial) June 14, 2019


"We are a country of over 200 million resilient and enterprising people. The country provides attractive investment opportunities because of its skilled human resource and large agrarian base. We also have tremendous tourist potential," he added.

"We are also seeing threats from terrorism, climate change and narcotics that affect us all," he said, adding that this is the time for the SCO to play a part on the turf of international politics.

Condemning terrorism in all its forms, the prime minister reiterated the country's success in the war on terror and added that Pakistan has turned the tide by acting against militants and offered to provide Islamabad's hard-won experience to other countries.




Speaking about the Afghan peace process PM Imran stated there is finally a realisation that the conflict in Afghanistan has no military solution.

"Pakistan is fully supporting efforts for peace and reconciliation, through an Afghan-led and Afghan-owned process. We deem this to be part of a shared responsibility and, therefore, appreciate the positive contributions being made by China, Russia and Afghanistan's immediate neighbours. SCO's support for post-conflict Afghanistan will remain crucial," he added.

PM Imran in his speech also proposed the following eight-pronged course of action:



Reinforce vision of cooperation, that rejects confrontation, and advance the imperatives of peaceful co-existence at the regional and international levels;


Galvanise the "Shanghai Spirit" to strengthen SCO's core mandate of mitigating the risks of conflict, fostering confidence, and promoting stability;


Finalise arrangements for trade in local currencies, and set up SCO Fund and SCO Development Bank to catalyse the trans-regional development agenda;


Synergise the various region-wide connectivity initiatives, and work on complementing infrastructure connectivity with soft connectivity, including digital, cultural, touristic, and academic. Also setting up SCO Culture & Tourism Corridors, clustering multiple SCO destinations into a single package;


Make SCO more relevant to the daily lives of citizens by promoting food security and enhancing cooperation in health and humanitarian sectors;


Take the lead role in establishing a comprehensive framework for combating corruption and white collar crime;


Prioritise women and youth empowerment by focusing inter-alia on strengthening the Women Forum and the Youth Council and mandating them to promote gender mainstreaming, skills acquisition and jobs mobility;


Bridge the gap between region-specific research and policy by launching feasibilities for creating SCO Centres of Excellence on Poverty Alleviation, De-Radicalisation, Connectivity and New Technologies.



PM meets Xi, Putin

PM Imran on Friday also met Chinese President Xi Jinping on the sidelines of the summit. He is also expected to have a meeting with Russian President Vladimir Putin after having an informal talk with him a day before.

PM Imran and Russia's President Putin also engaged in conversation during lunch at the summit.




Prime Minister Imran Khan is representing Pakistan in the moot accompanied by Foreign Minister Shah Mehmood Qureshi and Special Assistant to PM on Youth Affairs Muhammad Usman Dar.



Other leaders of the SCO member and observer states, as well as representatives of important international organisations, are also attending the meeting.




Looking forward to meeting President Putin at SCO summit: PM Imr

The Council of Heads of State is the highest forum of SCO which considers and defines strategy, prospects and priorities of the organisation.

Since becoming an SCO member in 2017 Pakistan has been actively participating at all levels in various moots including foreign affairs, defence, national security, economy and trade, science and technology, youth and women empowerment, tourism and media.