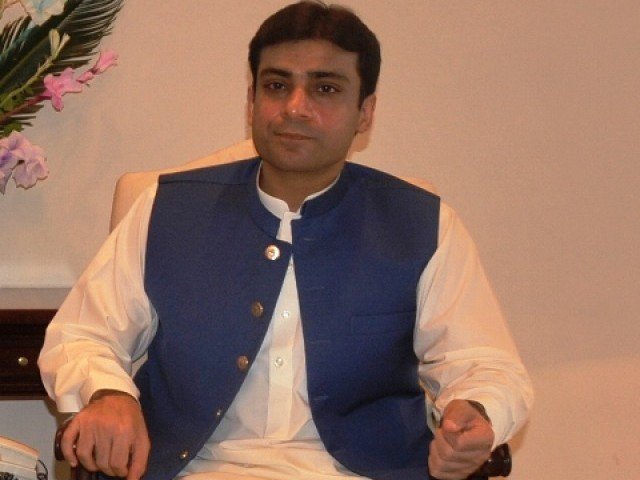 ---
The National Accountability Bureau (NAB) was given a 15-day remand of Opposition in the Punjab Assembly Hamza Shahbaz following his arrest a day earlier.

The Pakistan Muslim League-Nawaz (PML-N) vice-president was presented before an accountability court today amid tight security.

Hamza Shehbaz arrested by NAB after bail plea withdrawn

Hamza has been under NAB investigation in cases involving Ramzan Sugar Mills, Saaf Paani project and assets beyond known means of income.

NAB prosecutor sought Hamza's physical remand claiming he failed to explain money transfer to foreign countries during its investigation.

In order to probe the suspicious transactions, NAB's prosecutor continued that Hamza's remand was needed.

Case background

NAB claims to have found evidence of money laundering on a massive scale through which Hamza and his family allegedly accumulated assets in the United Kingdom.

According to sources privy to NAB's probe, the allegedly illegally accumulated assets are worth Rs85 billion to Rs100 billion and were bought during Shehbaz Sharif's tenure as the chief minister of Punjab.

NAB claims to have found that Hamza's declared assets in 2003 were worth less than Rs20 million, which increased by almost 2,000% to over Rs410 million after his father became the chief minister.

Similarly, his younger brother Suleman Shehbaz's personal wealth increased by 8,500 times and he now owns assets worth more than Rs3 billion.

The investigation started when NAB discovered "the huge volume of suspicious cash transactions" in the bank accounts of Shehbaz, Hamza, Suleman and other family members.

The Financial Monitoring Unit of NAB forwarded an application to the bureau's chairman on January 12, 2018 to investigate the transactions.

An inquiry was allowed in October 2018 and later its status was turned into an investigation.

On April 3 this year, NAB arrested two suspects, Qasim Qayyum and Fazal Dad Abbasi, after founding evidence against them of their involvement in money laundering and other corrupt practices.

The way NAB operates is disgraceful to Pakistanis: Hamza Shehbaz

During the course of the investigation, it was found that Qayyum was running an illegal foreign exchange business at Sadiq Plaza on Mall Road and Ali Tower MM Alam Road between 2005 and 2018.

He collected cash from Suleman's office in Model Town, Lahore. He then arranged fictitious foreign remittances to the bank accounts of Shehbaz, Hamza, Suleman and other members of the family. He used the identity cards of his employees or others, showing them as the source of these remittances.